Lunch options aren't that limited in the Battery Park/Financial District area. Yes, there is a Coffee Bean inside Century 21 on Broadway, and there is Cafe 11 inside the OU's building, but meat options are scarce beyond Pita Express (a bit too far from Wall Street) and the very expensive Reserve Cut. Luckily, Bravo Pizza at 17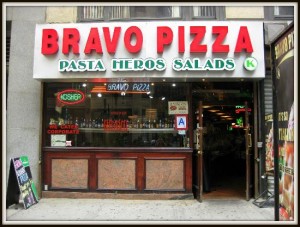 Trinity Place (formerly Cravings) is expanding their restaurant to offer meat options as well!
One side of the restaurant will be Bravo Pizza, and the other side will offer a burger and deli menu. This meat restaurant will open after Pesach.
If you recall, before this restaurant was Cravings, it was a kosher deli: Essex on Coney Downtown.
We will keep you posted as we learn more!
Source: Koshertopia