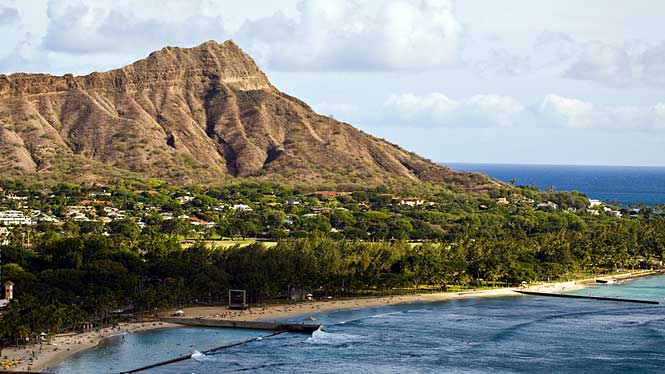 By Alon @Asefovitz with additional contributions from @BethanyShondark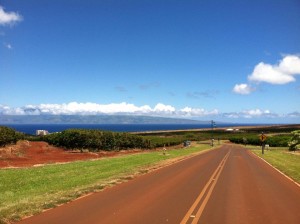 Firstly, congratulations on making one of the best travel choices you will ever make by booking a trip to Hawaii. Whether you got an amazing deal through a glitch in the airlines system (**cough, Delta cough**), used up some of those hard earned airlines miles, or just decided to splurge a little, I hope this guide will help you have one amazing vacation!
OAHU
Kosher Info:
Hawaii has one kosher restaurant located on the island of Oahu. Oahu Kosher can ship out your order to other islands but does require advanced notice (check their website for more information). I know many of you may be used to dining on cheap take-out food while on vacation, but this is the opposite. The portions are well sized, and given the challenge of having to ship all the kosher food in from the mainland, the prices are pretty good.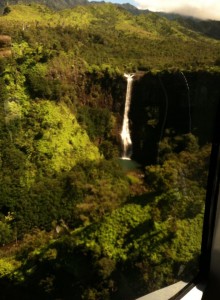 Although it may feel like you are tucked away in paradise, remember that there are still a bunch of regular U.S. stores around, such as Costco, where you can pick up many kosher items. When I go on vacation with my family, we shlep a few things along with us such as tuna and chalav yisrael milk and cheese for breakfast. However, don't be afraid to go to the Chinese market and pick up some fresh pineapples and other native tropical fruit. There are also a couple of CVS branches located around Hawaii.
Many hotels will provide you with a fridge in your room–if they don't, call and see if they can. Locals are very friendly and will go the extra mile to accommodate any reasonable request.
If you're interested in having kosher meals catered to your hotel, a service called Kosher in Hawaii, run by a Chabad family in Honolulu, is the one for you. You can order any number of dishes (which include local grown produce whenever possible) such as fresh hummus, schnitzel, ahi tuna steak, grilled mahi mahi, lunch wraps, desserts, kids meals, etc. While they can deliver to any hotel on the Big Island, Oahu, or Maui, if you order from one of their partner hotels you'll be eligible for a discount on your order. On the island of Honolulu you can pickup your order from the local Chabad house on the island; otherwise, expect delivery fees ranging from $25-$60. This service is under the kashrus supervision of the Chief Rabbi of the State of Hawaii, Rabbi Isaac Krasnjansky.
Jewish Info: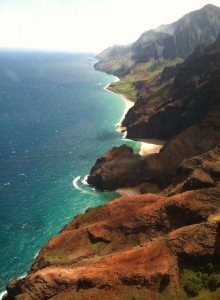 Keeping Shabbos is not difficult at all in Hawaii, as there are a few Chabad Houses located on the various islands. For a full list of contact information and locations click here. Do not expect the shluchim to provide you with everything though, but if you need something they will be glad to help whenever possible. Contact them if you need a minyan and to find out what time davening is, as they usually have daily minyonim year round (depending on the island). There are many hotels conveniently located close to the Chabad Houses.
Hotel Info:
Many of you might be familiar with the Starwood (SPG) chain of hotels. This is an amazing hotel chain I highly recommend everyone join. For a list of all their hotels in Hawaii as well as cost per night for a stay, click here. A great way to earn points for a few nights at any SPG hotel is by signing up for the SPG American Express card, where you can earn up to 25,000 points for signing up. Points earned on the card can be used for rooms at Starwood hotels or can be transferred to one of ~30 international airlines.
There are also many Hyatt and Hilton hotels through the island. If you are looking for a place to stay in Oahu for 2-3 nights and want to be close to the Chabad House, you can try the Equus Hotel, a nice boutique hotel located nearby to everything you need.
Travel Info:
Before I get into what you have to see and what you can do without, I want to stress that Hawaii is drop-dead gorgeous. Make sure you bring a camera that will suit your needs both outside and if possible, underwater. We took some amazing shots of fish while snorkeling, and that can be part of your everlasting memories to show off to friends and family.
If you decide to spend some time on this island and plan to see a bunch of the local sights and attractions, I would highly recommend getting the GoOahu card. This card allows you free access to over 35 activities in Oahu, all for one combined price. We got the 5 day pass (if you don't use the pass on Shabbos you don't lose any days). There is so much to see no matter what island you choose to be on, so I will  list some of the activities we personally tried and tell you what we thought about them.
Hanauma Bay Snorkel:  This is on the "other" side of Oahu, just past the residential area. After you watch the short "safety" course video, you are free to snorkel as you wish. The bay is filled with many varieties of fish, some sea turtles, and coral. The park has an entrance fee of $7.50 that the pass doesn't cover but it's still well worth it. Remember not to touch the sea turtles. Take your underwater camera and head into the bay to see some amazing and easy to reach fish. There are lockers for rent if you have any valuables you wish to lock away.
Makani Catamaran Sail: After we did some snorkeling, we decided to kick back and relax over the ocean with a catamaran sail. The boat ride comes with a free drink for each card holder.  We went out on one of the last rides of the day. Make sure to keep a close eye out for flying fish, dolphins, and whales. We actually spotted 4 whales right before we started to head back to shore at sunset!
Sea Life Park: While not the most unique adventure, since many of the activities can be done in many locations (such as swimming with dolphins), this is still a worthwhile stop over and activity. I opted not to pay extra for the dolphin swimming and instead I paid around $10 to go into the water with rays as well as snorkeling with some rays and fish. The rays were not very exciting but we still had fun. The snorkeling, however, was great! There were three of us in a very large "pond" filled with hundreds of fish (at least 25 varieties). The rays just casually glide around the tank and let you touch them, and you are given a head of lettuce to feed the fish with. It was an incredible experience to have the fish eat out of your hand and to be so close without being afraid. I regretted not taking my camera with me into the water, but we had some good pictures taken from above.
Oahu Kayaking: We rented a double kayak and headed into the ocean for a bit. There is an island not too far off the shore that is a bird sanctuary. Make sure to bring sandals as the island is rocky. Along the way we passed what must have been a few hundred sea turtles below us in the water. Kayaking is a great way see the beauty of Hawaii while simultaneously soaking up some sun. Bring along water and a snack to make sure you have enough energy to paddle back to shore. You can rent a small water-proof bag to keep valuables dry.
Kualoa Ranch Movie Site Tour: Being a huge fan of Lost, I just had to make the journey to this place. Named one of the top 10 movies sites in America, this ranch is home to some of the biggest names in movies. Go along for a ride around the ranch and see the famous cave from Lost, the open areas of forest in Jurassic Park, and even some cattle still being farmed in a small corner. Rumor has it that the Hilton family (yes, the hotelier) offered $1 billion for this prime location. Take the drive down here and make sure to bring some food as the road back is slow. You will be driving along the coast and there are many quiet locations to stop off at and have a picnic. This ranch is also home to an old sugar mill (located at the front of the ranch).
Ancient Fishpond – Kualoa: This is a leisurely activity which will surround you in what you may consider paradise. As you walk through the lush groves, feel free to pick any fruit that is in season and in arm's reach. At the end of the tour, you will ride on a canoe raft through an 800-year-old fishpond that the Hawaiians used to cultivate and sustain their fish. The views are incredible so make sure you bring along that camera, and that it is fully charged!
Diamond Head Hike: This is one of the best kept secrets that most tourists don't take advantage of. Put on your hiking shoes, grab a bottle of water and your camera, and head out into one of the most spectacular locations in Oahu. This volcano has not been active for a really long time so you have nothing to fear. The view when you reach the summit is breathtaking. Mt. Leahi is the most famous volcanic crater in the world, and this is something you do not want to miss out on. This is not a serious hike, so as long as you are in moderate health you will be fine, but make sure to pack water.
The GoOahu card also can get you a moped rental and some beach equipment (umbrella, buggy-board etc.),  so if you prefer to just hang out and relax you are covered as well.
Read previous posts on Kosher in Hawaii here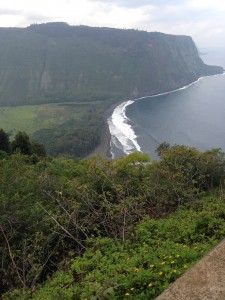 KONA on HAWAII (Big Island)
Kosher Info: Kona is a lot smaller than Oahu and less populated. OahuKosher is able to ship food to all the islands but there is no need. One of the great advantages when traveling to Hawaii is the options for kosher food. The shluchim in Kona have a take-away menu option that is great for  all your needs, from Shabbos to a hearty weekday meal. To browse the menu, click here. They can even have the food sent to your hotel (check the options on their website).
Travel Info: 
Mauna Kea Summit:  One of the most amazing views in the entire world. At just under 14,000 feet high, the view below is splendid, ranging from the desert to lava to Mauna Loa. This attraction is famous for its spectacular star gazing opportunity.
Manini'owali Beach: Not the greatest location for snorkeling, but a great beach all around. The sand is a bright white and the beach is surrounded by an old lava field.
Advanced Recreation of Hawaii Light Sport Aircraft Flight: This is a little pricey but well worth the splurge, as it is a fantastic way to see the island in style. Although it may seem risky, there is nothing to be afraid of, so book your trip and make sure you take a video camera with to help capture the amazing views!
Kiholo Ba

y:

 This bay is famous for its turtles. Make sure to get proper directions as this little spot is hard to find.
The last thing I would suggest is the Big Island volcano tour. The tour is expensive but seriously, how often do you have the opportunity to experience the thrill of exploring a volcano?! If you are looking for a group adventure, check out these guys.
Remember, Kona is a quiet island so there is not as much "activity" as Oahu or Maui, but the beauty and tranquility makes up for it.  My personal advice is go to Kona for 2 days and then hop on over to Maui.
MAUI
Kosher Info: The shluchim to Maui have created a great recipe book that also infuses some traditional local cooking into popular Jewish foods. If you are looking to be there for a Shabbos, they have a great Shabbos program to either join them in their home or order food for take-out.
Special note: The Hyatt Regency Maui offers prepackaged kosher food at their luau.
Travel Info: 
Road to Hana: Rent a car and drive the Road to Hana, a town on the southeast side of the island. Buy Maui Revealed: The Ultimate Guidebook and stop at all of the hidden pools and waterfalls and avoid the places most people stop and get mediocre views of the island. Ride all the way around the back of the crater on the way back, it's a drop dead gorgeous ride, but not one for the faint of heart; there's dozens of blind 90 degree turns on roads only wide enough for one car but are there to accommodate two lane traffic.
Sunrise at the Haleakala Crater.
Beach in South Maui – Ulua Beach is great for pictures, lots of great Hawaiian backgrounds (lava rocks, greenery and beach). We had a professional photography session here in the early evening.