Contributed by Alon Asefovitz | Last Date of Travel: January 2012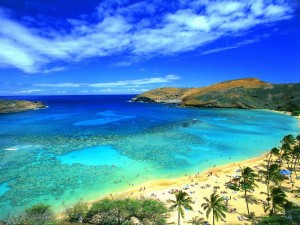 Kosher Information: In January my wife and I decided to take a trip to Hawaii for a week and just relax before she gives birth. We came with some food but we were aware of the various options out there for us.
There are a few supermarkets that sell Kosher products such as Wholefoods. The local Chabad House offers an option for Kosher food via "Jerusalem Kosher Deli". I must say the prices were pretty good and the food was really tasty. When ordering from Jerusalem Kosher Deli keep in mind you have to order the day before. You can email them and request a menu.
Another option includes ordering from Oahu Kosher, a caterer which delivers to your hotel serving Oahu, Honolulu, and Waikiki.
Tourist Information: This is a must for anyone looking to take advantage of the great weather and water based activities in Oahu. Before you fly make sure you order your Go Oahu card. This will give you access to 39 activities roughly ranging from snorkling to a 1 hour cruise(you might be lucky and see whales like we did) to hiking up the rainforest.
There are very few activities in Hawaii that could compare to snorkeling. We bought an underwater camera from Amazon and decided to put it to the test. We spent around 5 hours on the beach and in the water and managed to see over 25 different fish and some sea turtles. We also decided to have an adventure and kayak into the ocean and stop at an island just off the coast. While kayaking we must have passed over 50 sea turtles(a protected species) that were swimming under us. There is a lot to do in Oahu(as long as you leave the "hotel section" so there is plenty for the whole family. If you looking to have some good fun, have access to Kosher food and a minyan then look no further(plus the great weather). For all thos heading that way update me on how your trip turned out!
Jewish Information: In terms of Jewish history there really isn't anything long standing in Hawaii. Chabad has in the past couple of years opened up a few new centers on various islands so no matter where you might and you could have your kosher food dropped off(at a cost). The Chabad House has a minyan on Shabbos(during the week as well as far as I recall) and is located close to the main hotels.