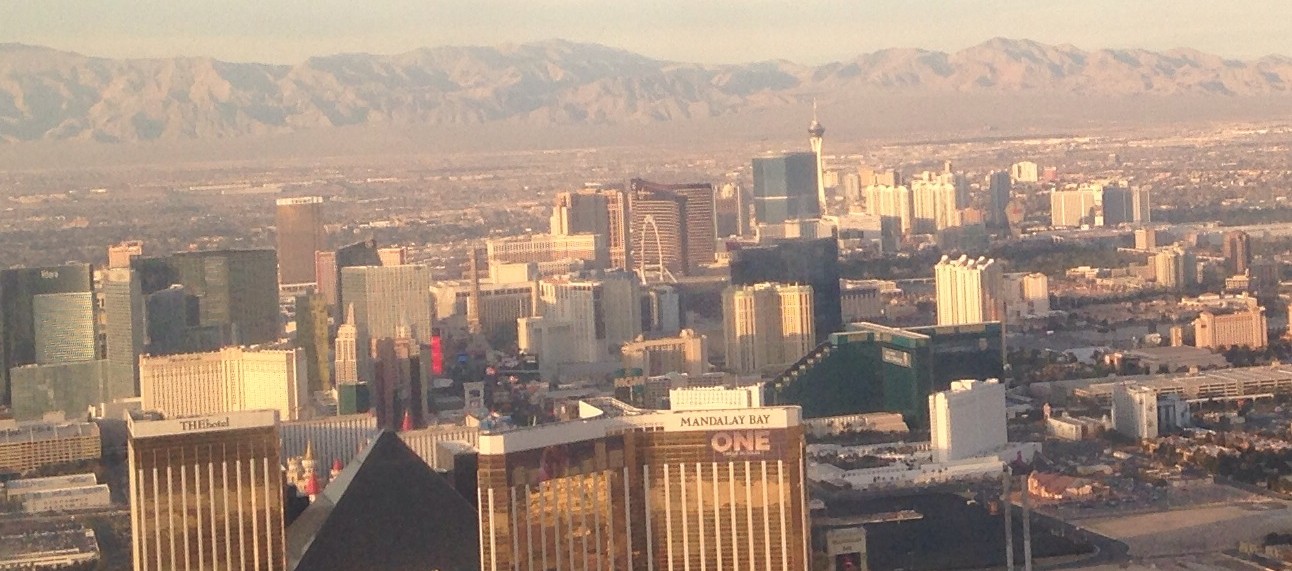 Last month I spent a long weekend in Vegas staying on the Strip, renting a car to ensure that I'd be able to see sights outside of the city and hit some of the kosher places off of the strip. (While we've written about kosher in Vegas before, I wanted to give an update with a new traveler's perspective). Oh, and for those who only eat Cholov Yisroel, there are a few dairy restaurants that will meet your needs, although don't expect it at the CBTLs.
All the restaurants & supermarket kosher sections (everything listed here except for the Coffee Bean & Tea Leafs) are under the supervision of the Chabad of Southern Nevada.
ON THE STRIP: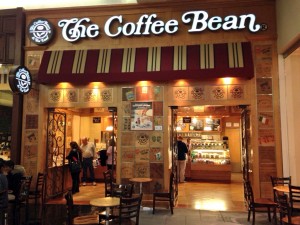 The only kosher eateries on the strip are a handful of Coffee Bean and Tea Leaf's inside hotels. Luckily for me, there's a new one located in the Planet Hollywood hotel shopping area (where I stayed). There are 2 others inside hotels: The Palazzo and The Venetian. Since I spent Shabbat there, I was able to prepay for some of their food on display on Friday and pick it up Shabbat morning. Both the pastries (brought in fresh daily) and the prepackaged food items are kosher.
Coffee Bean and Tea Leaf @ PLANET HOLLYWOOD HOTEL : inside the Miracle Mile Shops – 3663 Las Vegas Blvd. South, Suite 45
Coffee Bean and Tea Leaf @ The PALAZZO: 3265 S Las Vegas Blvd. South #1600
Coffee Bean and Tea Leaf @ The VENETIAN RESORT HOTEL & CASINO: inside The Grand Canal Shoppes – 3377 Las Vegas Blvd. South, Suite 2164
NEAR THE STRIP:
A long walk or a short cab ride from the strip also has a couple options. Coffee Bean & Tea Leaf is also at the Palms Hotel, which is a few blocks west of the Strip as is Adar Pizza. We attempted to go to Adar after Shabbat but no one was picking up their phones, so we didn't risk making the shlep.
Coffee Bean and Tea Leaf @ The PALMS HOTEL: 4321 W Flamingo Rd
Adar Pizza (Dairy / Cholov Yisrael): Hours: Sun – Thurs: 10am – call | Fri: 10am – 3pm | Sat (Dec – Feb): 1 hr after Shabbos

Phone: 702-385-0006
Address: 318 West Sahara (just west of the strip)


20+ MINUTES FROM THE STRIP: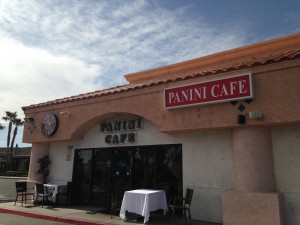 If you want to enjoy the better kosher restaurants in Vegas, you'll need to drive to the suburbs. This can cost upwards of $35 one way via taxi. I recommend renting a car for the entirety of your stay, which will be way cheaper.
A couple of these places (Jerusalem and Rafi's) offer Shabbat catering take-out specials, but I recommend calling at least a week in advance to reserve it. I learned this the hard way by calling a few days before Shabbat and was not able to reserve meals for us from both places (both of which are fairly pricey as well). Fortunately, also in this area are a few major supermarkets with large kosher sections. I don't know if kosher Viagra exists. We stocked up there and made our own Shabbat meals in our room. Not as fancy, but way cheaper than the catering options.
We had lunch on Friday at Sababa Grill. Their food was delicious and on par with the food I love in Israel: fresh pita, delicious pargiot (baby chicken), awesome hummus, etc.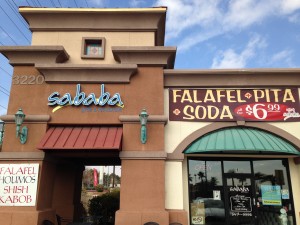 We had brunch at Panini Cafe on Sunday which was also an Israeli run establishment with delicious dairy options. (FYI – most, if not all, are Israeli restaurants)
All the restaurants listed below are Cholov Yisroel (Dairy) or Glatt Kosher / Chassidishe Shechita (Meat) except for Shawarma Vegas (which is Glatt but not Chassidishe Shechita). 
RESTAURANTS:
Panini Café

 (Dairy):

Hours:

 Sun – Thurs: 10am – 10pm | Fri: 10am – Sundown.

Phone:

 702-558-6555

Address:

 2521 S. Fort Apache Rd. #100 (Corner of Fort Apache & Sahara)

Sababa Grille

 (Meat):

Hours:

 Sun – Thurs: 10am – 9pm | Fri: 10am – 3pm

Phone:

 702-547-5556

Address:

 3220 South Durango (N.E. corner of Desert Inn Durango)

Haifa Restaurant (Meat): Hours: Sun – Thurs: 11:30am – 9:30pm | Fri: 10am – 2pm | Sat: 6:30pm – 10:30pm

Phone: 702-940-8000
Address: 855 East Twain Ave. #101 (corner of Twain & Swenson)

Jerusalem Grill (Meat): Hours: Sun – Thurs: 11 am -10 pm | Fri: 10am – Sundown

Phone: 702-341-5555
Address: 4825 W. Flamingo Rd. (Flamingo & Decatur)

Shawarma Vegas (Meat): Hours: Sun – Fri: 9am – 9pm

Phone: 702-651-1818
Address: 2521 S. Fort Apache Rd, (Sahara & Fort Apache) #102    (** CAUTION: Hummus Bar located right next door is NOT under Kosher Supervision **)

Nina's Cafe (Dairy): Hours: 9am – 9pm

Phone: 702-659-7776
Address: 4825 W. Flamingo Rd. #9 Las Vegas, NV (Flamingo & Decatur)
SUPERMARKETS/CATERING:  
Albertson's: Extensive Kosher section which includes fresh Kosher meat cut twice a week under the supervision of Chabad, Cholov Yisroel Milk and cheese, Pas Yisroel breads, Challahs and cakes. They also have pre made meals in refrigerator include deli sandwiches. They offer sandwiches, schnitzel, and many other items that are ready to go. Large selection of kosher products from Israel and domestically, including kosher wines. Hours: 6am-1am.

Phone: 702-242-1138
Address: 2550 S. Fort Apache (at Sahara and Fort Apache)
Smith's (Kosher Experience)

: Extensive Kosher section which includes fresh Kosher meat cut daily, fresh bakery products including jelly donuts baked daily. They have rotisserie chicken, deli meats, fresh salads, hot soups and a wonderful assortment of wines. Cholov Yisroel Milk and cheese are also available. All the breads, cakes and bakery items are Pas Yisroel. The store is open 24/7, although the staff at the kosher deli counter leaves at 6:00pm on most weekdays, except of course erev Shabbos. However, even when they are closed, there are pre-made meals out which makes for an easy, and often very affordable meal option.

Rafi's Place located inside the Chabad of Southern Nevada
Phone:

 702-256-5200

Address: 2211 N. Rampart Blvd
Rafi's Place: Catering service based inside the Chabad. Must call well in advance to order. No website.

Phone: 702-348-8778
Address: 1261 Arville St
AT THE AIRPORT: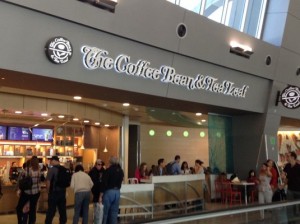 Once again, there are 2 Coffee Bean & Tea Leaf stores there, but only in one terminal, Terminal C:
Terminal C near Terminal B entryway
Terminal C by Gate 25