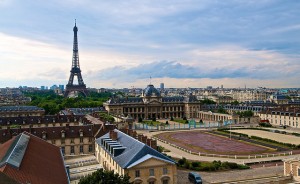 Charles De Gaulle airport (CDG), Paris's main international hub, is a good hour outside of the city center. For travelers on an overnight or relatively short layover who want to take advantage of Paris's kosher food options, here are some options for you that are a ~20 minute drive from the airport.
Based on our research, there is no kosher food available at the moment inside CDG. (If this changes, or if you know of otherwise, please comment below with detailed information so we can update this post).
These 3 restaurants are all relatively close to one another and within a much more manageable driving distance from the airport than the plethora of kosher options throughout the city.
Inoun – Middle-Eastern, Grill (meat) – Kashrut: Beth-Din
Le Shine Sarcelles – Asian, Sushi (meat) – Kashrut: Rabbinat Loubavitch de France (Chabad)
Noblesse Traiteur – French, Asian (meat) – Kashrut: Beth-Din

View Kosher near CDG Paris France in a larger map