Freda's Falafel, an organic and vegetarian falafel place located in both Hallandale Beach and in North Miami Beach, is newly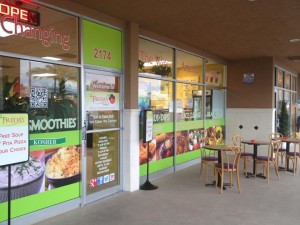 certified Kosher under the Rabbinical supervision of the Va'ad HaKashrus of Miami-Dade.
Freda's Falafel does not serve just falafel, as the name may imply. They also have all different flavors of pita pizza, such as za'atar pizza, albacore pizza, and Greek pizza with feta cheese and spinach. They have 12 different types of salads, including quinoa bean salad, falafel salad, and teriyaki tofu salad. In addition, they also have wraps, sides, and all types of healthy smoothies that can be used in a juice cleanse or drunk just for the fun of it!

View Freda's Falafel in a larger map