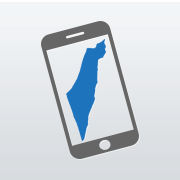 Please note: This is a Sponsored post by Unlimited Israel.
Unlimited Israel is a new service for israel travelers renting iPhone 5's for $45/week (or $135/month) including unlimited talk, text, and web. As a one-time promotion, they are giving away an iPhone 5, including a free month of unlimited talk, text, and web service in Israel.
Unlimited Israel also offers SIM card rentals for unlocked iPhone 5's and unlocked iPhone 4/4S's on AT&T, and will be offering iPad and Mifi rentals in the near future.
They're a big believer in customer service, ensuring that you have a quality experience using your device while in Israel. They have staff in Israel to assist you should you run into issues with your phone.
All of their iPhone rentals come with popular apps like Waze (navigation), What's App (texting), Siddur, Currency converter, and more.
GIVEAWAY: All entries must be entered via the form below. Terms & Conditions are listed below.
a Rafflecopter giveaway