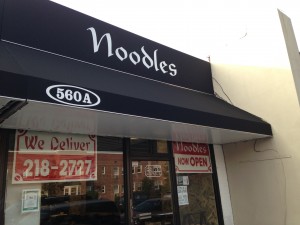 Less than 4 weeks ago in mid-August, Noodles opened on Central Avenue in Cedarhurst, NY, next door to the new Pizza'le – replacing Sabra Pizza and Ruthie's. What makes "Noodles" different from most Asian cuisine kosher restaurants, is the in-house hand-made pasta or noodles that go into every dish.
When ordering from Noodles, you can choose from a variety of noodles: plain, spinach, carrot, knife-cut plain, and knife-cut whole wheat. The process is amazing to watch, as the kitchen is open to customers to watch the noodles being twisted and cut.
Watch a video on how they make the pasta below.
Before choosing the pasta, you choose what type of protein you want in your dish: Chicken, Beef, Lamb, and Duck. Finally, you choose the style of your dish: Pho (soup), Stir Fry,  Crunchy (deep fried noodles), and Sandwich (baguette or laffa).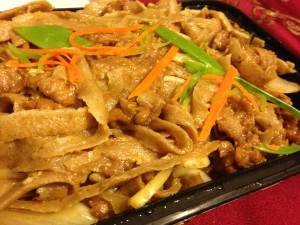 "Noodles" also has a full sushi menu, including a 'meat' sushi menu.
Last week we ordered:
Whole wheat knife-cut, beef, pho
Whole wheat knife-cut, lamb, stir fry
Both were unique and delicious. Like nothing available within the kosher restaurant scene at the moment.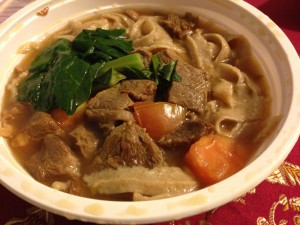 Noodles is under the kosher supervision of the Vaad of the Five Towns and Far Rockaway.