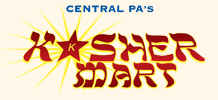 Central PA's "Kosher Mart" announced on its website a few weeks ago that it is no longer offering its kosher food & 3G's Pizza at Dutch Wonderland in Lancaster, Pennsylvania.
However, they will retain kosher locations at both nearby Cherry Crest Farm and Hershey Park.
Their Cherry Crest Farm location is certified under the Star K and is both Cholov Yisroel & Pas Yisroel. They are only open Tuesday and  Wednesday from 12pm to 3pm, July 31 thru Labor Day. If you are in the area but have no intention on visiting the farm, you'll still be able to pick up pizza here by going to the main entrance and picking up a pass to visit 3 G's Pizza without the Adventure Farm admission.
Similarly at Hershey Park, the Kosher Mart is conveniently located at the front of the park on the left hand side after the steps.  Admission to the park is not necessary to eat at the restaurant.  Go to guest services and ask for a "shoppers pass". This location is also under Star K certification with all meat products are Glatt Kosher, and all bread products Pas Yisroel.
The Hershey Park location is open Sunday – Thursday, 10am to 9pm (unless the park closes at 8pm); Friday, 10am to 2pm. They close for the season on Labor Day, Monday September 2nd.
They have hinted that they will be announcing a new kosher location in the Lancaster area later this summer in August.
Read more about Kosher in Lancaster, PA