Contributed by: Dani Klein  |  Last Date of Travel: April 2013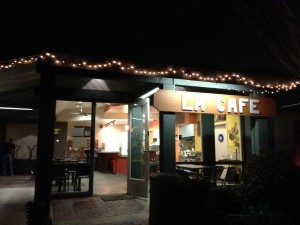 Over the last 6 months, I've made 2 trips to San Diego on business. I was able to explore a bit and get advice from some locals. Feel free to browse our other articles on San Diego from past travelers.
Kosher Info:
During my trips, only 2 actual kosher restaurants existed in the San Diego area (neither were downtown), and I was able to try them both: La Cafe and Place Cafe at the JCC. More recently, a third opened: The Grille.
La Cafe in La Jolla closed down in 2013 after this post was written.

The Place Cafe at the JCC: Within the Lawrence Family JCC of San Diego County is "The Place Cafe", a small eatery within the JCC complex. They serve Glatt Kosher dishes (mainly sandwiches) as well as pareve ones. In my one time eating there, I had a tasty tuna sandwich on toasted rye.

The Grille: a brand new restaurant directly east of downtown San Diego (i.e. not near the other locations which are north of the city).

Additionally, you can stop at the Ralph's supermarket in the center of La Jolla which has a huge kosher market and deli called "The Kosher Experience." Their vast selection includes a large array of wines and Israeli products.

Travel Info:

My colleagues (clients really) whom are local to the San Diego area, showed me around the area and gave some general suggestions on where to visit when in town:

La Jolla Cove – a beautiful natural cove by the Pacific Ocean with scenic views, places to hike and climb, view wildlife, and kayak.

La Jolla Cove

Balboa Park – one of the largest urban parks in the nation (3rd behind Golden Gate Park in SF & Central Park in NYC); Balboa Park contains the world famous San Diego Zoo, as well as numerous museums and attractions including:

Museum of Photographic Arts
Reuben H Fleet Science Center
San Diego Air & Space Museum
San Diego Art Institute (SDAI)
San Diego Automotive Museum
San Diego History Center
San Diego Model Railroad Museum
San Diego Museum of Man
San Diego Natural History Museum
Numerous other museums
9 theaters or performing arts centers
~20 beautiful varied themed gardens
… plus more. There's quite a lot to do in the park, definitely not doable in one day.

Lego Land
Sea World

Jewish Info: 

Chabad is very active in Southern California with 6 locations in San Diego proper, with a total of ~15 centers or shuls in the southern section of the I-5, some of which are able to cater upon request.


View Kosher San Diego in a larger map