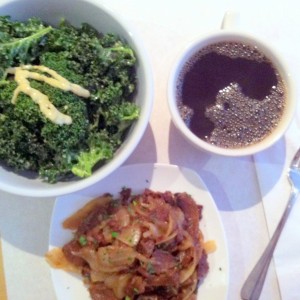 For someone that has never lived in, and rarely visits, New York City, Sacred Chow offers the quintessential NY vibe that I hoped I would find when I came to town. The kosher-vegan restaurant is nestled between a shoe repair store and a hookah store at 227 Sullivan St in the SoHo neighborhood.  I walked in and instantly felt welcome – not from a rehearsed, slowly spoken "welcome" chorus you often receive at a vegan restaurant.  I felt like I had been invited in to hang out with some buddies and the aromas wafting from the kitchen embraced me as I stepped in from the cold  Simply put, Sacred Chow is a must for vegans and carnivores alike.
Had it not been for a recent Living Social deal I may have not discovered this eatery, and although it was disappointing that my deal wasn't eligible until after I returned to Kansas, I had made my way to SoHo exclusively to eat here.  Everything on the menu appealed to me and there's a wide selection of raw, cooked, wholesome, or faux-meat dishes to choose from.  Their tapas special (three dishes for $18) was not only recommended by the waitress, but looking around the restaurant I could see that most diners had chosen this as a way to taste their way through the menu.
I chose the Orange Blackstap BBQ Seitan, Dijon Marinated Raw Kale and their special, Millet with Black Olives and Sun Dried Tomatoes.  These dishes complimented each other perfectly.
If you're not familiar with vegan dining, seitan is a wheat gluten that is often used in fake meat or chicken products.  I happen to love seitan and don't look at is as a substitute, but had I sat at my table blindfolded as I tasted this dish, I could have sworn I was eating a tender slice of beef.  The meaty texture absorbs the thai BBQ sauce to combine the savory flavors of garlic and ginger with a sweetness from orange juice and molasses.  A spicy undertone enhances this dish without it being overpowering at all, and the sweet caramelized onions simply take this dish from excellent to extravagant.
The vibrant green color of the kale is a testament to the quality of the product sourced.  With a fresh flavor and a wonderful crunch, this kale salad, massaged and marinated with a delicious dijon mustard dressing, which delivers a balanced flavor without masking the mustard behind a sweet tone.  I'd say the dijon mustard dressing is as much a star of this dish as the kale itself in this generously sized dish.
Finally, the millet, not something I am all that familiar with, was a great grain to compliment the seitan.  There was a Mediterranean flare and and perfect balance of olive and tomato flavors that fitted the welcoming environment perfectly.
If tapas isn't your thing, there are a number of heroes (sandwiches) to choose from.  Like the tapas portions, the heroes are enough for a meal.  I would recommend sharing three tapas and a hero if you are dining with a partner.  Don't get too full though as there is an an extensive dessert menu to satisfy the sweet tooth,  a selection of kosher white wines (note, their red wines are not kosher), and a cocktail menu, I left Sacred Chow with a silent prayer for a venue in Kansas City.
Author Bio
Yosef Silver (@ysilver) author of This American Bite, is a passionate food writer with a love for photography.
View Larger Map