For years, my wife and I would travel the world, ogle funky non-kosher restaurants, and wish that such a place would exist kosher, and in NYC.
Well, such a place has arrived in Jezebel.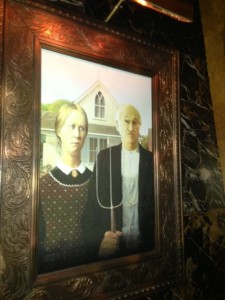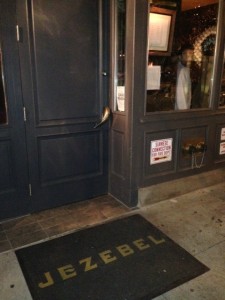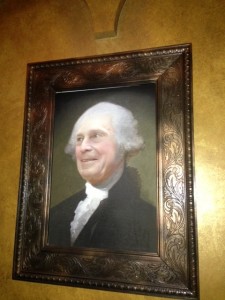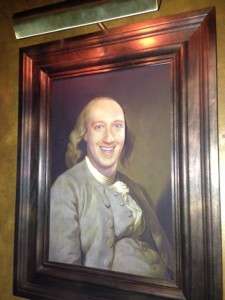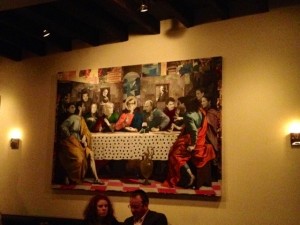 We were invited by one of the owners, Henry, to dine and experience Jezebel for ourselves. Located in trendy Soho on West Broadway off of Canal St., its inconspicuous entrance makes it not easy to find, but maybe that's part of the fun? (Hint: the name of the restaurant is on a mat in front of the entrance. I wasn't looking down and walked right past it!)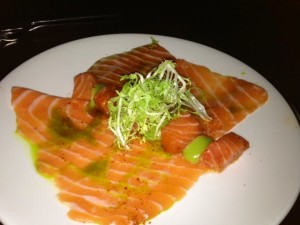 Once you're in, a tall, model-like hostess will either escort you upstairs to eat, or show you past the small reception area into the back, where there's a bar / lounge. What I loved about the decor of the restaurant, was the irreverent custom art.
Downstairs featured famous paintings altered to feature the faces of famous Jews. The restaurant was well designed, like no other kosher restaurant I've dined at. It had the feel of a fancy lounge, or club (minus the dance floor). This is definitely the type of place to go with your special someone for a night out, or with your group of friends to celebrate.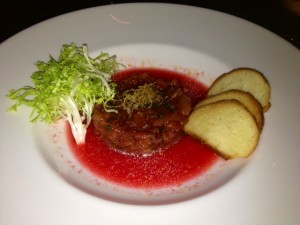 As we were seated upstairs and given the menu, the in-house, frum, sommelier asked us what we wanted to drink from their extensive drink and wine menu. Due to the fact that a decent chunk of Jezebel's clientele isn't Jewish – I'd say it was about 50% obviously Jewish on this particular Tuesday evening – making sure that your wine is handled and poured by a frum sommelier showcases the foresight and lengths the owners of Jezebel went to to provide a truly special kosher experience.That's one of the things I liked about this restaurant. It's the type of place that anyone can enjoy. From our seats we were able to "people watch" and noticed Jews from all parts of the community, Modern Orthodox couples,Yeshivish businessmen, Chassidish ladies, as well as numerous groups of non-Jews, many of them looking for a hip, trendy experience.
The small rolls brought out before our appetizers were nothing special, but perhaps our minds were on the meal we were about to have.
Our starters included salmon carpaccio with basil dressing, tuna tartar in a blood orange dressing, and a kale salad. My favorite was the tuna tartar, which accompanied by the citrusy dressing was fresh and tasty.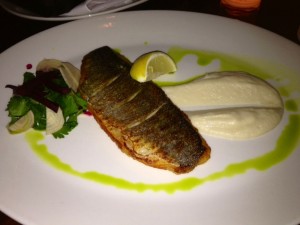 My wife also enjoyed the tartar, and raved about the kale salad. The carpaccio wasn't bad either, but I think that even though we both love raw fish, we were not accustomed to the carpaccio texture, which is completely flattened, and I wasn't convinced by the basil dressing, even though I'm a huge basil fan. I'm glad I tried it though.
For the main course, we decided on the Red Wine Braised Short Ribs and the Bronzino with a Parsnip Puree. For our sides we had the Fries in Truffle Oil, Sauteed Mushrooms and Shallots, and the Roasted Root Veggies (Parsnip, Carrot, and Fennel). What's odd is that I love steak, but I wanted to try something different. The bronzino was amazing. Cooked and prepared perfectly and elegantly.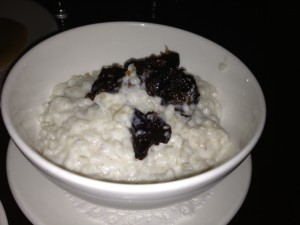 The short ribs were familiar in taste, but different. Familiar in the sense that the flavor wasn't new or exciting, however, it too was cooked and prepared perfectly. It was different in that the meat was surrounded by mashed sweet potato with a crunchy sweet potato topping. It was tasty and juicy.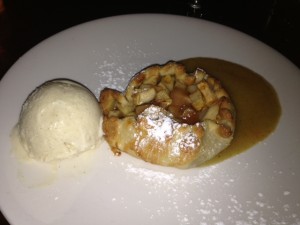 For dessert, we chose to taste a couple options, and the one I was told was the most pedestrian was the one I loved the most. We ordered the Apple & Pear Croustade and the Rice Pudding with Prunes. The croustade was a nice not-to-delicate pastry, but for some reason I just really loved the Rice Pudding, made with Coconut Milk. Was just really good. So good, that I took it to go (I was too full to eat it all there) and ate it for 2 more days as a special treat!
After the meal I realized that there were so many other items on the menu that I wanted to try including their steak, burgers, and the famous appetizer "Mac & Cheese" (pareve of course). Oh well, I guess I'll need to come back and try it again!
Overall, we had an enjoyable experience. The waitstaff was friendly and attentive, the food was interesting and tasty, and the ambiance was like no other kosher restaurant I've ever been to, anywhere. It was truly designed as a place for Jews to get away, while at the same time enjoy all these things within a strictly Glatt Kosher restaurant (mashgiach temidi and everything).
We'd love to hear about your experiences at Jezebel, or what you think about such an interesting place. Please comment below.
View Larger Map