By @AmySpiro, Israel correspondent
Just about everywhere you turn in Israel during Chanukah you'll encounter sufganiyot, or doughnuts. Supermarkets, gas stations, convenience stores, and yes, bakeries. And in all those places you can always pick up a powdered sugar-covered, strawberry jelly filled confection. Sometimes even chocolate or caramel filled too. But if you want to experience true doughnut innovation during your trip to Israel this winter, here are the places you have to stop by:
1. Roladin: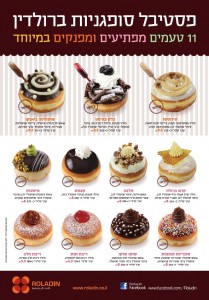 Roladin is the biggest name in crazy doughnuts in Israel, and with good reason. Every year they cook (er, fry) up fancier and crazier sufganiyot for Chanukah. This year is no exception.
Roladin has three varieties with "chasers" small vials of liquid you inject in the doughnut before eating, including tiramisu, with mascarpone cheese, coffee and white chocolate; black forest, with whipped cream, belgian chocolate and a cherry chaser; and Bianco chocolate, with Italian milk chocolate ganache, sugar pearls and a chocolate hazelnut chaser. It also has a creme brulee doughnut complete with a shard of caramel, plus halva, pistachio, chocolate, caramel, jam, sprinkles and whipped cream.
Of course, there is one thing that might keep you from going to Roladin – it posts the calorie counts of each sufganiya on the menu.
Roladin has three stores in Jerusalem – in the Mamilla Mall, the Malcha Mall and at 8 Hillel Street, plus branches in Modi'in, Mevaseret Zion, seven bakeries in Tel Aviv, plus in Petach Tikva, Ramat Gan, Givat Shmuel, Beersheba, Rehovot, Rishon Lezion, Netanya, Herzliya, Ra'anana, Kfar Saba, Haifa and others.
Doughnuts cost 4.5 to 9.5 shekel each.
Most, but not all Roladin branches are kosher – check for certification. All the branches in Jerusalem are kosher.
www.roladin.co.il
2. Ne'eman: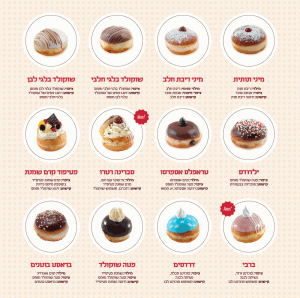 Ne'eman is one of the most ubiquitous bakeries in Israel, and in recent years they've been getting in the sufganiya spirit with their own outrageous creations.
In addition to their chocolate, caramel and jam varieties, this year Ne'eman is selling two meringue-topped doughnuts, peanut, sprinkle, espresso and cream versions, a "petit four" doughnut topped with pastry cream, mixed fruits and chocolate, plus the "sabrina retro," a sliced open doughnut filled with pastry cream, rum and topped with a cherry.
Doughnuts cost 4-10 shekel each.
Ne'eman has a dozen locations just in Jerusalem, including three right in the center of town, and more than 40 nationwide. All Ne'eman locations are kosher mehadrin.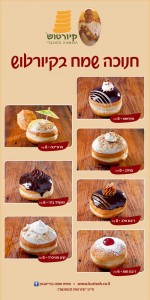 3. Kurtosh:
Kurtosh is a relatively new bakery chain in Israel, arriving just in 2006. Since then they've spread across the country, selling their signature tubular pastry nationwide.
But if you stop by on Chanukah you'll have to try their selection of doughnuts, from the traditional to the extreme.From a pastry cream and almond version to a sufganiya topped with caramel or belgian chocolate, Kurtosh will not disappoint.
They also offer varieties including margarita, macchiato and sachlab flavored – a traditional Israeli winter drink.
Doughnuts are 6 to 8 shekel each.
In Jerusalem, Kurtosh is located at 3 Lunz Street, just across from Cafe Rimon off of Ben Yehuda Street. They also have branches in Tel Aviv, Kfar Saba, Rehovot and in Kiryat Bialik.
All but two Kurtosh locations are kosher – the Rishon Lezion and Ramat Hasharon are not.
4. English Cake:

English Cake goes all out with its sufganiya offerings on Chanukah – both pareve and dairy. Pareve varieties include jam, halva, pastry cream, blueberry and chocolate, but the dairy varities are the most exciting.
For the holiday English Cake has concocted doughnuts in flavors like ferrero rocher, nougat, pina colada, irish cream, lemon meringue, tiramisu and cheesecake.
English Cake has eight branches in Jerusalem, plus locations in Modi'in, Beit Shemesh, Gush Etzion, Mevaseret Zion and Petach Tikva.
Doughnuts are 3 to 8 shekel.
All English Cake branches are kosher mehadrin.
www.englishcake.co.il