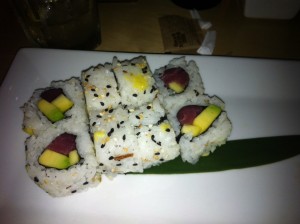 Seventeen is one of only a few kosher restaurants in South Beach, but it not too far from the Kosher hub of Miami Beach only 24 blocks north.
The restaurant was formerly Tfor2 (originally from Brooklyn), and many of the remnants from that restaurant remain, including signs and items on the menu (like a Kings Highway roll). Irregardless of that, the restaurant has plenty of its own merits that make it a popular destination for the kosher diner in Miami.
On a recent Saturday night, we sat at an outdoor table (adjacent to the parking lot behind the restaurant), although it was (partially) sheltered from the cars and potential sudden rain shower (it rained for about 5 minutes). The restaurant was packed both inside and out back.
There are 2 menus that define 17's cuisine: Italian and Japanese. The Italian menu gives you a choice of pasta, pizza, fish, and an array of other dairy appetizers. We opted for Japanese (which basically reads like a sushi menu), and they did not disappoint.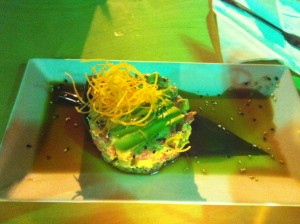 Starting with the Ichiban Tuna, the tuna tartar and avocado dish was a refreshing palate cleanser that wasn't too heavy or too explosive in your mouth. It offered the right flavors and differed from a traditional sushi roll.
We ordered 2 rolls of sushi, including the fancy "Kings Highway" roll – which was a special tempura roll topped with coconut and walnuts – which we loved – and served with their special eel (fake) and shizo sauces – which I prefer to soy sauce.
Additionally, we tried the butternut squash pumpkin soup which was equally delicious.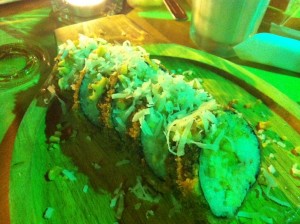 The only drawback to such a meal was the cost. Sushi is never as filling as pasta, yet it is just as expensive, so this meal was a treat for us, and I was more than happy to spend my money on a good meal.
Definitely worth a try, decent place for a date as well.
Walking distance to the beginning of Lincoln Road and the movie theater.
View Larger Map