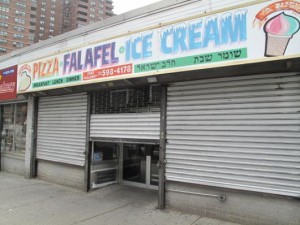 UPDATE: Reopened.
Just because it's Kosher doesn't mean it's cleaner. That's certainly the case with Shalom Chai Pizza at 357 Grand Street in the Lower East Side, New York City. The kosher eatery, with decent reviews on MenuPages, was closed down after 75 violations were found by the City Health Department today. Some of the most egregious violations were outlined by The Lo-Down (a local site dedicated to Lower East Side news):
Among the items detailed in the report: hot food items held at below 140 degrees, cold food items held below 41 degrees, evidence of mice and "food contact surface not properly washed."
The restaurant is under the hasghacha of Rav. Pinchas Horowitz according to the OZ Kosher list. When we called to check on their current status an old, barely intelligible man said they may re-open soon, but was unsure until the situation "got worked out."