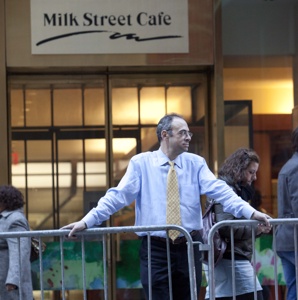 According to this source, even though some of Milk Street's business has bounced back since the beginning of the Occupy Wall Street protests began a few months ago, many of the NYPD barricades still remain on and near Wall Street despite the closing of Zuccotti Park as a campsite for the movement.
Marc Epstein, the owner of Milk Street Cafe, claims that his sales are still $2,000 – $4,000 lower a day than before the protests began.
As a community, there are two things we can do here. We can lobby Mayor Bloombergs office, and we can eat there.
(Im not writing about the plight of this restaurant over the plight of others. I personally think they got a bad deal and the City of New York / the NYPD is not cooperating with the small businesses to make sure theyre not adversely affected. I fully understand the security concerns the city and mayor have, but at this point, numerous business will either close or lay off more workers due to the barricades.)
Its truly a shame that this hit the restaurant only months after it opened in a large beautiful location. If theres one thing this teaches us is that when opening a restaurant anywhere, one must take in all factors and parties, and in this case its the local government / politics.
Let us know what you think about the situation by commenting below.
(Photo credit to the NY POST)