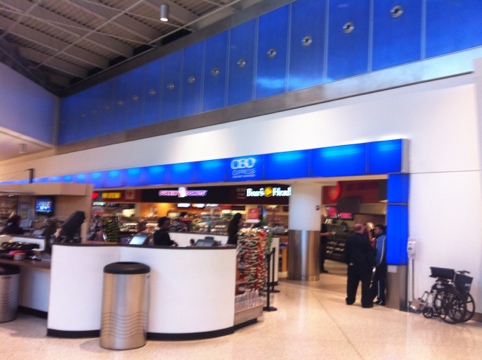 JetBlue's T5 JFK terminal is well stocked and Kosher-friendly.
If you're hungry and flying through JetBlue's new (and beautiful) T5 terminal at JFK Airport, you're in luck! I did a scan of the new terminal's offerings and to my surprise, I found numerous Kosher options offered at all of the terminal's CIBO Express shops*. The main CIBO Express shop is more of a food court type of store located in the center of T5. One of the open refrigerated areas contains 10 different offerings from FreshKo (cobranded with CIBO Express) with a Star-K hashgacha. 
Here's what I found in one whole section of the main (and even the smaller of the) CIBO Express shop:


Grandma's Classic Egg Salad on multicolored rye
Herb Encrusted Chicken Sandwich w/ creamy hummus on a ciabatta 
Fresh Roasted Turkey Sandwich on Artisanal whole grain rye bread
Signature Tuna Fish Sandwich on 100% Mixed grain artisan baguette
Fresh Mozzarella Sandwich w/ pesto and oven roasted plum tomatoes on a baguette
Curry Chicken Salad Wrap w/ raisins and apples
Gluten Free Red Pepper Power Wrap 

Gluten Free Turkey Power Wrap
Chicken Caesar Wrap
Basil Pesto Bow tie Pasta w/ Fresh Mozzarella and Sun dried Tomatoes 
Wall Street Chicken Salad w/ balsamic vinaigrette (not found in the main CIBO Express)
FreshKo offers pre-made sandwiches, wraps, salads, and other prepackaged kosher foods to numerous institutions in the NYC area including office cafeterias (including where I work at the World Financial Center — and I've grown extremely tired of their 4 consistent options), universities (including my alma mater), and other such places. The difference here is the sheer number of options JetBlue has commissioned FreshKo to produce for T5. In addition to these 10 meal options, I found a FreshKo-made yogurt parfait, which looked just as good as the non-kosher version sitting next to it.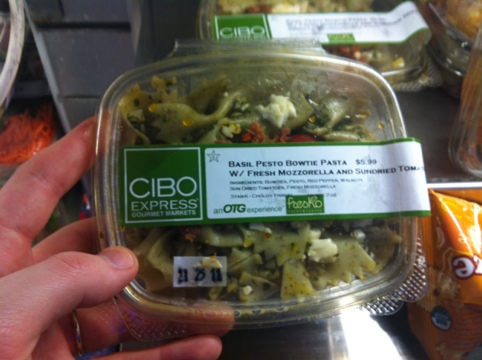 Additionally, I also found Vegan Noodle meals with an odd "K Kosher" hashgacha on them. The brand is called "Super Lunch" made by "Eco Meals". I cannot vouch for the kashrut of these meals. 
Another exciting find were large cupcakes made by "Sweet Sam's" with a Triangle-K (Dairy) hashgacha. This was found only by the main large CIBO Express. 
Throughout all the CIBO Express shops were numerous snacks, bars, drinks of all kinds that were kosher should you not desire a sandwich or a meal. 
In one of the smaller CIBOs I found a display of Sabra Hummus + Pretzel containers.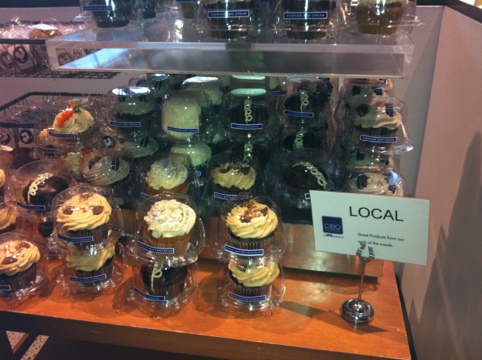 All in all, there were MANY options for the hungry kosher JetBlue traveler. JetBlue's T5 JFK terminal is well stocked and Kosher-friendly. 
Of course… My favorite kosher JetBlue snack is onboard: the Terra Blues – blue Terra potato chips. ;)
On my return trip via JFK, I was delighted by the terminal's design, brightness, and modernity. It was a refreshing change from the staid terminals down in Ft. Lauderdale (FLL) FL, where I just returned from.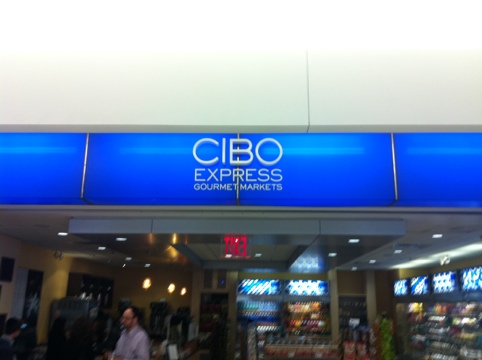 *In the CIBO Express shop by the baggage claim, I did not find any of the aforementioned FreshKo sandwiches or meals. If you're in dire need of a meal upon arrival, make sure you get it in the main terminal after you land.
PS- be prepared to spend upwards of $9 per sandwich. They're not cheap.