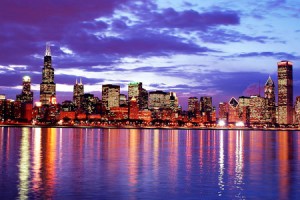 On Twitter and Facebook, we often get asked for recommendations of the best restaurants or more specifically "what's the best (fill in cuisine here) in (fill in location here)?" This is the first of many follow ups to the "Best of Kosher" series starting with New York.
Thank you to Daniel Peikes, local Chicago foodie, for this post.
» Best Kosher Pizza
EJs Pizzeria
9149 Gross Point Road
Skokie, IL
EJs is a relative newcomer to the Chicago pizza scene, but their east coast style pizza has a great crust.
» Best Kosher Burger
Ken's Diner
3353 West Dempster St
Skokie, IL
The Bay-Ken burger at Ken's is an excellent variation on their world famous Burger Buddy. It is a 1/2lb patty with beef fry and sauteed mushrooms: its juicy and delicious.
» Best Kosher Sushi
Shallots Bistro
7016 Carpenter Road
Skokie, IL
Shallots sushi menu is vast and creative, and they have sushi bar where you can see exactly how your sushi is being made.
» Best Kosher Steak
Shallots Bistro
7016 Carpenter Road
Skokie, IL
This one goes to Shallots also as they have excelent quality steaks as part of well composed dishes on a full steak menu.
» Best Kosher Shwarma
Taboun Grill
8808 Gross Point Road
Skokie, IL
A great Israeli joint where besides the delicious shwarma you can get great appetizers like Moroccan cigars, kubeh, and pastels.
» Best Kosher Bagels
Bagel Country
9306 Skokie Blvd
Skokie, IL
Bagel Country is really the only game in town these days for a real (NY style) bagel. They have wide array of different bagel flavors and all the schmere you can handle.
» Best Kosher Deli
Srulies Essen Delicatessen
3515 Cleveland St
Skokie, IL
in the Wifi Building
Pretty much the only game in town for authentic deli style food. Their knishes are to die for.
» Best Kosher Chinese
Tein Li Chow
2485 Howard
Evanston, IL in Jewel-Osco
Tein Li Chow is the only dedicated Chinese food establishment in the area. Although they are take-out only, their value menu provides some excellent options.