Contributed by: Dani Klein | Date of Travel: January 2011


Kosher Info:
The Kosher options in the AC area aren't many, or particularly exciting, but enough to accommodate the kosher traveler (or kosher gambler) down in south Jersey.
There are 3 kosher restaurants in the Atlantic City vicinity:
Jerusalem Glatt Kosher Restaurant – 6410 Ventnor Ave., Ventnor City, NJ – A highly overpriced meat restaurant, about a 10 min drive from most hotel casinos. There is only one (two waiters maximum) for the whole place, and even with only 3 tables to serve, the service was still very slow. Food was par/subpar, and the portions were small compared to the price. Most entrées were ~$30, while a comparable dish in most NYC restaurants would have been ~$15. That's what happens when you have a monopoly on the area. (That was not a pun on the game of Monopoly, which named all the properties after the streets in Atlantic City). Call them for hours of operation.
Shalom Pita – 6514 Ventnor Ave., Ventnor City, NJ – Down the block from Jerusalem Glatt Kosher Restaurant. Small pizza / dairy place. Not much seating room. Call them for hours of operation. www.shalomkosherac.com
Shari's Glatt Kosher Steakhouse – 6821 Blackhorse Pike, Egg Harbor, NJ – about a 20-25 minute drive from most hotels and casinos in Atlantic City, Shari's is not open all year round (it was closed when I was there in January), and was set to reopen during the warmer months. Family members of mine did try Shari's over the summer and had the following advice: food is overpriced for what it is, and get there early. If you don't make a reservation, or are late to your reservation, you may not be seated (during high season I suppose). And when my family was there, they ran out of food – which caused a mini-riot (imagine Kosher observant Jews waiting an hour to eat, to be told there was no more kosher food – OY!). Proceed with caution.
New: Bubbie's Bistro – 5204 Ventnor Avenue, Ventnor City – Kosher Dairy & Vegetarian restaurant specializing in Kosher Italian & Mediterranean cuisine, under Star-K supervision. www.bubbiesbistro.com
Other Kosher stuff found in AC: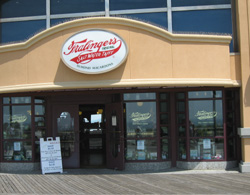 Salt Water Taffy – The Jersey Shore is known for this treat, as well as some other goodies like caramel and fudge. Fralinger's and Original James' (same company) sell all of the above products in Atlantic City, the majority of which carry an OK-D hechsher. They have a large candy store on the Boardwalk next to the Bally's Casino. It's well worth your visit as the Salt Water Taffy is absolutely delicious. www.seashoretaffy.com
Travel Info:
Atlantic City is well known for it's casinos and gambling outside of the West Coast California online poker scene, and has recently been trying to rebuff other tourist aspects to the city. While the city was quite depressed in the Winter time with few tourists milling around outside or on the boardwalk, the city has a robust outlet shopping area (yes – that is discount brand name stores – calm down!) called "The Walk", which had some great deals.
Each of the casinos has it's own flavor and theme, so you'll have your pick. The Tropicana has a huge complex inside where we found many of the tourists holed up during the cold weather days and nights.
Many of the casinos have no smoking policies – because it's the law – and yet smoking was rampant in the few that we visited. Call in advance to find out if the no smoking policies are enforced.
The Absecon Lighthouse was a nice historic touristy place to visit, although entirely unrelated to the AC gambling nature of the town.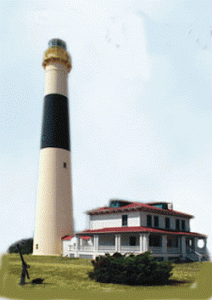 I recommend bringing your own car to AC, or staying in your hotel/casino. There is however a jitney / shuttle which stops at nearly every casino and takes you to the shopping area as well as the transportation hubs.
The express ACES train is a new way to get to AC from NYC with only 2 stops in under 3 hours (although it is currently not running until May 13th). It departs Penn Station NY, stops in Penn Station Newark, and Atlantic City only. Fares are reasonable starting at $29 o/w.
Jewish Info:
If you're staying in AC over Shabbat, you may want to stay closer to Ventnor City where the Chabad is located. It's over an hour walk from most hotels in the Atlantic City area.
Chabad of Atlantic City: www.chabadac.com
6412 Ventor Ave. Ventnor City, NJ