Contributed by Shalom Rosenberg | Last Date of Travel: March 2009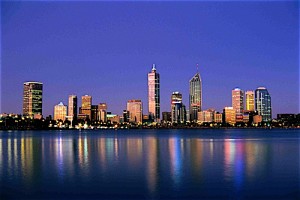 Kosher Info: The Kosher Food Centre is a small but adequate market that has a bakery, deli, and grocery. This is really the only game in town. Check it out here: www.kosherfoodcentre.com.au
Tourist Info:  Perth is the most isolated big city in the world. The closest big city is Jakarta, Indonesia. Perth has a population of 1.5 million and a small Jewish population of about 10,000. Here are some Perth highlights:
Kings Park and Botanical Garden offer a gorgeous view of the city skyline and as well as the Swan River. This a great place for a jog, stroll, bike ride, or view of various Australian memorials: www.bgpa.wa.gov.au
Rottnest Island is a beautiful and isolated island outside of Perth that has a small shopping area and great opportunities for hiking, bird watching, swimming, and scuba diving….some of the most beautiful in the world.
Fremantle, or Freo as the locals call it, is a cool town just outside of Perth. There are many tourist attractions like the Round House, Freemantle Prison, and more. There are many great shops and markets too plus tons of fabulous architecture. http://www.fremantle.wa.gov.au
Perth Zoo (www.perthzoo.wa.gov.au) is a great place to see koalas, kangaroos, wallabies, wombats, and other local and unique animals. There are plenty of other animals from around the world too! If you want a more up-close and personal experience, check out…

Caversham Wildlife Park This is a great place to meet, greet, pet, and see all the kangaroos, koalas, other Australian animals up close! (www.cavershamwildlife.com.au)
Cottesloe Beach is a stunning beach that offers art shows throughout the year (www.cottesloe.wa.gov.au)
Sorrento Quay/Hillarys Boat Harbour is fun place to shop, people-watch, and relax. (www.sorrentoquay.com.au/index.php)
Please note that although Perth has an adequate public transportation system, including a light rail that rides along the coast with a magnificent view of the Indian Ocean, you will need a car to get around. The Jewish community is small but a bit spread out. While driving is on the left side and somewhat counter-intuitive for Americans, it is not impossible to adjust for a trip. Some places will be easy to get to via train or bus while others not….it is best for you to decide.
Jewish Info: The Jewish community is pretty small. There is one (that I found) kosher food market (I heard there was another one), 5 shuls –4 orthodox and one progressive, one Jewish day school, and some other notable places.
The shuls can be found here:   www.mavensearch.com
Chabad is located in the Dianella area, where there are no hotels, but there are Bed and Breakfasts. Chabad website: www.chabadwa.org
The Carmel School is a large modern Orthodox day school and can be found here: www.carmel.wa.edu.au