Contributed by: Ruchie Schwartz | Last Date of Travel: January 2011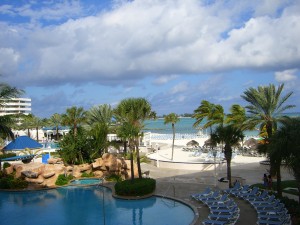 Kosher Info:
I just recently returned from a 6-day trip to Nassau, in the Bahamas, which included Shabbat, and was glad I came prepared. As far as I know, the Bahamas does not have a Jewish population and therefore does not cater to the Kosher lifestyle. Prior to the trip, my friend and I researched whether or not there was a Chabad around and found there was not. As far as we know, there are no kosher restaurants. We brought most of our food with us and got a refrigerator in the room at least until the end of Shabbat so we were able to have deli sandwiches.
There was a big supermarket there named Citymarket that carried loads of American – and therefore kosher – products. We didn't rely solely on this place, but it came in handy. We brought dry cereal with us and were able to purchase kosher milk here. We also got some fruit and water. In theory, we could have purchased more, but the prices prevented us from even looking. To give you an idea, a box of cereal there was around $7. We were surprised at the variety of products that were available to us, such as pre-packaged pastries, but were not eager to buy them at those prices.

There are some Starbucks around and there was a Ben & Jerry's in Atlantis, but I don't know of any actual restaurants with kosher food.
Tourist Info:
There are a bunch of islands of the Bahamas, but tourists are mostly on Nassau or Paradise Island, which holds the Atlantis. Everything you'd want to see is pretty accessible by either bus, taxi, or ferry.
The Atlantis is definitely something to see. It's a giant resort with a water park, casino, shopping… and host to a lot of celebrities. Although I didn't have any encounters, people we ran into kept telling us about the famous people they saw there. It often houses big poker tournaments, too, which took place during our visit. Visiting Atlantis could be really pricey, but most people think it's worth it.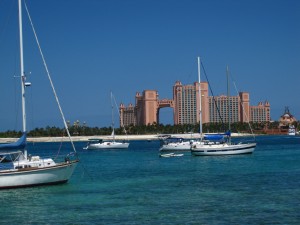 This being a Caribbean Island, most of the great activities are water-based. There are several dolphin swims and plenty of opportunities to scuba dive and snorkel. Hotels are loaded with brochures on these activities, and if not, people that run some of these will find you on the beach. As far as nightlife goes, Senor Frog's is a wild place that's worth checking out and as far as we could tell, a lot of the alcohol seemed to be what we have in the US. I would still recommend asking to see what's used in the drink to make sure it's kosher.
Jewish Info:
If there is a Jewish presence in the Bahamas, I didn't know about it. Being female, I didn't bother researching shuls or minyanim, but they may exist. If the goal of your vacation is to learn about that country's rich Jewish history, this is not the place for you. If you're looking for a nice get-away, some beautiful beaches, and fun, this is the place.
Note: There is a tiny Jewish community and shul in Freeport, which is on a different Bahamian island from Nassau.