Contributed by: Dahlia Adler Fisch | Last Date of Travel: August 2010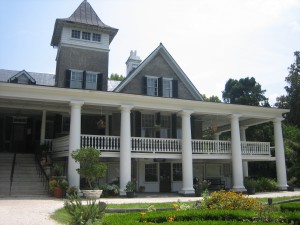 Kosher Info: Unfortunately, Charleston has lost both its only kosher restaurant and its kosher bed and breakfast in the last couple of years, but there is kosher food available in a number of supermarkets. (The Publix on Sam Rittenberg Blvd. in West Ashley has the largest selection, including kosher wine and cheese.) I would, however, highly recommend bringing your own food, especially if you plan to be staying in Downtown Charleston (as tourists generally do) and will not be renting a car. If you find yourself in Downtown Charleston over Shabbos, they do have both a lovely kiddush and seudah shlishit at the shul, BSBI.
Tourist Info: A number of things are ubiquitous in Charleston, including churches (hence its nickname "The Holy City"), palmettos (as seen on the South Carolina flag), and southern charm. While there's plenty to do in the area, you'd be remiss not to set aside a few hours to simply walk around (or take a horse-drawn carriage!) and take in the architecture, do some shopping on the fabulous boutique-laden King Street, and enjoy the surprisingly vibrant nightlife.
Make sure to check out Charleston Candy Kitchen–there aren't tons of kosher items, but it's a charming store whether or not you plan to indulge. (Tour buses of the city are another good way to get around, though I did not partake of that particular option.) If you have a couple of extra hours (and need a break from the heat of the outdoors that's especially pervasive in the summer), visit the Charleston Museum, the first museum in America and home to an almost oddly vast variety of items from an Egyptian mummy to a large room devoted to animals to the stately funeral coach in the lobby.
You can also purchase tickets to tour up to two old homes in Charleston, one of which (The Joseph Manigault House) is right across the street from the museum and takes about half an hour to tour. (The other is considerably less conveniently located.) Charleston is also home to a substantial aquarium with a 4-D theater, located in pretty Liberty Square.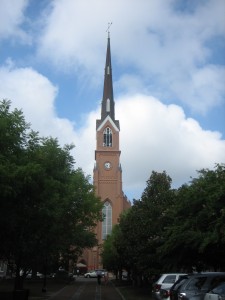 To experience the real magic of Charleston, however, you'll have to do a little traveling. Liberty Square, home of the aquarium, is also home to the ferry base for the tour of Fort Sumter, the site of the start of the Civil War (which you can expect to hear called anything from "The War Between the States" to "The War of Southern Independence"). The ferry ride is about half an hour each way, and while snacks are available for purchase, you'll probably want to bring your own lunch. (At Fort Sumter, you can see the original fort complete with old cannons as well as a small museum and tiny gift shop, but unless you're a real history lover, expect to spend at least a solid twenty minutes twiddling your thumbs.) And, of course, no trip to Charleston would be complete without a visit to at least one of its magnificent plantation homes. If you're only going to see one (and really, how many do you need to see?), make it Magnolia Plantation, a magnificent estate easily accessible by either a rented car (highly recommended for more than one person; parking is free) or a shuttle from the Charleston Visitors' Bureau which costs $20 per person round-trip and goes not only to Magnolia but to the nearby plantations Drayton Hall and Middleton Place as well. Not only are the house and grounds beautiful (and include such interesting elements as a "Biblical garden" and a petting zoo), but you can purchase tickets to a number of activities including boat and tram tours.
If your trip is longer than a couple of days, consider taking a day trip to Savannah, GA, only a two-hour drive away and a rather pleasant one at that. Amtrak trains are also available between the two cities for a very reasonable price, but unless you want to wake up at dawn and go home after sunset, renting a car is a considerably better option.
Jewish Info: Charleston has a wonderful and dedicated Jewish community, which is largely spread over three different neighborhoods (each with its own eruv): Downtown Charleston (where the main Shul, BSBI, is located), West Ashley (where most of the kosher food shopping is located, as well as the day school, JCC, and a satellite minyan), and South Windemere (about which I, regretfully, know nothing except that they have an eruv.)
It is my understanding that West Ashley has a minyan on Shabbos only, while BSBI in Downtown Charleston has a daily minyan as well. (The latter neighborhood is also home to both the Rabbi and the Assistant Rabbi, both of whom are extremely kind and welcoming.) To the best of my knowledge, the only hotel within the Downtown Charleston eruv is the Riverview-Comfort Inn Downtown, although a large number of hotels are in comfortable walking distance from the Shul itself.