Contributed by: Rachael Abrams | Last Date of Travel: June 2010
Kosher Info: With a large Jewish community, Paris provides a wide variety of Kosher restaurants. It is nice to stay in one of the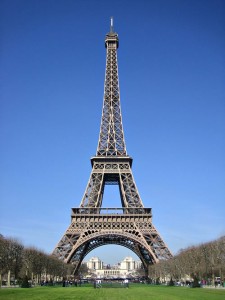 most incredible cities in the world, knowing there's a good kosher boulangerie nearby. The beauty of Paris lies beyond the architecture and the Louvre—you can find it in just about any restaurant.
My favorite in the Le Marais district, is L'As Du Fallafel. This hole-in-the-wall falafel spot, has some of the best falafel. With perfect pita, the Israeli salad and hummus provides you with a comforting meal. Eat on the streets for a real Parisian experience. The wait can be up to an hour, but the delicious schwarma and falafel is worth it. If you're in the mood for something sweet there are many Kosher bakeries close by.
Recommended Restaurants:
L'As Du Fallafel- 34, rue des Rosiers 75004 (tel: 01.48.87.63.60)
Kavod- 26, rue Jean Mermoz 75008 (tel: 01.42.25.65.26)
Gaspard- 84, rue Lauriston 75016 (tel:01.45.05.31.89)
Cook- 27, avenue Niel 75017 (tel: 01.42.67.36.54)
Le Relais Sucré- 69, rue Manin 75019 (tel: 01 42 41 20 98)
Urban sushi- 44, rue Jouffroy d'Abbans 75017 (tel: 01.43.80.08.00)
La stella- 158, avenue Daumesnil 75012 (tel: 01.43.47.18.68)
Au Grand Méchant Louvre- 24, quai du Louvre 75001 (tel: 01.42.33.25.53)
Le 17- 28, rue Poncelet 75017 Paris (tel: 01.42.67.21.05)
Le Petit Télégraphe- 3, rue des Forges 75002 (tel: 01.42.36.40.83)
Darjeeling- 1, rue des Colonels Renard 75017 (tel: 01.45.72.09.32)
Le Chateaubriand- 125, rue de Tocqueville 75017 (tel: 01.47.63.96.90)
O You- 164, avenue Daumesnil 75012 (tel: 01.43.07.68.97)
Osmose- 31, avenue de Versailles 75016 (tel: 01.45.20.74.12)
Tutti Quanti- 18, esplanade des Abymes 94000 (tel: 01.43.99.41.03)
Ventura Avenue- 98, avenue des Ternes 75017 (tel: 01.74.30.62.02)
Burgar Bar 231- 231, boulevard Voltaire 75011 (tel: 01.43.73.02.02)
Le Lotus de Nissane- 39, rue Amelot 75011 (tel: 01.43.55.80.42)
TLV- 92, rue Saint-Maur 75011 (tel: 01.74.30.93.24)
Allo Sarina- 38, rue Curial 75019 (tel: 01.40.35.08.98)

Tourist Info: There's no better way to describe Paris than using the word "magical." This city is full of charm, life and everything lovely. The Louvre is definitely a must-see as well as relaxing in the tuileries (the gardens behind the museum).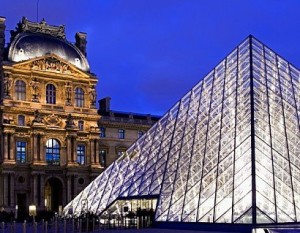 One of my favorite museums, which I continue to dream about is Musée de l'Orangerie. In this small gallery, there is a large collection of Monet's work. If you like modern art, you haven't seen anything until you've visited the Centre Pompidou. Its tantamount structure was enough for me, but if you like contemporary and unusually dark art, this is the place for you.
In the Le Marais district you can find many Jewish gift shops. There's a Jewish museum, full of beautiful artifacts from synagogues before WWII. There is also a Holocaust museum and memorial close by. Today, Paris is full of life and the Jewish community is vibrant. There is no reason to feel uncomfortable as a Jew in one of the most beautiful cities in the world. With all of the mezuzas on the doorposts, young men in kipot, and Kosher establishments you will feel right at home…as long as you can speak the language (bring a pocket dictionary).
Louvre Museum (1 Place André Malraux)- Allot a good amount of time for the Louvre. This enormous museum is full of incredible art from just about every era around the world. The architecture is absolutely breathtaking.
Musée de l'Orangerie (Jardin des Tuileries)- A significant amount of Monet's water lilies are displayed elegantly at this fine museum. If you didn't have the chance to visit the gardens during your visit to the Louvre, stop by the Tuileries after.
Centre Pompidou (Place Georges Pompidou)- The building is quite a spectacle, with escalators taking you to each floor and providing magnificent views of Paris along the way. If you don't care for modern art, I recommend a quick visit just to see the outside.
Musée d'art et d'histoire du Judaisme (71 Rue du Temple)- Visit this Jewish museum for a rich history of the Jewish art in France. Use the audio headset for a nice tour and on the way out, relax in the beautiful courtyard.
Mémorial de la Shoah (17, rue Geoffroy-l'Asnier)- Museum and memorial dedicated to the European Jews who died in the Holocaust. Definitely worth going to.
Jewish Info: I spent shabbat with a friend, and enjoyed a traditional Tunisian Sephardic Shabbat meal. With a strong Jewish population, there are many synagogues in Paris (many Sephardic synagogues in particular). A Chabad house is located on the renowned Champs Elysées. During my travels I saw many mezuzas, kipot and Jewish stars—even on the metro. Listing of Chabads in the Paris area.
Bon Voyage!