Contributed by: Dani Klein | Last Date of Travel: August 2009
Kosher Info: Vancouver was a city I did not expect to find many kosher options, and was surprised to have a found a few.
One thing to keep in mind: most, if not all of the places I will list, close early – especially if you're from New York or Toronto. Really early.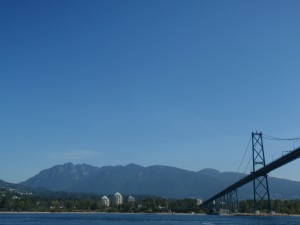 I met a few friends and colleagues at Sabra Glatt Kosher Restaurant & Bakery (3844 Oak Street), which has a sit down meat restaurant, and a take out section as well. The food has a mix of Israeli with other Middle Eastern flavors. The soups were good, and the main dishes were pretty tasty as well. This was not a fancy restaurant, but good enough to hit the spot when on vacation. Sabra closes at 8pm or earlier, so check in advance.
Pini's Kosher (729 West 16th Ave.) is a pizza place and a kosher market combined. The pizza slices were quite small, and the flavor is nothing to write home about. I guess you cant complain about kosher pizza when traveling far from home. The market carried many American and Israeli kosher products.
On our last day in Vancouver, we headed to the JCC for lunch. Nava is a Dairy Restaurant located in the lobby of the JCC (950 West 41st Ave). They had pizza, pasta, sandwiches, salads, and soups. Although it was a fast food sort of cafe, the food was relatively fancy and tasty, and I highly recommend eating there. The cafe also has to abide by the hours of the JCC, so call in advance for their schedule.
Sadly, there were some places I did not get to try when in Vancouver:
Maple Grill seems to be a meat restaurant that is a fusion of multiple cuisines (1967 W. Broadway).
Falafel Plus & Catering (446 W 8th Ave)
Please keep in mind that none of the kosher restaurants are in the downtown or West End area of Vancouver, which is really the nicest place to stay. You'll need a car to access the restaurants, which is relatively close by, all under a 15 minute drive from the West End neighborhood (where we stayed).
For an up to date list, contact the Orthodox Rabbinical Council of British Columbia (BCK) before you travel.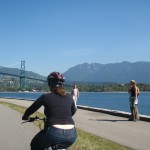 Travel Info: Vancouver is an amazingly beautiful and clean city. There is a hustle and bustle, yet looking at the nearby mountains makes it serene. In fact, many films (portraying large cities) are filmed there.
I loved exploring the streets and parks of Vancouver, especially Stanley Park on the tip of the West End. Stanley Park is an amazing place to walk, jog, roller blade, or ride a bike. We decided to rent bikes nearby and take the path around the seawall of Stanley Park. The views of the city, and the mountains were amazing. The seawall actually extends beyond the limits of the park into the city, allowing all those who stroll along to take in it's amazing views. Many tour guides and books actually recommend biking the seawall as one their top things to do in Vancouver, and I agree.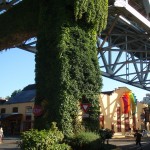 Another great place to visit and explore is Granville Island, situated directly across from downtown Vancouver. Granville Island, actually a peninsula, is a former industrial manufacturing area, but is now a major tourist destination, with amenities such as a public market, a large marina, a hotel, and a major shopping area. Granville has shows and a nightlife as well. We had a great time exploring the Granville shops, the fresh food market, and the views of downtown Vancouver.
Directly north of the city is Grouse Mountain, a great place to escape the steel and pavement and experience nature. Driving to the foot of Grouse Mt. takes less than 15 min from downtown Vancouver without traffic. On the way we stopped by the Capilano Fish Hatchery, which produces 3 million salmon each year. Nearby is the Capilano Suspension Bridge (which we did not get to experience) which has breathtaking views and gives you insight into rainforest trails through magnificent evergreens and the unique perspective of a walk high in the trees.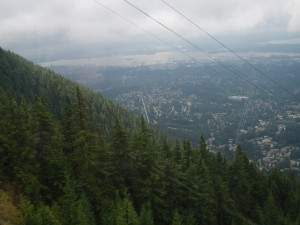 Once you're at Grouse Mountain, you have a bunch of options, depending on the season. During the summertime, you'll enjoy the SkyRide to the top of the mountain, giving you amazing views of the entire city of Vancouver. When we arrived to the top, we were greeted by thick morning fog which did not allow us to see more than a few feet ahead of us (that eventually cleared around 12pm). Every hour or so there is a hokie but cute lumberjack show, which the kids will definitely find enjoyable. There are 2 grizzly bears that live at the mountain's wildlife refuge. A tour guide gives you some background as to how they got there. For extra fees, they offer ziplining between mountains, paragliding, and other outdoor activities. Word of advice to those visiting Grouse (especially in the summer): no matter the time of year, dress warm. It is at least 10-20 degrees colder at the top than the bottom.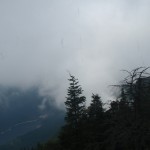 In the wintertime, Grouse Mountain is a ski resort. Enjoy the beautiful scenery and skiing / snowboarding the slopes. Grouse is probably the closest ski resort to any major city I can think of. Grouse Mountain is hosting some events for the 2010 Winter Olympic Games.
An off the beaten place we found in Vancouver was the University of British Columbia (UBC) Museum of Anthropology. It was a very educational and fascinating museum, with many statues and artifacts about the Native Americans / Canadians whom are called "First Peoples" as well as British Columbian anthropological history and culture.
Jewish Info: While we did not spend Shabbat in Vancouver, or stay in the Jewish community there, the Jews we did meet were very friendly and warm. We also saw many Israelis around the city which wasn't expected. If you are looking to spend Shabbat there, contact the Chabad which has centers Downtown, Vancouver's residential area, and out in the burbs in Richmond: Chabad of British Columbia.