There is now a silly tradition that many Americans hold Christmastime each year… to indulge in Chinese cuisine. Since the Chinese do not celebrate Christmas, like us Jews, their restaurants have no need to take a hiatus on Xmas day.
In honor of this wacky tradition, we've compiled a list of Chinese restaurants (both sit-down & take-out) for your convenience.
(Should any restaurants on this list be missing or inaccurate, please comment below and we will edit)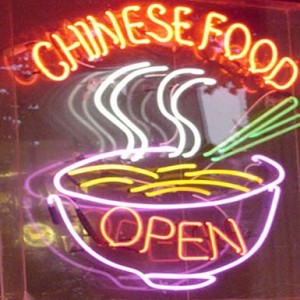 NORTH AMERICA
Annie Chan's Restaurant
190-11 Union Turnpike
(off 190th Street)
Fresh Meadows, NY 11366
Bamboo Garden Vegetarian Cuisine
364 Roy Street
Seattle, WA USA 98109
www.bamboogarden.net
Chai Peking
2205 Lavista Road Northeast
Atlanta, GA 30329
www.chaipeking.com
Chang Mao Sakura
214 Roosevelt Ave.
Oakhurst, NJ
Cherry Grill
112 Barclay Farms Shopping Center
Cherry Hill, NJ 08034
www.cherrygrill.com/
China Bistro
3565 NE 207th Street
(The Waterways)
Aventura, FL 33180
China Glatt
4413 13th Avenue
(Between 44th & 45th St.)
Brooklyn, NY 11219
Chopstix
172 West Englewood Avenue
Teaneck, NJ 07666
www.chopstixusa.com
Chopstix
478 Pleasant Valley Way
West Orange, NJ 07052
www.chopstixusa.com
ChoSen Garden
64-43 108th Street
(Bet. 64th Rd. & 65th Rd.)
Forest Hills, NY 11375
ChoSen Island
367 Central Avenue
(Cor. of Central Ave. & Frost Lane)
Lawrence, NY 11559
ChoSen Village
505 Middle Neck Road
Great Neck, NY 11023
Dragon Inn Glatt Kosher
7638 Castor Ave
Philadelphia, PA 19152
Eden Wok Manhattan
43 East 34th Street
(Bet. Park & Madison Ave)
New York, NY 10016
www.edenwok.com
Eden Wok Westchester
1327 North Avenue
(Northfield & Quaker Ridge Rd.)
New Rochelle, NY 10804
www.edenwok.com
Ernie & Ellie
6900 Decarie Blvd.
(Decor De'Carie Square- enter through Venezia)
Montreal, QC
H3X 2T8, Canada
Genesis Restaurant
4661 W Flamingo Rd
Las Vegas, NV
www.genesisrestaurantlv.com
Golden Chopsticks
7000 Bathurst Street
Vaughan, ON L4J, Canada
www.goldenchopstick.ca
Grand Bamboo
106 Route 59
(Corner Route 306)
Monsey, NY 10952
Hunan
557 Kings Highway
Brooklyn, NY 11223
King Solomon's Table
3705 Chesswood Drive
North York, ON
M3J 2P6, Canada
www.kingsolomonstable.com
The Kosher Experience
306 Main Ave
Clifton, NJ 07014
www.kosherexperience.net
Kosher Express
22-16 Morlot Ave.
Fair Lawn, NJ
Mr. Chopstik
4020 Royal Palm Ave
Miami Beach, FL 33140
Royal Dragon
4832 Boiling Brook Pkwy
Rockville, MD 20852
www.royalkosherrestaurant.com/royaldragon.htm
Shanghai Diamond Garden
9401 West Pico Blvd.
Los Angeles, CA 90035
Singapore Chinese Vegetarian *
1006 Race Street
Philadelphia, PA 19107-2306
www.singaporevegetarian.com
(*this place is vegan / vegetarian and is open on Shabbat)
Soy Sauce
68-22 Main St.
Flushing, NY
www.soysauceusa.com
Tein Li Chow
2485 Howard
Evanston, Illinois
www.teinlichow.com
Wok 'n Take Out
455 Route 306
Wesley Hills, NY 10952
www.wokntakeout.com
TK Asian Fusion
1610 State Rt 35
Oakhurst, NJ
Wok Tov
594 Central Avenue
Cedarhurst, NY 11516
EUROPE
Blue Lagoon
Lange Herentalsestraat 70
2018 Antwerp, Belgium
Kaifeng
51 Church Road
Hendon, NW4 4DU
England, UK
Missada
45, rue Laugier
75017 Paris, France
ISRAEL
Canton
The Tayelet Hotel
6 Gad Machnes Street
Netanya , Israel
(Kosher Rabanut)
www.chinese.co.il
Chai Tai
Moshav Hutzot Hagolan
Katzrin, Israel
(Kosher Rabanut)
The Chinese Wall
26 Mikve Israel St
Tel Aviv, Israel
(Kosher Rabanut)
China-Lee
7 Montifyori St
Tel Aviv, Israel
(Glatt Kosher)
Korussin
Malha Shopping Center
Jerusalem, Israel
(Kosher Mehadrin)
Lemon Grass
Azrieli Shopping Center
Tel Aviv, Israel
(Kosher Rabanut)
Lemon Grass
22 Even Gvirol St
Tel Aviv, Israel
(Kosher Rabanut)
Ming Ling
12 Herzel
Tel Aviv, Israel
(Kosher Rabanut)
Pikansin
Azrieli Mall ~ 1st floor
Tel Aviv, Israel
(Kosher Rabanut)
Tokyo Bankok
40 Ainstain St
Ramat Aviv Shopping Center
Tel Aviv, Israel
(Kosher Rabanut)
Tuch Food
48 Menahem Begin Road St
Tel Aviv, Israel
(Kosher Rabanut)
Yosi Pekin
15 Keren Kayemet St
Jerusalem, Israel
(Kosher Rabanut)
CHINA
Dini's Kosher Restaurant
Nuren Jie Xingba Lu Jiuba Jie
Beijing, China
And now here is a funny video about Jews, Chinese food, and Xmas for you to enjoy.