Contributed by Dani Klein | Last Date of Visit: August 2009

While a post on Seattle was posted this past January, my recent trip there was so great, I wanted to highlight some of the points from the previous post: https://yeahthatskosher.com/2009/01/seattle-wa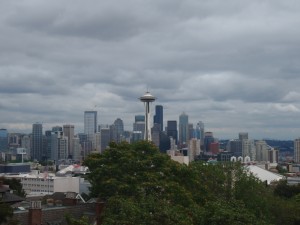 Kosher Info: Whilst in downtown Seattle, we had a late night dinner at Bamboo Garden, a great kosher vegetarian Chinese place in the Seattle Center, walking distance from the Space Needle. I highly recommend the corn chowder as an opening appetizer. I didn't expect anything to be open late, but they were open until 10pm (not quite as late as in larger cities, but just late enough).
On Mercer Island there's the highly acclaimed Island Crust pizza. Also on the island is Albertson's ( what locals call "Albertstein's" for their large kosher section), a large supermarket chain.
We also had an amazing dinner at Pabla Indian Cuisine in Issaquah. They also have a location in Renton south of the city.
Tourist Info: On our first full day in the area, we spent the day outside of Seattle, in the "Olympics" or the Olympic Peninsula or Olympic National Park. Getting there from Seattle is interesting. You can drive around the Puget Sound, or you can take one of many ferries across the sound which take about 20 minutes. It's a really beautiful ride.
Driving through the woodsy Olympic Peninsula, we stopped in the small town of Sequim, WA (pronounced Squim).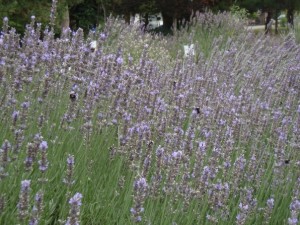 The town is known for its lavender farms, of which there were many. Our trip at the end of August was about a week or so after they had harvested the majority of their lavender. We visited the Lost Mountain Lavender Farm, which had a store for us to purchase lavender products, and many different types of plants unharvested.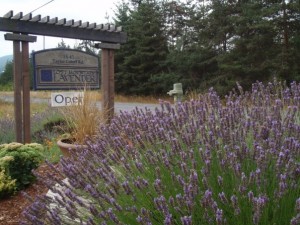 There are dozens of lavender farms in and around Sequim, and I definitely recommend checking them out. There is also an annual Lavender Festival in the summertime.
Our next stop was Port Angeles which is the largest town on the Olympic Peninsula. From there you can hop on a ferry to Victoria, BC or stop in the Olympic National Park Welcome Center. A 40+ minute winding drive uphill from the welcome center is Hurricane Ridge.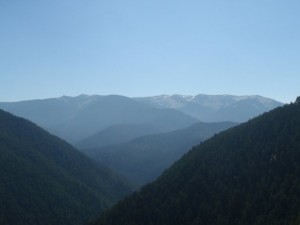 From there you have beautiful views of the Olympic Mountain Range and multiple hikes ranging from 20 minutes to a few hours.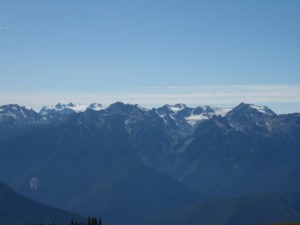 . You can also see across the Puget Sound to the tip of Vancouver Island, Canada or find some wildlife.
Olympic National Park is known for it's massive redwood trees which stand hundreds of feet tall and are hundreds of years old. The park also boasts a few waterfalls. Some are accessible right off the road, others after 30+ minute hikes. Lake Crescent is a crystal blue lake surrounded by mountains. We decided on a whim to just jump in – and boy what is it refreshing. Cold — but refreshing.
Further West toward the Pacific Ocean is the town of Forks, where the Twilight book series is set.
The next day we spent time in downtown Seattle. In the morning we had breakfast at the famous Pikes Place Market, home of the original Starbucks. We found tasty organic vegetables and vegan pastries.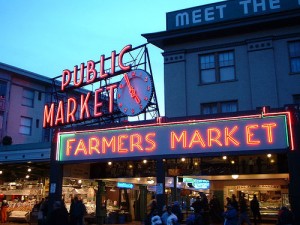 At the market we also found unbelievably beautiful flowers for super cheap – a great place to buy your Shabbat hosts a bouquet of flowers.
Other places in Seattle I recommend visiting:
The Seattle Underground Tour – learn the history of corrupt Seattle
Kerry Park – an amazing lookout point in a beautiful neighborhood
Gas Works Park – a Gas Plant turned Park – strange but fun
Seattle is also know for its glass blowing studios. There are a few here and there, so if you find one, pop in and watch them make really cool glass. Just search for "Glass Blowing Studio Seattle".
Jewish Info: The Jews we met in Seattle were so friendly and inviting. We spent the Shabbat on Mercer Island – which is absolutely stunning, with views of Mt. Rainier in the distance. We went to shul at Shevet Achim, which is in the middle of Mercer Island.
The largest Jewish community in the Seattle area is in Seward Park, which we did not get to visit.
We really enjoyed our visit to the Seattle area, and look forward to going back.