For those lucky Heebs attending the Super Bowl in Tampa, Florida, you're likely to see a great
matchup between the Arizona Cardinals and the Pittsburgh Steelers. What you may not be excited to find are your options for kosher food. I've been doing a bit of research and found that the main cafe / deli that was Glatt kosher is no longer active. I did however find that operating from within the JCC in Tampa is "Sylvia's Catering". I spoke directly to Sylvia earlier today and she welcomes orders right now in preparation for those sports – loving, kosher observant Super Bowl goers. She does not have a website up yet, so I figured I'd give her some free advertising here.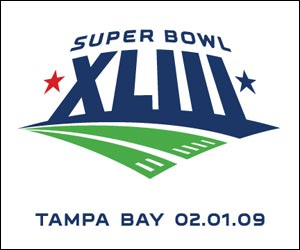 Sylvia's Catering is Glatt Kosher and it is supervised by Rabbi Shalom Adler, the Chabad Rabbi in Tampa, Fl.
If you'd like to order food for this upcoming weekend please contact Sylvia directly at (727) 631-2115 OR Dana (727) 776-6356.
You can have the food available for delivery or pick-up (assuming you've got your car rental). I don't have a menu available, but I gather they will have your standard fleishig (meat) menu.
I recommend calling in as soon as possible, as they are swamped with requests for the big game.
———–
For those of you still looking for places to stay in the Tampa area, here are a few deals I picked up from Sherman's Travel / MSNBC:
Ramada Inn St. Petersburg
Just 20 minutes from the site of the big game and three miles from downtown St. Petersburg, the Ramada Inn St. Petersburg offers pigskin-loving patrons amenities such as a heated pool, fitness center and two onsite restaurants. Prepare for the game with the Ramada's complimentary breakfast. Rates start at $195/night.
Pelican Pointe Condos by Sirata
Situated just 500 feet from the Gulf of Mexico, the Pelican Pointe Condos by Sirata offer football fans easy access to Raymond James Stadium (site of Super Bowl XLIII). Plus, the Clearwater Beach location will add a tropical vibe to your sports weekend. Pelican Pointe is smoke-free and offers a heated outdoor pool, on site car rentals, free parking, and rooms with kitchenettes with refrigerators, microwave ovens and coffeemakers. Rates start at $200/night.