Contributed by: Dani Klein | Last Date of Visit: June 2008
Kosher Info: Situated 90+ minutes (longer if you're traveling during the weekend rush) north west of NYC, the Catskills have become the summer escape for Jewish urbanites for decades. Over the years kosher places have come and gone, while others still exist, feeding the thousands of Jews who flee the city each summer.
In this post, I will go over eateries, hotels, and markets (including within Bungalow Colonies) which exist in the Catskill region. Each location will be followed by its approximate location and town.
(Please note: Due to the nature of the Catskills, many of these restaurants or markets are not open all year round. Also, many of these institutions come and go. If you know about a recent closing, or a new store opening, please comment to this post and I will make the necessary changes. Thank you.)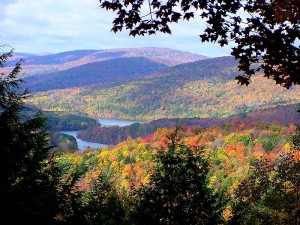 Markets, Supermarkets, etc.:
Beaver Lake Estates, Monticello, concession style market… has capability of serving hot dairy food, often doesn't.
Mountain Fruit, Broadway, Monticello… large kosher-only market. Similar offerings to its Brooklyn namesake.
Aladdin Supermarket – Kiryas Beirach Moshe Bungalow Colony, 184 Hasbrouck Dr., Woodbourne
All Fresh Supermarket, Rt. 17B White Lake
Buy Rite Kosher Supermarket, 3 Maple Ave. Woodridge
Landau's Supermarket, 2 Railroad Plaza, South Fallsburg
ShopRite of Ellenville, 100 Shoprite Blvd Route 209, Ellenville
ShopRite of Liberty, 1955 Route 52, East Liberty
ShopRite of Monticello, 46 Thompson Sq. Off State Route 42, Monticello
Woodbourne Supermarket, Main St., Woodbourne
Restaurants, Pizzerias, etc.:
Fialkoff's Pizza, 66 Broadway, Monticello… year after year, Fialkoff's consistently has the best pizza I've ever had. Period. Expect a long line during popular times (typically Motzei Shabbat).
Woodbourne Pizze, 431 Route 52, Woodbourne… often a scene amongst teens and college students Motzei Shabbat, pizza is good.
Feller's Woodridge Pizza Cafe & Fish Grill, 9 Broadway, Woodridge
Flaum's Shwarma & Appetizing, 5220 Main St., St. Fallsburg
Glatt Delight of Woodridge, 13 Green Ave. Center One Mall, Woodridge
Jay & Sharon's Country Cafe, 5426 Main St. Route 42 North, South Fallsburg
Kikar Tel-Aviv Restaurant at Vacation Village, Hurleyville Rd. (within Vacation Village colony), Loch Sheldrake
Main Street Pizza, Main St., South Fallsburg
Mazal Wok Chinese & Sushi, 436 State Route 52 Main St., Woodbourne
Meal Mart, Main St., South Fallsburg
Shawarma King, 279 East Broadway, Monticello
Simply Sushi Cafe, 343 East Broadway, Monticello
Simply Sweets Ice Cream & Candy, 343 E Broadway, Monticello
Sprinkles Pizza & Ice Cream, 5671 Route 42, Fallsburg
Stargelt, Main St., Loch Sheldrake
Swan Lake Pizza and Dairy Restaurant, 42 Stanton Corners Rd., Swan Lake
Yosi's Pizza, 431 Route 52, Woodbourne
Kosher Hotels
A few kosher hotels exist, but they are not for everyone. Places like Spring Mountain Resort (formerly the Homowack), Raleigh Hotel, and Kutcher's are popular with families looking to leave the city, but unfortunately, these hotels seem like they have not been updated in decades.
On a recent stay at Kutcher's by my family (celebrating a Sheva Brachot Shabbat), we observed the hotel and noticed it retains a musty, sometimes moldy smell. The hotel is large, and offers many amenities, but not everything is kept to appropriate standards. The food was quite awful. The place seemed like an old age home, partially due to the clientele, and partially due to the decor and lack of any updates since the 1970's. The man-made lake out back is swarmed with mosquitoes. If you prefer hard mattresses, this is the place for you. From my previous experiences with other Catskill kosher hotels, like the Homowack, they don't seem to differ much.
Tourist Info: The attraction for most is getting away from the city's hustle and bustle. Sadly the few tourist attractions in this region remain the Monticello Raceway and Casino, a handful of golfing greens, and Wal-Mart. You heard me. Wal-Mart. The Monticello Wal-Mart is majorly packed Motzei Shabbat, it's a massive social scene! The lines can be over an hour long, especially later Saturday night. You may be better off at the bowling alley with the teens.
Kiamesha Lanes, 4685 State Route 42, Kiamesha Lake   |   (845) 794-5561
Liberty Lanes, 5714 State Route 55, Liberty   |   (845) 292-6450
Jewish Info: During the summer, this region is bustling with city Jews. Basically every bungalow colony has it's own shul and set of minyanim, and typically it's own mikveh. During off-season times, there are still Jewish communities (mainly Chassidish) who live there all year round, however, many of the kosher and other Jewish shops will be closed.
I just came across this site which has a listing of all the bungalow colonies. I can't believe how many there actually are! Check it out: http://bungalowcolony.us/index.asp?lang=EN