Contributed by: Tina Pollack | Last Date of Travel: July 2007
Kosher Info: Dublin does not have a very large Jewish community, but access to kosher food is definitely possible. Terenure Synagogue Hall has a small restaurant with a full menu and also fast-food options (Meat), but it is only open Thursday evenings and not in the city center (call beforehand).
You can also buy airplane-style frozen meals called Hermolis, which can be found at the SuperValu in Dublin 14 (there are also kosher sections at the SuperValu and Tesco, both in Dublin 14). The bread at Bretzel Bakery in Dublin 8 is kosher. Dublin has a good selection of vegetarian/vegan friendly choices. See http://www.happycow.net/europe/ireland/dublin for a list of these options.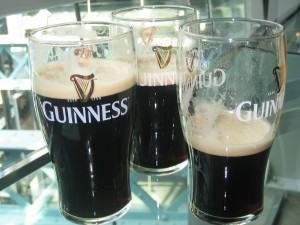 There is an extensive website catering to everything kosher and Jewish about Ireland – http://www.jewishireland.org. Here is a list of kosher products available throughout Ireland – http://www.jewishireland.org/kosher_list_5766.pdf.
Tourist Info: Dublin has a lot to do, but you do not need more than two days exploring the city and maybe a day or two exploring the surrounding counties. Dublin is a great walking city and one can see many fine examples of Georgian architecture. Both the ancient and modern history is very important to the local folk as it has helped shape the city to what it is today. From religion to politics to Guinness, there is a lot to see and learn while in Dublin!
Catholicism is very important in Dublin, which can be seen by the impressive Christ Church Cathedral and St. Patrick's. To learn about Dublin and Ireland's history visit Dublin Castle, which has the 13th Century record tower, State Apartment, and a collection of world treasures. You can learn about Ireland's modern and rebellious history that helped make it a modern nation at Kilmainham Gaol. To get a sense of the Vikings and Medieval Dublin visit Dvblinia.
Trinity College is the first college in Ireland and is a beautiful campus to walk around. All national museums are free in the country, so if you are in Dublin over Shabbos you might like to walk there in your afternoon. The public parks (Merrion Square and Stephen's Green) in Dublin are beautifully kept and are pleasant to walk through or relax in.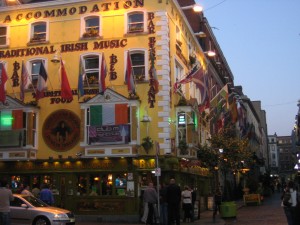 Meandering through Grafton Street (shopping) and the Temple Bar (nightlife) are a great ways to explore the city and its culture. At night, many pubs have live Irish folk music, and though it might be a tourist trap it is great to experience the music and if you're lucky – a jig!
The Guinness Factory is a must do while in Dublin. After the tour, where you learn more than you need to know about beer, you can get a free pint and enjoy a 360 degree view of Dublin. Though not as extensive as the Guinness Factory, the Old Jameson Distillery is also fun and you end with a complimentary drink. My friends and I also decided to go to a comedy show while in Dublin (since it was the only country we were visiting that speaks English) and we found it quite funny and learned a lot about Irish society and their love of drinking. :)
When you need to escape from city, take a trip to the beautiful Wicklow Mountains and to the ancient monastic village of Glendalough. There are many hikes at different levels and lengths that you can take through woods, mountains and along the banks of the two lakes in the area, all with breathtaking scenic and nature views. You can still see and walk through the 6th Century church and monastery. There are tour buses that travel to Glendalough, but you must reserve a spot beforehand.
Another day trip my friends and I took was to Malahide Castle. The Castle was built during the 12th Century and was used as a home by various families until the mid-1970s, when it was donated to Ireland and now is a tourist attraction. Since the house has been in constant use, the interior is decorated in a modern fashion and there is an audio guided tour available if you would like to see it, but the outside looks old and impressive and the grounds are lovely to walk around and picnic. Since we took the train to Malahide we continued after the castle to Howth, which is a seaport town and some decent views, though it was nothing special. (If you only have one day, I recommend Wicklow Mountains.)
Jewish Info: See http://www.jewishireland.org/index.html for information on the Jewish community and http://www.jewishireland.org/history.html for some information on Ireland's Jewish history. Don't forget the parks and National Musems are free if you want to go there on Sahbbos. Also, the orthodox shul is not near the city center, so either plan accordingly if you need a minyan or be prepared for a long walk.