Contributed by: Karen Kest | Last Date of Visit: January 2008
Kosher Info: Kosher products, as well as any actual food products, are a rare commodity in Eastern Guatemala. However, fruit (which is all unbelievably delicious), steamed vegetables, rice and beans are available, and in abundance. Many of the restaurants/huts that serve food only cook vegetables, rice and beans (no meat or dairy) in separate pots allowing one (who eats kosher) to enjoy these hot dishes.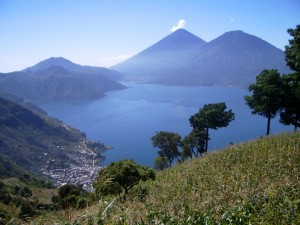 Tourist Info: Once in Guatemala one must go to Tikal, one of the largest area of Mayan ruins in South America. The hotel you are staying likely will be able to set up this day of hiking through the narrow paths of the jungle and climbing of the Mayan ruins. Viewing and climbing atop the ruins requires a hike through jungle terrain; hiking shoes/boots are highly recommended, as is bug spray, food, and water. And of course, don't forget your camera!
Jewish Info: (See Comment by Tina Pollack)