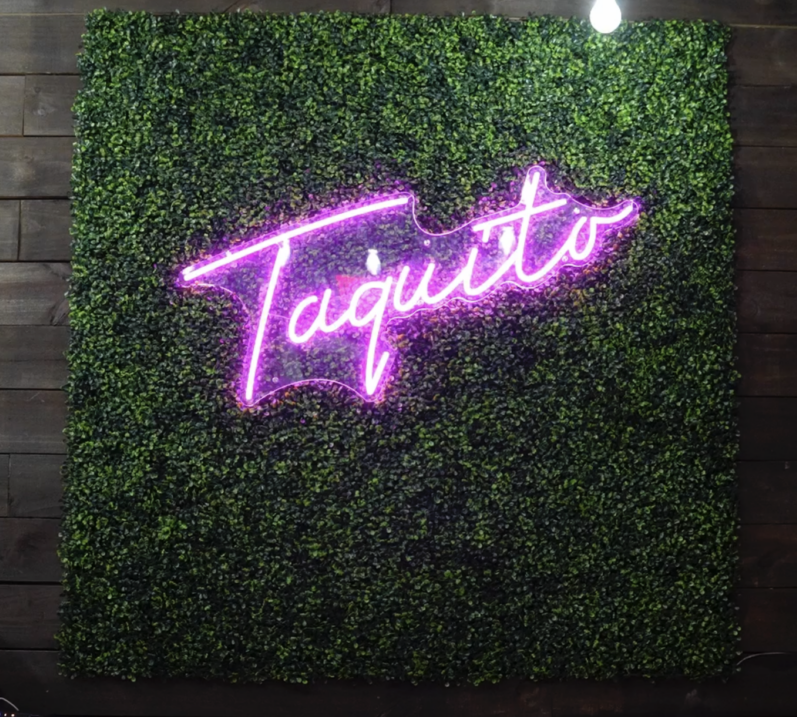 Eli Dancour and his brother found themselves in a situation that many kosher restaurant patrons are familiar with; they were eating tacos that nobody would confuse with authentic Mexican cuisine. But unlike the rest of us, Dancour decided to do something about it.
"I've always been intrigued by Mexican cuisine," said Dancour, the owner and chef at Taquito. "We're surrounded by so much authentic Mexican cuisine that isn't kosher… why not open a place that is?"
After much research, Dancour opened Taquito.
Essentially the only authentic kosher Mexican food on the East Coast, Taquito isn't much to look at. And that's assuming you can find it in the first place. It's a modest, two-story building with a rear entrance only accessible from a walkway to a parking lot. Let's just say nobody is discovering this hidden gem without a treasure map.
But if you find your way through the door to the exposed brick interior, you're in for a real treat. In fact, there's so much greatness on the menu that I hope you'll forgive me as I try to narrow down my suggestions.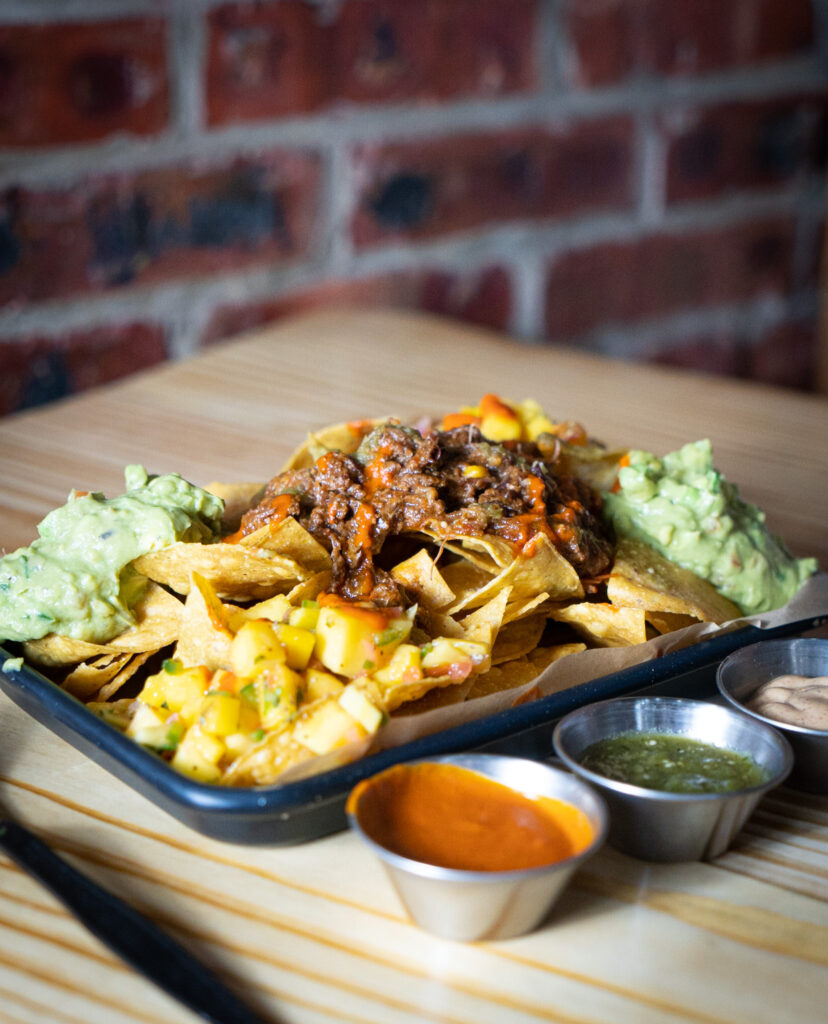 When I was invited to Taquito, the first thing I tasted was the Nachos. Taquito has the advantage of being just two blocks from a tortilleria, and they make the most of it. Their chips are made fresh daily and then fried on-site for unmatched texture. They are then topped with their Short Rib Chili, guacamole, and mango salsa. You'll also get salsa roja and salsa verde on the side to add some heat if you'd like. The combination of both flavors and textures makes this item a must.
Though the nachos are filling, you really shouldn't move on from the appetizers without ordering the Chicharrón Pollo. While classic chicharrón is made by frying pork rinds, Dancour decided to substitute the main ingredient with chicken. In order to replace the inherent crunchiness, Taquito uses skin-on chunks of boneless chicken thigh. The texture is truly remarkable and has rightfully become one of their best sellers.
You can't walk into Taquito and not order one, so my suggestion is the Potato Chorizo Taquito. This trio of rolled tortillas is stuffed with spicy sausage and potato for a bite that you don't want to miss. But it's the whole plate that's the attraction. The taquitos come sandwiched between refried black bean paste on the bottom and a sunny-side-up egg on top. Add on some pickled red onions, pico de gallo, and chipotle mayo and you've got yourself a dish that will please both your taste buds and your eyes.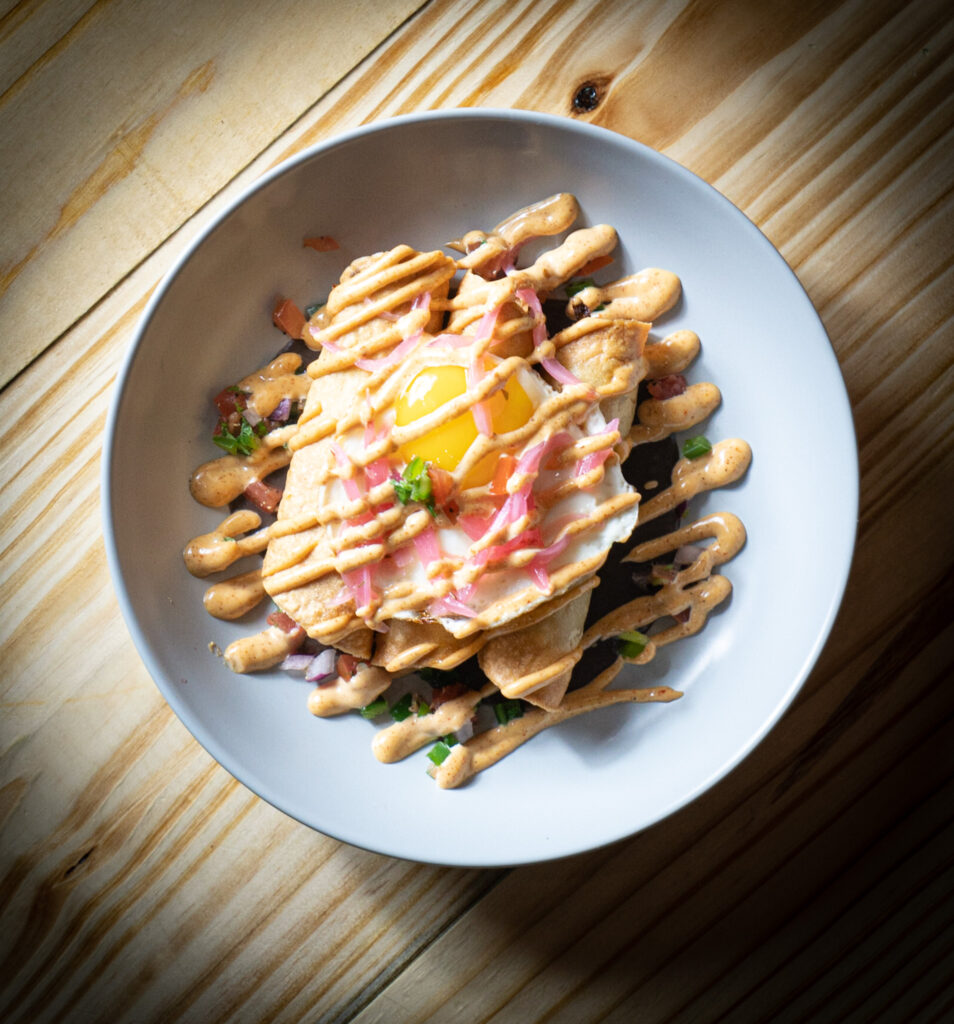 If you are going to Taquito to get something you can't get anywhere else, the Short Rib Birria Tacos should be at the top of your list. Unlike the short rib tacos you might find at any number of kosher restaurants, birria tacos are very different. The birria filling is a stew made from meat, peppers, onions, and spices. But what really sets these tacos apart is that the taco is fried (prior to being filled) using the fat from the top of the stew. This kind of technique provides a real depth of flavor and unique texture compared to a standard taco.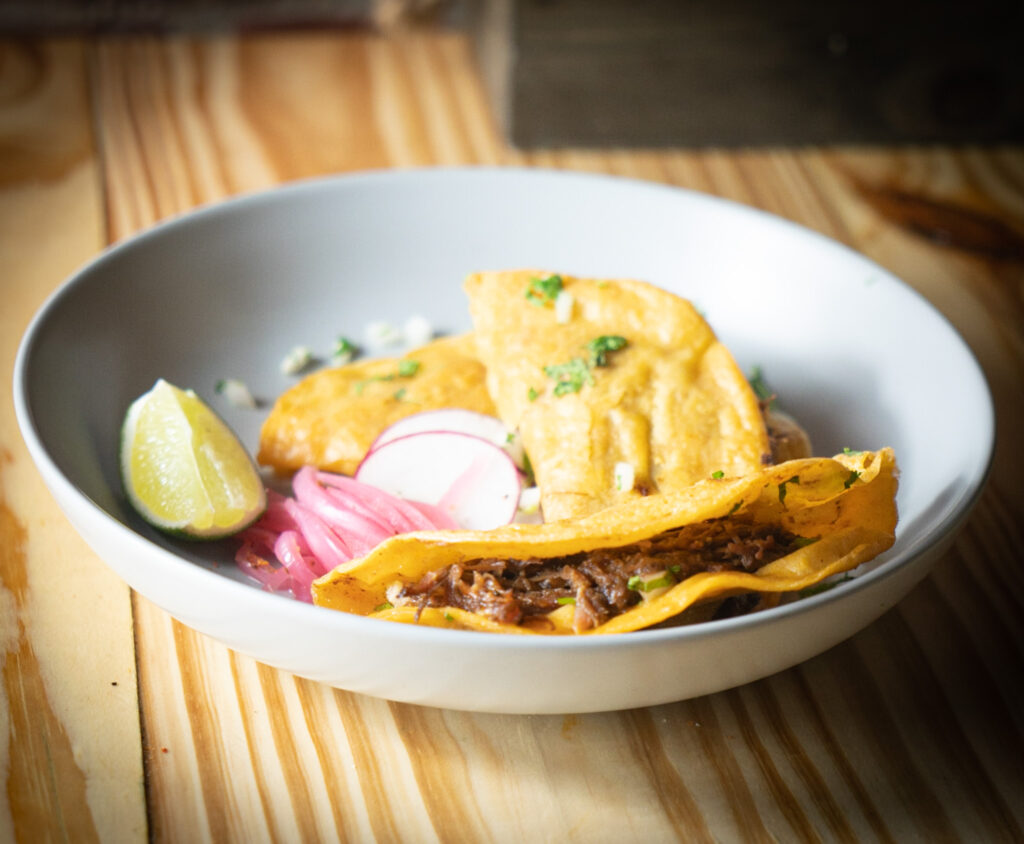 If you're looking for something that's really filling (or you just want leftovers for another day), I might suggest the Mole Short Rib. Served on a bed of Spanish rice with some pickled red onions, this dish is made with a sauce so ubiquitous that its name (mole) actually means "sauce" in Spanish. Certainly different from your standard Jewish recipe, Taquito's mole is made of a blend of chilis, chocolate, cinnamon, and fruit. It's a flavor profile that is almost never found on the fleishig side of the street, but tasting it might have you reconsidering whether that should change.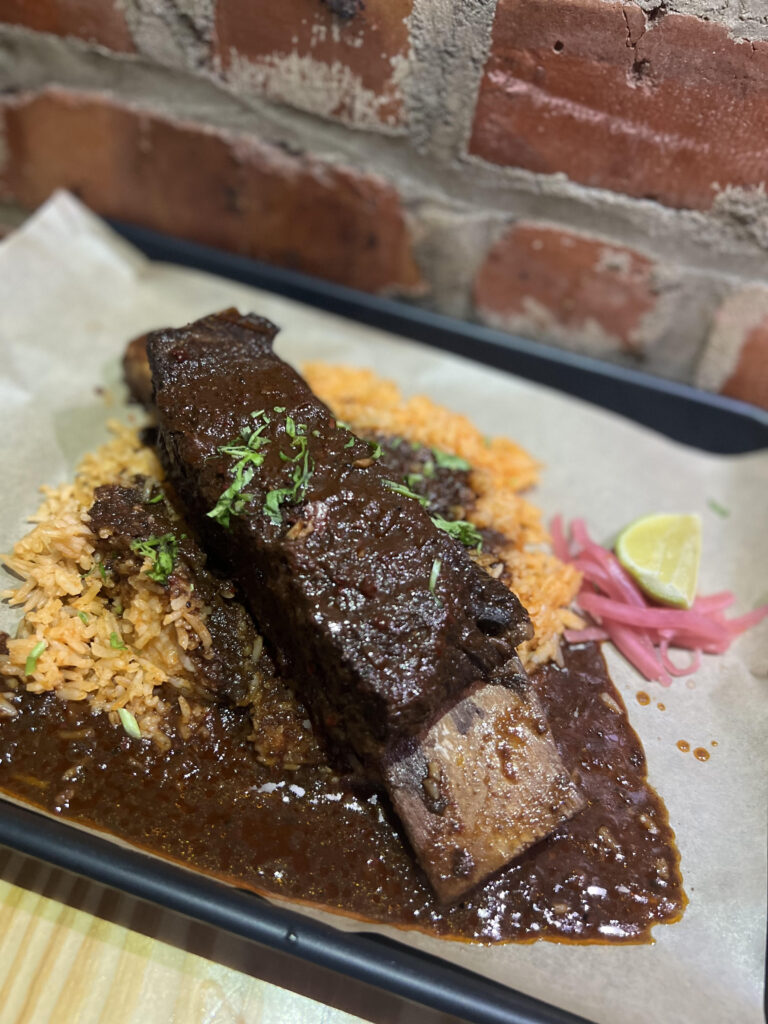 Taquito hopes to soon be open for lunch (they also plan to open outdoor seating), but there's no plan at all for them to be open for breakfast. With that being the case, you'll just have to order their unbelievable Breakfast Burrito whenever you happen to walk in. Wrapped expertly with the egg surrounding the other ingredients, this burrito is filled with chorizo hash, avocado, refried bean paste, and chipotle mayo. It might be a little spicy for some, but everything comes together nicely for a very filling burrito that will somehow have you totally satisfied but still wanting more.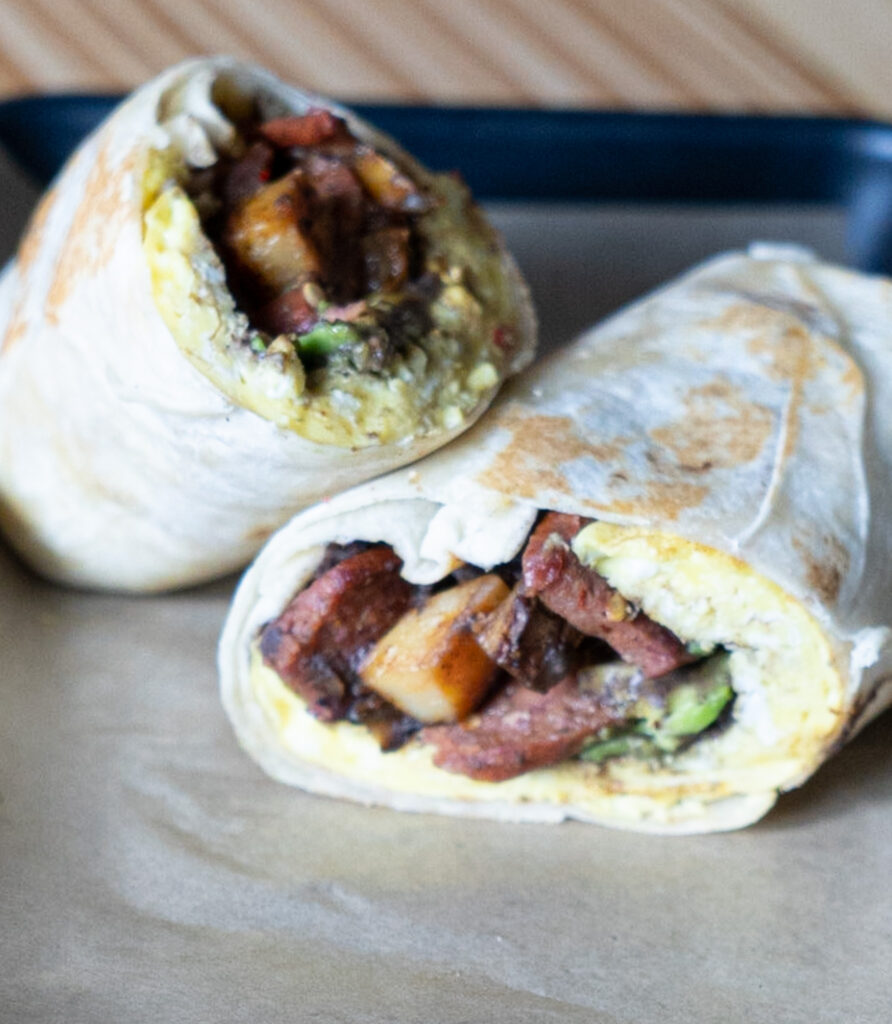 While there are plenty of other items that warrant mention, you should know that you can order custom burritos or burrito bowls. The choices for what goes in them are up to you and include most of the main features of the menu itself, so feel free to just invent your own items as you wish.
As the options for kosher food continue to expand, let's hope we get more restaurants like Taquito. Dancour made his decisions carefully and they are paying off. Whether it's not including fake cheese (he's never been a fan) or deciding what drinks to carry (Mexican seltzers are available), Taquito is his vision of authentic kosher Mexican.
Go check out the view.
Taquito is located at 116 Clifton Avenue, Lakewood, NJ. It is kosher-certified by the KCL.
Taquito is open Sunday – Wednesday: 6:00pm – 12:00am and Thursday: 6:00pm – 1:00am.