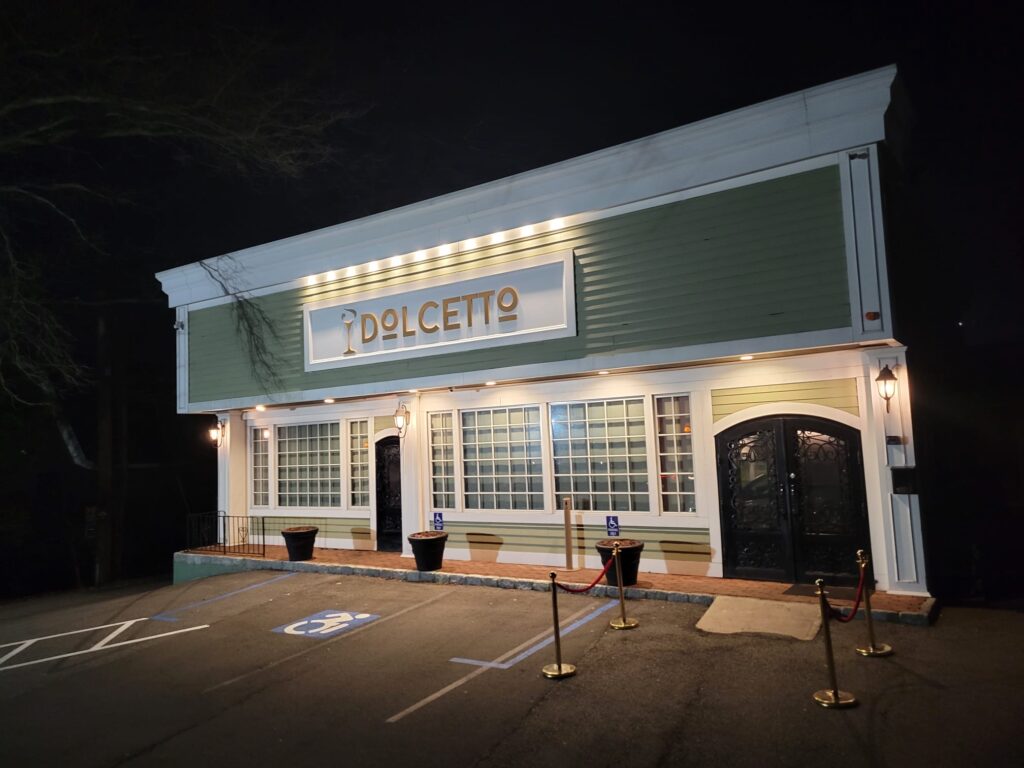 Not many people outside of the area would know where to find Chestnut Ridge. The Monsey suburb sits in the hills of Rockland County, just north of the New Jersey border. It's quiet, it's beautiful, and it's home to Dolcetto.
While some rave about the food, others have barely ever heard of Dolcetto's existence. Having opened last year, Dolcetto isn't the biggest restaurant. In fact, they are expanding to include more seats both inside and outside to accommodate the patrons that come with their recent popularity. With a location and ambiance as intimate as can be expected anywhere in the tri-state area, that popularity seems warranted before you even open the menu.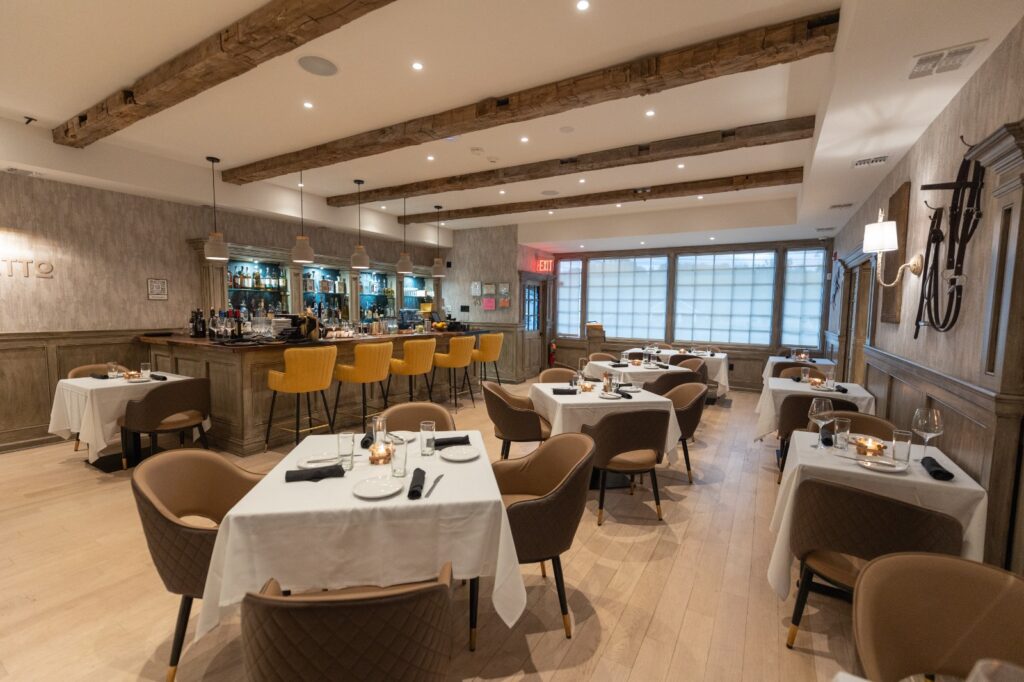 When I was invited to experience Dolcetto, the first thing that I noticed was the elegant, yet rustic look of the building. The outside gives off the vibe of a farmhouse, but with the type of distinct classiness that you might find in a manor turned deluxe private wedding hall. Stepping inside adds to that same feeling as you're greeted by an ornate bar that sits in a dining room featuring subtle, well-placed equestrian accents adorning the walls.

With many interesting choices on the appetizer menu, you might decide to go for something a little more classic. In that case, I suggest you try the BBQ Ribs. Made with a traditional barbeque rub and Texas barbeque sauce, these are smoked for six hours and are exactly as good as they sound. With two pairs of ribs on the plate, this is a great option for two meat-lovers to split. The ribs are topped with some crispy onions to give a nice added crunch to the plate, which is a great contrast to the softness of the meat.
Speaking of those interesting choices, my top appetizer recommendation is the Tongue Buns. The house-made bao buns are properly dense and spongy and the tongue is tender and flavorful. The salty profile of the char siu (Cantonese barbeque) style flavoring works well with the bao bun to offset it, some pickled red onions provide an acidic punch, and the garlic aioli brings a creaminess to the table. Everything really comes together to make this a truly great starter for any meal.
A rising opinion in the kosher food world is that high-end restaurants are much better at creating amazing appetizers than they are at serving entrees of the same quality. At Dolcetto, I found the main courses to be up to the challenge. Even something as seemingly standard as the Whole Branzino is certainly worth your time. The perfectly fileted whole fish is grilled over an open flame and is seasoned just enough to enhance its inherent flavor. The result is a wonderful piece of fish draped over a bed of haricot verts that make for a delightfully light option for the more health-conscious person.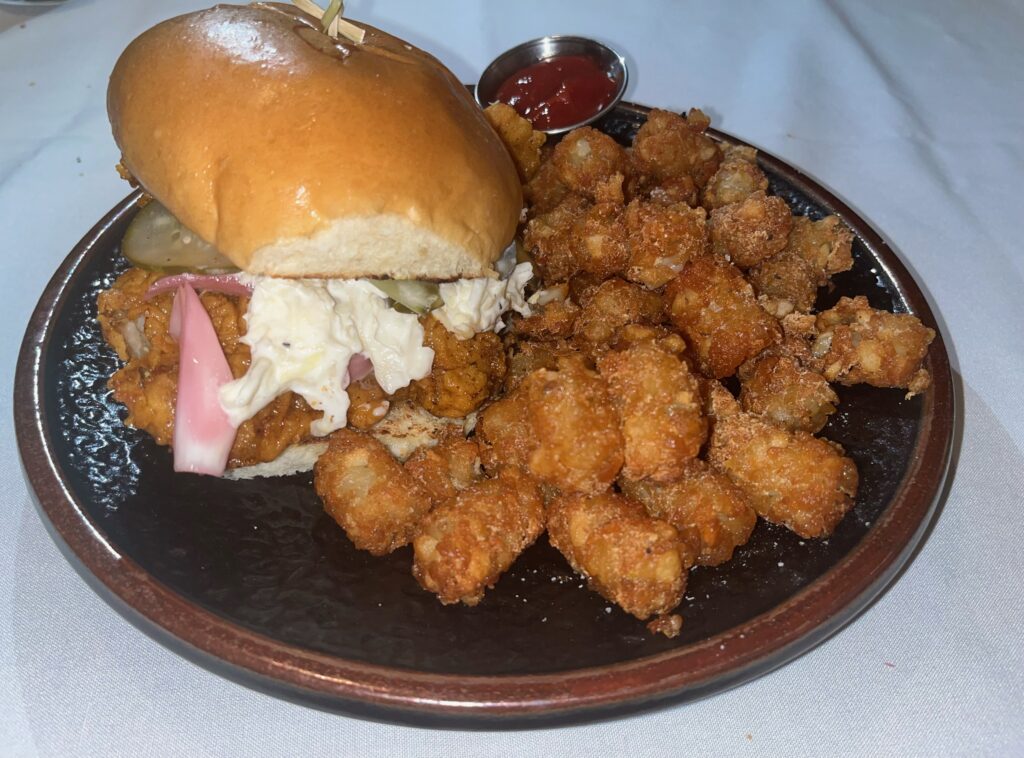 But if it's comfort food you're looking for, take a trip down south and order the NOLA CHX Sandwich. Served on a massive brioche bun, this fried chicken sandwich is topped with a house slaw and pickles, and comes with a huge heap of fried tater tots. The taste and texture of the chicken will impress you and this sandwich might be love at first bite.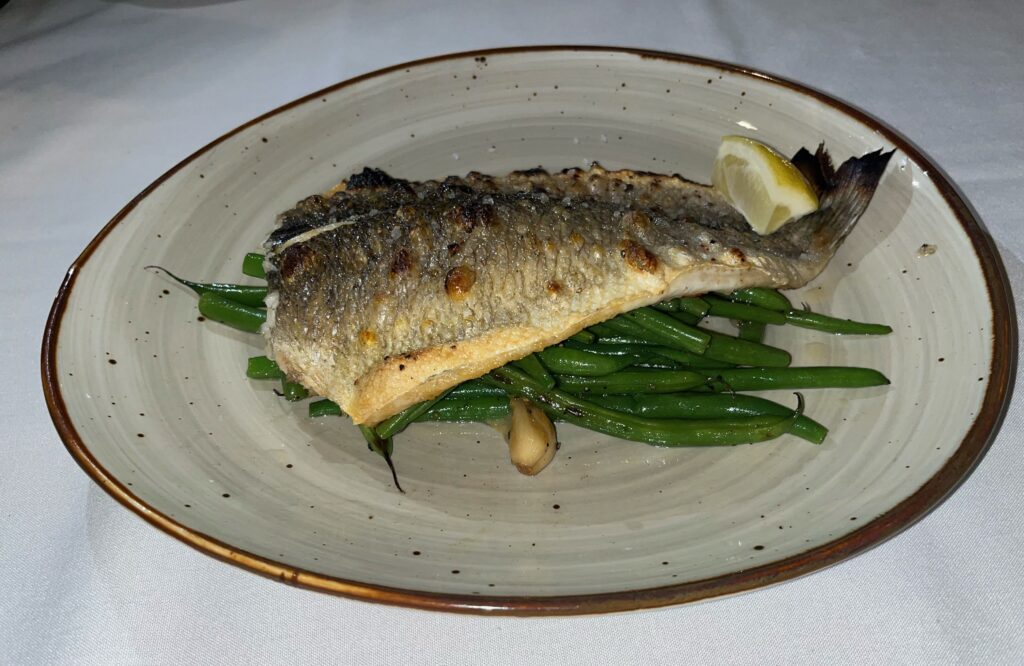 The chicken itself is juicy on the inside (accomplished by it being brined prior to coating), but the outer layer is a truly impressive accomplishment as the coconut-based pareve buttermilk works perfectly with the batter in which it gets fried. The brioche bun, slaw, and pickles add to the sandwich's texture and are great choices by the restaurant. The same can be said about the side of fried tater tots; You'll eat one and never want to stop. And while it seems crazy to go to a high-end restaurant and order a fried chicken sandwich, you'll be telling your friends about this one for weeks to come.
With so many types of steak on the menu, you might find it hard to choose. The signature steak is the eponymous Steak Dolcetto, but you should know that this isn't the same as ordering just any steak. Yes, you're getting a delicious cut of prime rib that is buttery soft. It's topped with an assortment of wild mushrooms, roasted garlic, and grape tomatoes… all of which are noteworthy in their own right. But the plate is completed with two potatoes gratin. A recent trend in the restaurant world, this potato preparation involves cutting a potato into a bar before putting it through a sheeter to be turned into thin layers. Those layers are then spiced before they are put back together and fried on all sides to create what looks like a brick but is actually a stack of rectangular potato crisps. Dolcetto might be the only kosher restaurant doing it, and the effort shows in the scrumptious final product.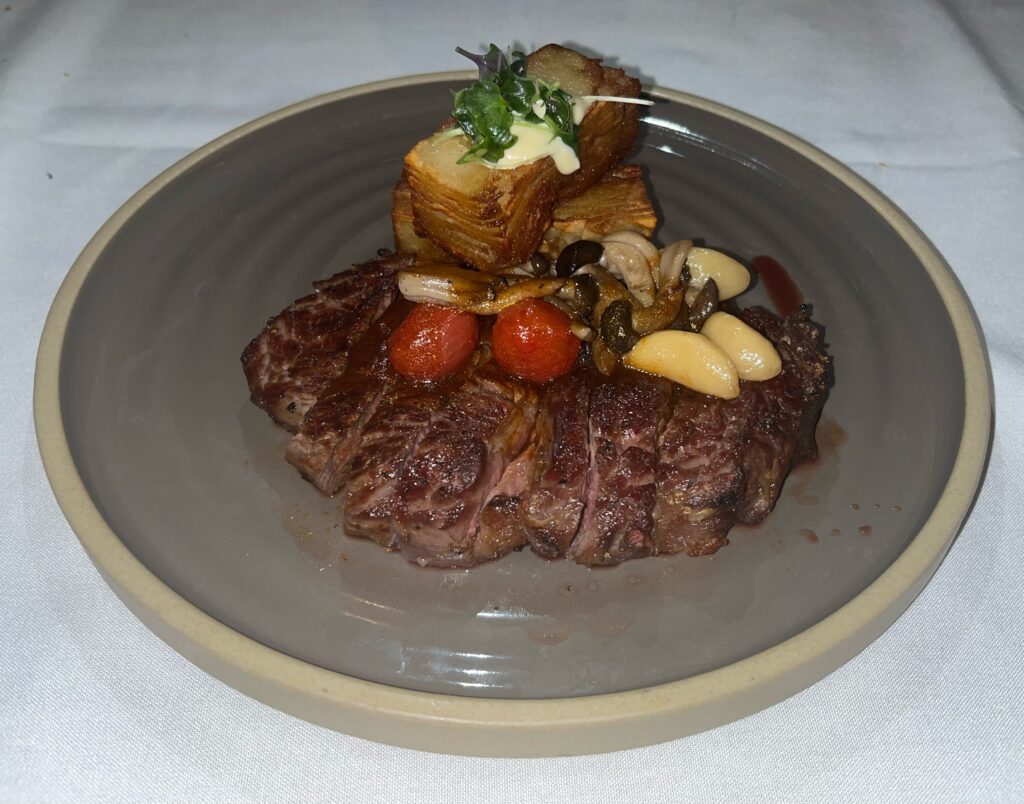 But there are many who might want meat and potatoes of a more standard variety. If that sounds more like your style, order the 20 oz Dry Aged Bone-In. This was the best steak I'd had in quite some time. The char on the outside was absolutely on point while the inside was the desired (for me) medium rare. This is the type of steak that you take a bite of and immediately admit to yourself that you really can't duplicate this type of quality at home in your kitchen, and not just because you don't usually dry age your meat for 45 days.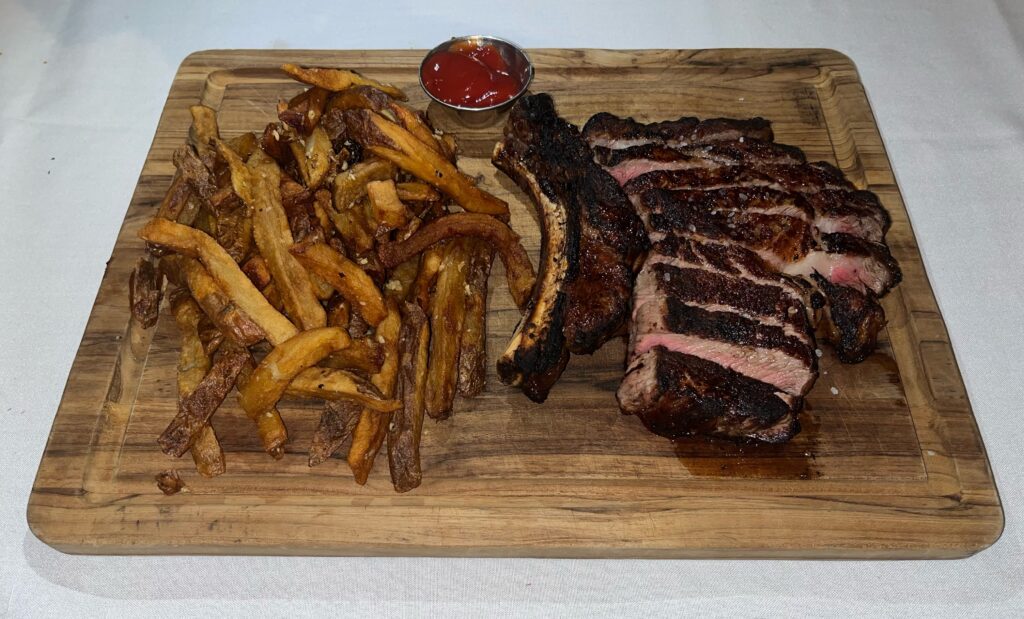 When they ask you which side dish you want with your steak, go with the Pomme Frites. Not only is it a classic pairing, but these french fries are house-made, skin-on, and come with fresh minced garlic on top. They are simple but spectacular.
Dolcetto will allow you to choose your path. Maybe you want something more traditional like the ribs and the branzino or steak frites. Maybe you want something more inventive like the bao buns and the chicken sandwich or the steak with potatoes gratin. Either way, Dolcetto has a path for everyone. And that path is a beautiful one.
Dolcetto is located at 800 Chestnut Ridge Road, Chestnut Ridge, New York. It is kosher-certified by the Tarnopol Beis Din.
Dolcetto is open Sunday-Thursday 5:30pm-10:45pm.