Let's narrow down your options of the best Jewish food (in my opinion) we get to consume all year — the fried dough (stuffed with jelly… or whatever you prefer, or nothing at all). Sufganiyot are a mainstay, as they should be, but come in many forms these days. From the traditional to the over-the-top fancy, you can still find Chanukah donuts for under $2 each, although the average cost per donut is up big time this year, where $9+ donuts are becoming the norm in certain areas.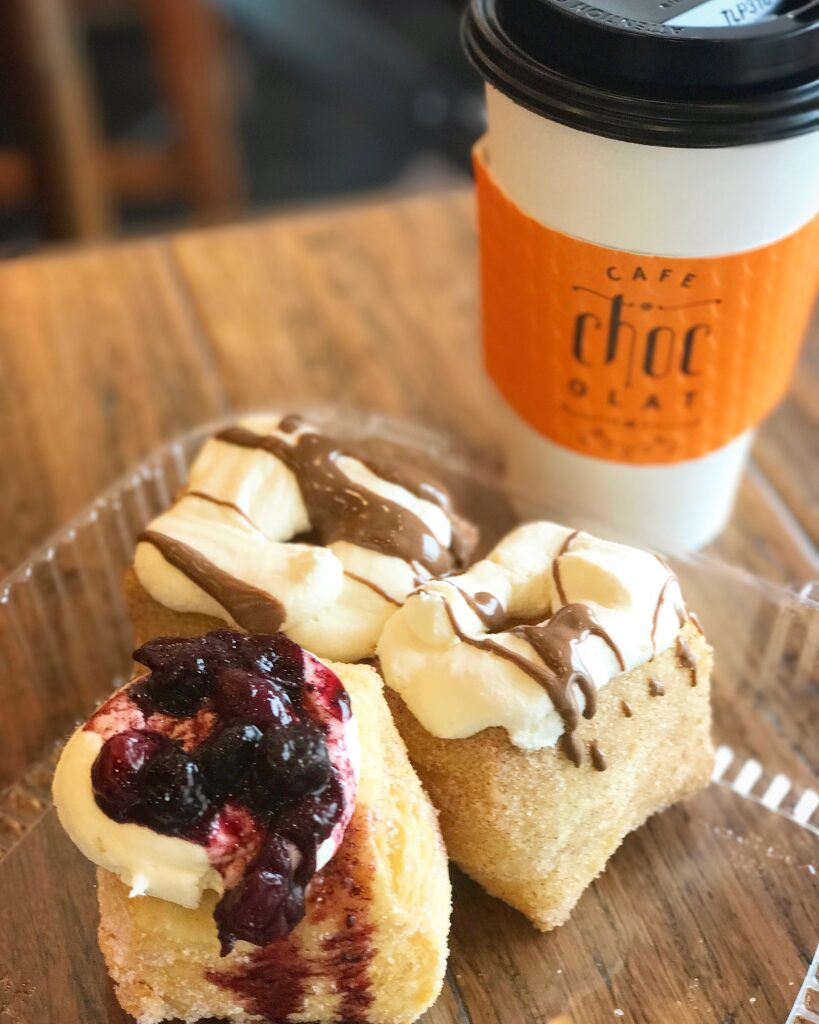 We've compiled a list of nearly 100 kosher bakeries, kosher restaurants, kosher caterers, and kosher supermarkets that are selling sufganiyot, sfinj, and specialty donuts this Chanukah across the US & Canada.
This list is surely missing something. Please let us know what we're missing here by filling out this form so we can add it in. Thank you so much).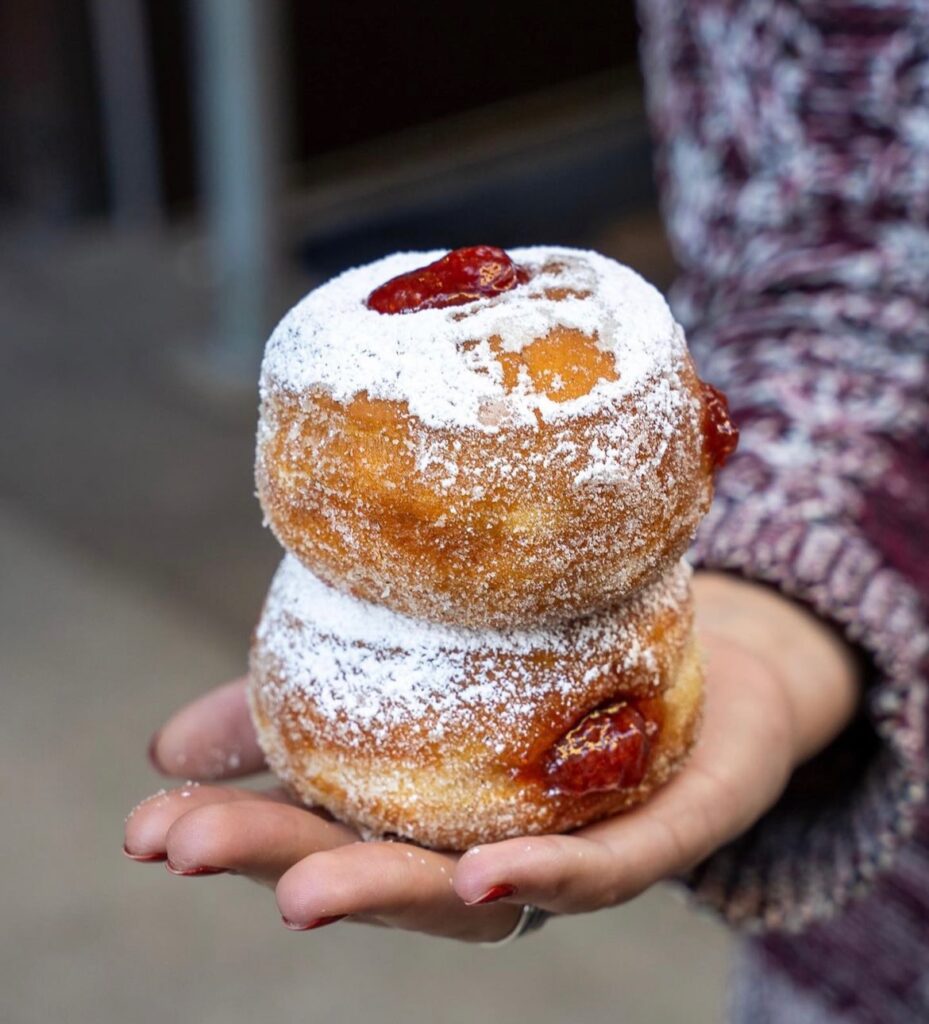 While you can surely get jelly donuts (or donuts of any kind) at kosher Dunkin' Donuts or Krispy Kreme shops, we do not list them here. Click here if you're seeking a list of kosher Dunkin' Donuts or kosher Krispy Kreme shops.
We've compiled the Sufganiyot list alphabetically & geographically:
| | | | | |
| --- | --- | --- | --- | --- |
| Store/Restaurant/Bakery | City | State | Country | Price Per Donut |
| Bliss Baked Goods | Edmonton | AB | Canada | |
| Garden City Bakery | Richmond | BC | Canada | |
| Cafe Fortyone | Vancouver | BC | Canada | |
| Sabra Kosher Bakery | Vancouver | BC | Canada | |
| Adar | Montreal | QC | Canada | |
| Amazin' Glazin' | Montreal | QC | Canada | |
| Best Simcha | Montreal | QC | Canada | |
| Bstro | Montreal | QC | Canada | |
| Cheskie Bakery | Montreal | QC | Canada | |
| Chocobake | Montreal | QC | Canada | |
| Cite Cachere | Montreal | QC | Canada | |
| Coco Pralin | Montreal | QC | Canada | |
| Delicious Without Gluten Inc. | Montreal | QC | Canada | |
| District Bagel | Montreal | QC | Canada | |
| Fleur De Lys (order in advance) | Montreal | QC | Canada | |
| Homemade/Canko | Montreal | QC | Canada | |
| Home Sweet Challah | Montreal | QC | Canada | |
| IGA Cavendish | Montreal | QC | Canada | |
| IGA Cote Saint-Luc | Montreal | QC | Canada | |
| IGA Van Horne | Montreal | QC | Canada | |
| Kosher Quality | Montreal | QC | Canada | |
| La Marguerite | Montreal | QC | Canada | |
| Leyley's Mtl | Montreal | QC | Canada | |
| Mimimelon | Montreal | QC | Canada | |
| Montreal Kosher | Montreal | QC | Canada | |
| One Stop Kosher | Montreal | QC | Canada | |
| Paradise Kosher | Montreal | QC | Canada | |
| Pizza Pita | Montreal | QC | Canada | |
| Renfell's | Montreal | QC | Canada | |
| Sfingy's | Montreal | QC | Canada | |
| Taty's Pizza | Montreal | QC | Canada | |
| Westminster Gourmet | Montreal | QC | Canada | |
| Farm Boy | Ottawa | ON | Canada | |
| Healthy Food Technology | Ottawa | ON | Canada | |
| Loblaws at College Square | Ottawa | ON | Canada | |
| Strawberry Blonde Bakery, Westboro | Ottawa | ON | Canada | |
| Strawberry Blonde Kanata | Ottawa | ON | Canada | |
| Village Cafe at the JCC | Ottawa | ON | Canada | |
| Amazing Donuts | Toronto | ON | Canada | |
| Anthony's No Frills | Toronto | ON | Canada | |
| Bubby's Bagels | Toronto | ON | Canada | |
| Centerpoint Carlo's No Frills | Toronto | ON | Canada | |
| DANI – Toronto | Toronto | ON | Canada | |
| Dr. Laffa | Toronto | ON | Canada | |
| Grodzinski Bakery – Bathurst | Toronto | ON | Canada | |
| Grodzinski Bakery – Centre Street | Toronto | ON | Canada | |
| Haymishe | Toronto | ON | Canada | |
| Hermes Bakery | Toronto | ON | Canada | |
| Isaac's Bakery and Cafe | Toronto | ON | Canada | |
| Kosher City Plus | Toronto | ON | Canada | |
| La Briut | Toronto | ON | Canada | |
| Lollicakes Limited – Specialty Bakery | Toronto | ON | Canada | |
| My Zaidy's Bakery | Toronto | ON | Canada | |
| Richmond Kosher Bakery | Toronto | ON | Canada | |
| Sobey's | Toronto | ON | Canada | |
| Surreal Sweets | Toronto | ON | Canada | |
| La Bella Pizza | Phoenix | AZ | USA | |
| Kitchen 18 | Scottsdale | AZ | USA | |
| Beck's Cafe | Encino | CA | USA | |
| Bibi's Bakery | Los Angeles | CA | USA | |
| Delice Bakery | Los Angeles | CA | USA | |
| Mensch Bakery | Los Angeles | CA | USA | |
| Schwartz Bakery | Los Angeles | CA | USA | |
| Roladin | Reseda | CA | USA | |
| Broad Street Dough Co. | San Diego | CA | USA | |
| Parisien Gourmandises | San Diego | CA | USA | $4.25 – $6 |
| Unique Pastry | Tarzana | CA | USA | $5 |
| Continental Kosher Bakery | Valley Village | CA | USA | |
| Ricotta | New Haven | CT | USA | |
| Beldotti Bakery | Stamford | CT | USA | |
| Kosher Kingdom | Aventura | FL | USA | |
| Sarah's Tent | Aventura | FL | USA | |
| Lox N Bagel | Boca Raton | FL | USA | |
| Aroma Market | Boca Raton | FL | USA | |
| Aroma Market | Cooper City | FL | USA | |
| Stefano's | Coral Springs | FL | USA | |
| Breads & Co. | Ft. Lauderdale | FL | USA | |
| Moran Patisserie | Ft. Lauderdale | FL | USA | $6 |
| Florentin Bakery | Hollywood | FL | USA | |
| KC Market | Hollywood | FL | USA | |
| Shibolim Bakery | Hollywood | FL | USA | |
| Kosher Price Market | Miami Beach | FL | USA | |
| Yes Market | Miami Beach | FL | USA | |
| Bubby's Fish n Chips | N. Miami Beach | FL | USA | |
| Sonny's Bakery | N. Miami Beach | FL | USA | |
| Shloimies Kosher Bakery | Sunrise | FL | USA | |
| Cafe Vert | Surfside | FL | USA | |
| Rolling Pin Bakery | Surfside | FL | USA | |
| Blacker's Bakeshop | Newton | MA | USA | |
| Croustille Cafe | Baltimore | MD | USA | $1.85 |
| Delightfully Sweet | Baltimore | MD | USA | |
| Parisers | Baltimore | MD | USA | $1.60 – $2.99 |
| Kosher Pastry Oven | Silver Spring | MD | USA | $3.25 – $3.50 |
| Shalom Kosher | Silver Spring | MD | USA | |
| Bogart's | Minneapolis | MN | USA | |
| Nahum Bakery | Deal | NJ | USA | |
| Bagel Nosh | Lakewood | NJ | USA | |
| Choco Shoppe | Lakewood | NJ | USA | |
| Cookie Corner | Lakewood | NJ | USA | $8-$9 |
| Evergreen | Lakewood | NJ | USA | |
| Gelbstein's | Lakewood | NJ | USA | |
| Gourmet Glatt | Lakewood | NJ | USA | |
| Kosher West | Lakewood | NJ | USA | |
| Patis | Lyndhurst | NJ | USA | |
| Salomon Kosher Bakery | Manalapan | NJ | USA | |
| Broad Street Dough Co. | Oakhurst | NJ | USA | |
| Butterflake Bakery | Teaneck | NJ | USA | |
| Patis | Teaneck | NJ | USA | |
| Bread Boutique Cafe | Tenafly | NJ | USA | |
| Ariela's Pizza & Kosher Kitchen | Las Vegas | NV | USA | |
| Yoffe Coffee | Airmont | NY | USA | $9.50 |
| Almah Cafe | Brooklyn | NY | USA | |
| Breadberry | Brooklyn | NY | USA | $9-$15 |
| Dough Doughnuts (Smorgasburg) | Brooklyn | NY | USA | $4.50 |
| Dough Doughnuts (Time Out Market) | Brooklyn | NY | USA | $4.50 |
| Doughnut Plant (Dwtn) | Brooklyn | NY | USA | $4-$29 |
| Doughnut Plant (Williamsburg) | Brooklyn | NY | USA | $4-$29 |
| Geshmak Bakery | Brooklyn | NY | USA | |
| Gombo's | Brooklyn | NY | USA | |
| Kaff's Bakery | Brooklyn | NY | USA | $5 |
| Khasky Foods | Brooklyn | NY | USA | |
| Korn's Bakery | Brooklyn | NY | USA | |
| Koshertown | Brooklyn | NY | USA | |
| Ostrovitzky | Brooklyn | NY | USA | |
| Patis | Brooklyn | NY | USA | |
| Royal Donuts | Brooklyn | NY | USA | |
| Sababa | Brooklyn | NY | USA | |
| Sanders Bakery | Brooklyn | NY | USA | |
| Schreiber's Bakery | Brooklyn | NY | USA | |
| Sesame (Boro Park) | Brooklyn | NY | USA | $3.25-$5.50 |
| Sesame (Flatbush) | Brooklyn | NY | USA | $3.25-$5.50 |
| Sesame (Williamsburg pop up) | Brooklyn | NY | USA | $3.25-$5.50 |
| Taam Eden Bakery | Brooklyn | NY | USA | |
| Taste of Israel | Brooklyn | NY | USA | |
| Urban Pops | Brooklyn | NY | USA | $6.50 |
| Weiss Bakery | Brooklyn | NY | USA | |
| Yossi's Bakery | Brooklyn | NY | USA | |
| Moss Cafe | The Bronx | NY | USA | |
| Cafe Chocolat | Cedarhurst | NY | USA | $7.50 |
| Carving Block | Cedarhurst | NY | USA | |
| Glick's Bakehouse | Cedarhurst | NY | USA | |
| Gourmet Glatt | Cedarhurst | NY | USA | |
| Jerusalem Mini Market | Cedarhurst | NY | USA | |
| Mom's Pastries | Cedarhurst | NY | USA | |
| Sesame (pop up) | Cedarhurst | NY | USA | $3.25-$5.50 |
| Everfresh Supermarket | Great Neck | NY | USA | |
| Noir Bakery & Cafe | Great Neck | NY | USA | |
| Gefen Gourmet | Hewlett | NY | USA | |
| Patis | Lawrence | NY | USA | |
| Seasons | Lawrence | NY | USA | |
| Seasons Express | Lawrence | NY | USA | |
| Chicken Chuck | Monsey | NY | USA | |
| Evergreen | Monsey | NY | USA | |
| Hava Java | Monsey | NY | USA | $8.50+ |
| Sander's Bakery | Monsey | NY | USA | |
| Bagels and Co. | New York | NY | USA | |
| By the Way Bakery (gf) | New York | NY | USA | |
| Dough Doughnuts (Flatiron) | New York | NY | USA | $4.50 |
| Dough Doughnuts (Rock. Center) | New York | NY | USA | $4.50 |
| Dough Doughnuts (Urbanspace) | New York | NY | USA | $4.50 |
| Doughnut Plant (Grand Central) | New York | NY | USA | $4-$29 |
| Doughnut Plant (LES) | New York | NY | USA | $4-$29 |
| Michaeli Bakery | New York | NY | USA | |
| Modern Bread & Bagel (gf) | New York | NY | USA | $10 |
| Park East Kosher | New York | NY | USA | |
| Patis (multiple locations) | New York | NY | USA | |
| Sova Catering | New York | NY | USA | |
| Tomers | New York | NY | USA | |
| Taam Eden Bakery | New Square | NY | USA | |
| Aron's Market | Queens | NY | USA | |
| Dough Doughnuts (Astoria) | Queens | NY | USA | $4.50 |
| Doughnut Plant | Queens | NY | USA | $4-$29 |
| Queens Pita | Queens | NY | USA | |
| Seasons | Queens | NY | USA | |
| Corner Cafe | Riverdale | NY | USA | |
| Ha-Makolet (Shoshi's Market) | Riverdale | NY | USA | |
| Bagel Town | West Hempstead | NY | USA | |
| Gourmet Glatt | Woodmere | NY | USA | |
| Seasons Express | Woodmere | NY | USA | |
| Zagafen | Merion Station | PA | USA | |
| Buns Bakery | East Providence | RI | USA | $3-$4 |
| Bubbie's Market & Deli | Providence | RI | USA | $2 |
| The Shuk | Austin | TX | USA | |
| KMarket | Dallas | TX | USA | $2 |
| Friendship Bakery | Fox Point | WI | USA | |