In this article, we're going to cover the benefits of CLEAR and explain how it is different from TSA Pre. We'll also show you how to get free or discounted CLEAR membership so you can save both time and money!
Affiliate Disclosure: MileValue is part of an affiliate sales network and receives compensation for sending traffic to partner sites, such as CreditCards.com. This compensation may impact how and where links appear on this site. This site does not include all financial companies or all available financial offers. Terms apply to American Express benefits and offers. Enrollment may be required for select American Express benefits and offers. Visit americanexpress.com to learn more.
What's the difference between CLEAR and TSA Pre?
Both CLEAR and TSA PreCheck (more commonly known as "TSA Pre") are expedited security programs that travelers can join for a cost (although you can pick up both for free with certain credit cards, see below). However, CLEAR will get you to the front of the line more quickly. 
At most major US airports, there are two main security lanes: 1 for TSA Pre (usually shorter) and one for regular processing (usually longer.) TSA Pre is a popular program that many travelers are already members of. It costs only $85 for five years, which is a great value. After a background check and quick interview, most people get approval. However, so many travelers are now enrolled in the program that the TSA Pre line can often get long. [TSA Pre is included with anyone who signs up for and purchases Global Entry (which is another expedited security program for a fee) which expedites your entry into the US after overseas travel. Certain credit cards offer Global Entry (and thus TSA Pre) as a once per 4 years perk.]
CLEAR goes a step further. It is a third lane, complete with dedicated customer service agents and an actual red carpet, that allows you to skip ahead.
CLEAR uses biometrics, i.e. facial recognition and fingerprints, to identify you at a digital kiosk. Then you scan your boarding pass and a CLEAR representative will escort you to the front of the line. From there, you'll go one of two ways:
If you have TSA Pre in addition to CLEAR, then you'll go to the front of the Pre-Check line.
However, if you do not have Pre, then you will go to the front of the regular lane instead and have to do the usual screening, including taking off your shoes and removing any devices from your bags.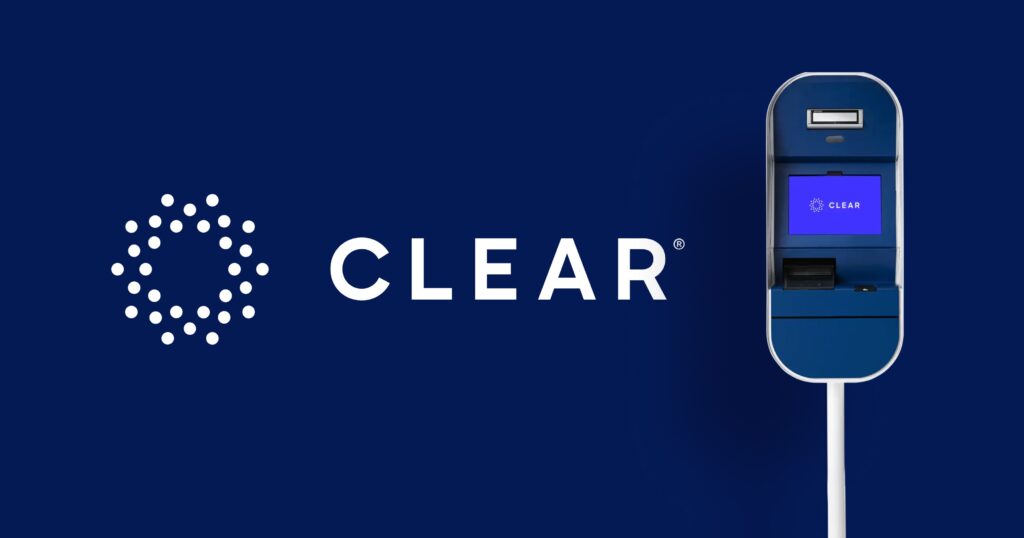 Why should you get CLEAR?
Basically, you don't have to worry about how long the security line is going to be. You can leave home (or your accommodation) knowing that you just need to allow enough time to check-in, drop bags (if needed), and go straight to the front of the security line.
Given CLEAR is significantly more expensive than TSA Pre, this program is best suited to frequent travelers.
Which US Airports and Locations have CLEAR?
There are 30+ CLEAR airports in the U.S., including 19 of the top 20, and including all 3 NYC area airports. It covers most of the major airport hubs, as well as secondary airports like Baltimore, New Orleans, and Sacramento.
It's worth checking the CLEAR locations page to see if CLEAR operates at your home airport and/or destinations that you often fly to. You'll also want to check the operating hours as well as in which terminal/s a CLEAR lane is available. Meaning, it is possible that the CLEAR lane closes at 6:30pm in certain airports. That means if you were to fly out on a 9pm flight, you'd want to know that you would not be able to access CLEAR before that flight.
CLEAR has also expanded to operate at sporting and entertainment venues like New York's Madison Square Garden, Yankee Stadium, and a few other sports facilities nationally. Lastly, it is increasingly becoming common to find a CLEAR lane at one-off events and festivals like Chicago's Pride In The Park.
How Do I Apply For CLEAR?
Click through a cashback portal (up to $6 extra value)
Enroll for a free two-month trial; or click through the Delta, United or student page for discounted membership
Make sure to use your The Platinum Card® from American Express or The Business Platinum Card® from American Express to make the purchase to get the full reimbursement
Take your ID to a CLEAR kiosk next time you fly (no appointment needed)
An agent will help you take your biometric information
Note that if your application is denied by CLEAR for any reason, you are entitled to a refund of your membership fee.
Bottom Line
If you are a frequent traveler and value your time, then CLEAR may be worth enrolling in. You can try out the service before you commit by signing up for a free two-month trial. You can also save money on the membership fee by either applying through Delta SkyMiles or United MileagePlus, or holding a specific credit card. Students get a hefty discount too.
On the other hand, if you are not a frequent traveler, getting TSA Pre may instead offer you better value. You'll still save time compared to the regular line but do be aware that the Pre line can still be somewhat long, especially during peak travel periods.
Finally, CLEAR also offers expedited security screening at a growing number of sporting and entertainment venues and events, which has become more useful as the world is back to traveling in full force again.
Best Credit Cards for Free Global Entry & TSA Pre Memberships
The following cards are the best cards that all offer complimentary Global Entry or TSA Pre memberships when the card is used to pay for the membership fees (as of the time of publication of this article).
Note: The article has been updated and adapted from an older article on SmarterTravel.com.