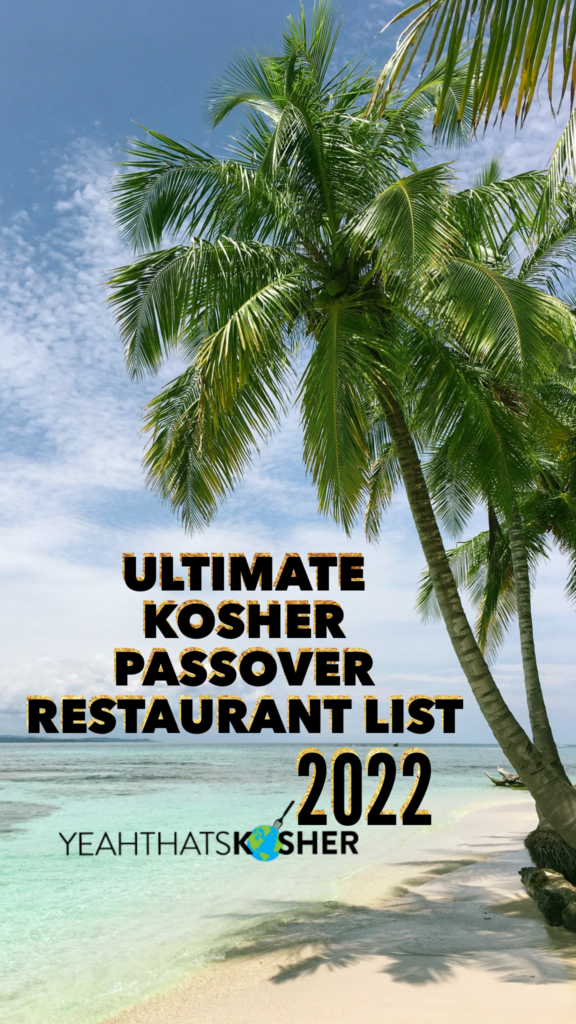 As Pesach approaches, the number one question we get asked is what restaurants will be open over Chol Hamoed. It makes a lot of sense. With so many days of yuntif that include many home-cooked meals and cooking for crowds, it makes sense that Chol Hamoed offers a much-needed rest from the kitchen. Below is a global list of restaurants that will be open over Chol Hamoed which will be continuously updated as the holiday approaches. As always, if we missed any restaurants, please let us know.

This list is something that takes a long time to compile, and a lot of sources (including many you) make it happen.
The same rules apply to what I state every year, so I will repeat it:
Before diving into the list below, please note the following:
We will be continuously updating this list through the first days of chol hamoed (obviously not on chag), so check back and refresh this page.
If you use an ad-blocker, we ask you kindly to turn it off for our website. Just allowing ads to appear will allow us to earn revenue for our hard work compiling information for you.
All restaurants are kitniyot-free (outside of Israel), unless stated otherwise. This may not be the case in France and Queens, NY, so double-check with each restaurant.
It is highly advisable to call in advance to verify the hours of operation as well as make a reservation (if possible), as many of these restaurants will be in high demand!
The following list is not a recommendation of the restaurant or its kosher certification.
Restaurants do not pay to be listed here. We will list any kosher restaurant that is open for Pesach Chol Hamoed in the world.
For those traveling for the chag, here are halachic Yom Tov guidelines for hotel guests. Click to read more.
To receive our email updates about kosher restaurants and kosher travel tips & advice, subscribe here.
---
Restaurant
City
State
Country
Menu
Notes
Chabad Niagara
Niagara Falls
ON
Canada
PopUp @ Chabad Hebrew Community Centre
Toronto
ON
Canada
Bayit Traiteur (16e)
Paris
France
Kitniyot
Berbeche (17e)
Paris
France
Kitniyot
Betheavone (St. Mande)
Paris
France
Kitniyot
Boaz (Charenton)
Paris
France
Kitniyot
Canal Grill (19e)
Paris
France
Kitniyot
Chez Franck (17e)
Paris
France
Kitniyot
Chez Papy (2e)
Paris
France
Kitniyot
Chez Victor Berbeche (12e)
Paris
France
Kitniyot
Chez Vicky (17e)
Paris
France
Kitniyot
Doron (17e)
Paris
France
Kitniyot
Douieb (9e)
Paris
France
Kitniyot
EtniKahn (Boulogne-Billancourt)
Paris
France
Kitniyot
Frank et Julien (11e)
Paris
France
Kitniyot
Japan Eat (11e)
Paris
France
Kitniyot
Jardins du Belvedere (17e)
Paris
France
Kitniyot
L'aile ou la Cuisse (16e)
Paris
France
Kitniyot
La Libanaise (17e)
Paris
France
Kitniyot
Le 120 (16e)
Paris
France
Kitniyot
Le King David (Neuilly-sur-Seine)
Paris
France
Kitniyot
Les Garçibs Boucher (11e)
Paris
France
Kitniyot
Maison Victoria (17e)
Paris
France
Kitniyot
Manhattan
Paris
France
Kitniyot
Samurayo
Afula
Israel
Kitniyot
Roots
Akko
Israel
Kitniyot
Cafe Gan Sipur
Ashdod
Israel
Kitniyot
Luciana
Ashdod
Israel
Pasta Basta
Beersheva
Israel
Kitniyot
Tishbi Winery
Binyamina/Zichron Yaakov
Israel
Kitniyot
Aresto Restaurant
Caesaria Port
Israel
Kitniyot
Hazalbanim
Caesaria Port
Israel
Kitniyot
Ranch House (at Nevo Isrotel)
Dead Sea
Israel
Ranch House (at Royal Beach Hotel)
Eilat
Israel
Pasta Basta
Ganei Tikva
Israel
Kitniyot
Roza
Gush Etzion
Israel
Non-Kitniyot
Greg Kitchen
Haifa
Israel
Kitniyot
Mandarin
Haifa
Israel
Kitniyot
Pasta Basta
Haifa
Israel
Kitniyot
Herbert Samuel (at Ritz Carlton Herzliya)
Herzliya Pituach
Israel
Non-Kitniyot
Black Iron
Jerusalem
Israel
Non-Kitniyot
Cafe Gan Sipur
Jerusalem
Israel
Non-Kitniyot
Cafe Lyon
Jerusalem
Israel
Kitniyot
Cafe Rimon
Jerusalem
Israel
Focaccia Moshava
Jerusalem
Israel
Non-kitniyot
Hamotzi
Jerusalem
Israel
Kitniyot
Happy Fish
Jerusalem
Israel
Non-kitniyot
Jacko's Street
Jerusalem
Israel
Non-Kitniyot
Kedma Mamilla
Jerusalem
Israel
Kitniyot
Luciana
Jerusalem
Israel
Non-Kitniyot
Machne Asada
Jerusalem
Israel
Non-Kitniyot
Mitzle
Jerusalem
Israel
Kitniyot
OrienTop (at Orient Hotel)
Jerusalem
Israel
Non-Kitniyot
Palomino
Jerusalem
Israel
Non-Kitniyot
Pasta Basta
Jerusalem
Israel
Kitniyot
Rooftop Restaurant, Mamilla Hotel
Jerusalem
Israel
Non-Kitniyot
Ruhan
Jerusalem
Israel
Kitniyot
Sushi Rehavia (Emek Refaim Branch)
Jerusalem
Israel
Kitniyot
Tmol Shilshom
Jerusalem
Israel
Waldorf Astoria Hotel
Jerusalem
Israel
Iskander
Kibbutz Gadot
Israel
Kitniyot
Ima
Kiryat Anavim
Israel
Kitniyot
Pasta Basta
Mevaseret Zion
Israel
Kitniyot
Michali's Cafe
Modiin
Israel
Non-Kitniyot
Pasta Basta
Modiin
Israel
Kitniyot
300 Gram
Moshav Betzet
Israel
Kitniyot
Gilli's Steakhouse
Moshav Nov
Israel
Non-Kitniyot
Agrocafe
Moshav Srigim
Israel
Kitniyot
Beef Behar
Moshav Yaara
Israel
Kitniyot
Fedrik
Ness Ziona
Israel
El Gaucho
Netanya
Israel
Kitniyot
Hayekev
Netanya
Israel
Non-Kitniyot
Nori
Netanya
Israel
Kitniyot
Pasta Basta
Netanya
Israel
Kitniyot
Segev Netanya
Netanya
Israel
Kitniyot
Shloshet Hakazvatim
Netanya
Israel
Kitniyot
Samarkand
Or Yehuda
Israel
Kitniyot
Manuel
Petach Tikva
Israel
Kitniyot
Nihon no-ba
Petach Tikva
Israel
Kitniyot
Mandarin Raanana
Raanana
Israel
Kitniyot
Murphy's Irish Pub
Raanana
Israel
Noale
Raanana
Israel
Non-Kitniyot
Pasta Basta
Rehovot
Israel
Kitniyot
Campania
Rishon LeZion
Israel
Kitniyot
Rak Kacha
Rishon LeZion
Israel
Kitniyot
Shipodey Tzipora
Rishon LeZion
Israel
Kitniyot
Sorento
Rishon LeZion
Israel
Kitniyot
Bodega
Tel Aviv
Israel
Kitniyot
Chuma
Tel Aviv
Israel
Kitniyot
Darya (inside Hilton Tel Aviv)
Tel Aviv
Israel
Non-Kitniyot
Dvora
Tel Aviv
Israel
Kitniyot
Goshen
Tel Aviv
Israel
Kitniyot
Lorenz and Mintz
Tel Aviv
Israel
Non-Kitniyot
Malka
Tel Aviv
Israel
Kitniyot
Regina
Tel Aviv
Israel
Kitniyot
Samarkand
Tel Aviv
Israel
Kitniyot
Uno
Tel Aviv
Israel
Kitniyot
West Side (at the Royal Beach Tel Aviv)
Tel Aviv
Israel
Non-Kitniyot
Lotte by Assaf Granit
Tiberias
Israel
Kitniyot
Cafe Lyon
Yavne
Israel
Non-Kitniyot
Tanduka
Yokneam HaMoshava
Israel
Kitniyot
Baronita
Zichron Yaakov
Israel
Kitniyot
Boulangerie Zichron
Zichron Yaakov
Israel
Kitniyot
Casa Barone
Zichron Yaakov
Israel
Non-Kitniyot
Nachman Steakhouse
Zichron Yaakov
Israel
Kitniyot
Tishbi BBQ Garage
Zichron Yaakov
Israel
Kitniyot
Gam Gam
Venice
Italy
Gaucho Grill
Mexico City
Mexico
Kitniyot
Tamar
Mexico City
Mexico
Sami's
Golders Green
Eng
UK
Kasa Grill
Hampstead Garden
Eng
UK
Tony Page @ the Island Grill
Royal Lancaster London Hotel
London
Eng
UK
Kosher Canyon (Chabad Flagstaff)
Flagstaff
AZ
USA
[menu]
Lieder's on Pico
Los Angeles
CA
USA
Trattoria Natalie
Los Angeles
CA
USA
[menu]
Char Bar
Washington
DC
USA
Bourekas
Aventura
FL
USA
Izzy's BBQ Miami
Aventura
FL
USA
Milk Gone Nuts
Aventura
FL
USA
Carmela's
Boca Raton
FL
USA
Ditmas
Boca Raton
FL
USA
Oak and Ember
Boca Raton
FL
USA
Bissaleh
Hallandale Beach
FL
USA
Woks N Rolls
Hallandale Beach
FL
USA
Cafe Noir
Hollywood
FL
USA
Dikla Delicious
Hollywood
FL
USA
The Cave Glatt Kosher Bar & Grill
Hollywood
FL
USA
ArtisanKO
Miami
FL
USA
41 Miami
Miami Beach
FL
USA
China Beach / Wok on the Beach
Miami Beach
FL
USA
China Kikar Tel Aviv
Miami Beach
FL
USA
Grill House
Miami Beach
FL
USA
Mimosa
Miami Beach
FL
USA
Pita Loca
Miami Beach
FL
USA
Bubby's Fish N' Chips
North Miami Beach
FL
USA
Ms Dixie
North Miami Beach
FL
USA
Shalom Haifa
North Miami Beach
FL
USA
The Southside Smokehouse (pop-up) @ Solterra Resort
Orlando area (Davenport)
FL
USA
[menu]
Kosh
Surfside
FL
USA
Meat Bar
Surfside
FL
USA
TYO Sushi
Surfside
FL
USA
Kosher Cajun
New Orleans
LA
USA
Rimon Tulane
New Orleans
LA
USA
Kitniyot
Avenue Grill and Sushi
Elizabeth
NJ
USA
Riverdale Kosher Market (@ Six Flags Great Adventure)
Jackson Township
NJ
USA
Private catering group area
etc. Steakhouse
Teaneck
NJ
USA
Richie's Kosher Pizza
Teaneck
NJ
USA
Yalla Teaneck (@ Doghouse)
Teaneck
NJ
USA
[menu]
Akimori
Brooklyn
NY
USA
Berrylicious
Cedarhurst
NY
USA
The Cheese Store
Cedarhurst
NY
USA
Colbeh
Great Neck
NY
USA
[menu]
Colbeh/Paprika
New York
NY
USA
[menu]
Eighteen Restaurant
New York
NY
USA
Hummus Kitchen (Hells Kitchen)
New York
NY
USA
Kitniyot
Hummus Kitchen (UES)
New York
NY
USA
Kitniyot
La Brochette
New York
NY
USA
Le Marais
New York
NY
USA
Lox @ Museum of Jewish Heritage
New York
NY
USA
Mendy's
New York
NY
USA
Mr. Broadway
New York
NY
USA
Taam Tov
New York
NY
USA
Talia's Steakhouse
New York
NY
USA
Colbeh
Roslyn
NY
USA
[menu]
Annie's Kitchen
Queens
NY
USA
Cafe Muscat
Queens
NY
USA
Holy Schnitzel
Queens
NY
USA
Citi Field
Queens
NY
USA
Details
Kosher Palate
Dallas
TX
USA
House of Kosher
Philadelphia
PA
USA