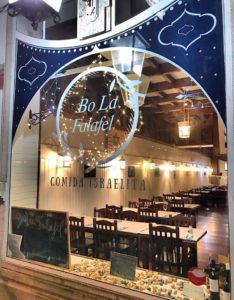 A new kosher restaurant recently opened up in Porto, Portugal – BoLa Falafel. The restaurant is located close to the Mekor Chaim Shul.
Bola Falafel specializes in fresh Israeli cuisine. The eatery serves falafel, foccacia, hummus, salads, and desserts such as doughnuts, malabi, and berry tarts.
Hours of operation are 11am-4pm and 7pm-11pm weeknights.
BoLa Falafel is certified by Rabbi Daniel Litvak.
Guests visiting the Porto area who choose to stay at Hotel da Musica can order kosher food right in their hotel room. Packages include a two night stay with breakfast, two Chef's meals, and 2 kosher wine bottles. Food is also supervised by Rabbi Litvak.