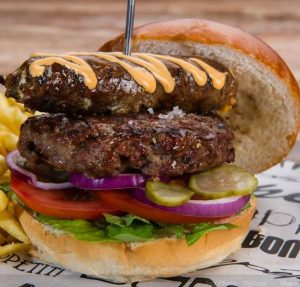 The kosher food scene in Netanya is developing very quickly. The demand for kosher restaurants has increased recently, thanks to increased aliyah from France. So what better place to open up an American style diner then on the Netanya boardwalk overlooking the Mediterranean?
Chubby's Chef Bar & Burger is a funky new diner, offering a large variety of unique hamburgers and sandwich options. The menu is split into multiple categories: Classic burgers, steamed bao sliders, and "The Lineup"  which are specialty burgers, sides, and desserts.
The burgers in "the lineup" include the "Deep Forest" burger that has a half pound beef patty with black truffle mayonnaise, mushroom ragu, vegetables and melt in your mouth short ribs; or the "Bud Spencer" Which offers also a half pound beef patty, with chipotle mayo, chorizo and vegetables. Additional menu items include salads, kids meals, fish and chips, hot wings, 4 types of fries, sweet potato fries, zucchini fries, and edemame.
Chubby's is a welcome addition to the Netanya kosher restaurant scene, and what better place to have a burger then on the boardwalk?
Kosher Rabbanut Netanya