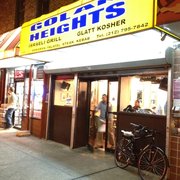 UPDATE: Locals are reporting that the restaurant was reopened late yesterday.
One of Upper Manhattan's long standing kosher restaurants, Golan Heights, was shut down by health inspectors this week as reported by the YU student newspaper.
While we can't say for certain, we imagine Golan Heights will eventually reopen OR a kosher restaurant will open in its place.
In the interim, YU students and Washington Heights residents will need to rely on the other, few, kosher restaurants on Amsterdam Avenue, including the newly opened kosher bakery next to Golan Heights, Eizenshtein's, Chop Chop, the kosher pizzerias, as well as the newly opened kosher Dunkin Donuts a block away.