UPDATE: The restaurant has closed as of late June. It was open for about 4 months.
---
The Mitbach, located in Airmont, NY (near Monsey) has opened its doors for business on February 15th.
This restaurant features American and Italian dairy cuisines. The menu boasts 8 different types of pizzas,  salads, gnocchi, raw delicacies, and pasta. Fish lovers can choose from sole, snapper, hamachi, salmon, and trout. Homemade, cholov yisroel cheeses are also available. Customers can order fresh gouda, feta, goat, camembert, mozzarella, and blue cheese, all with unique spices and flavors, to take home.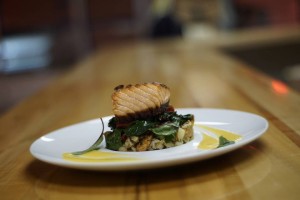 The high end dairy restaurant is located in the same complex as The Ridge Steakhouse.
Hours of operation are Sunday-Thursday 11am-9:30pm & Winter Saturdays    8:00pm – 11:00pm.