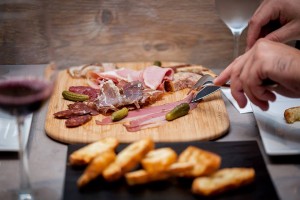 Harbour Grill has opened a butcher shop/restaurant combo in Surfside last month under the name Harbour Grill Gourmet. This place is a dream come true for meat lovers and foodies. There are aged rib eyes, smoked meats, and charcuterie platters at a meat counter for customers to take home and enjoy. Everything is made on site.
The upscale menu includes delicacies such as cured veal, duck pate, lamb chorizo, and chicken sausage. There are also soups and salads to balance out the menu.
Harbour Grill Gourmet is open from Sundays through Thursdays. Lunch hours are 11am-5pm and dinner is from 5:30-10pm. Friday hours are from 10am-2pm.
Harbour Grill Gourmet is certified by the KM (Kosher Miami).