The Wells Fargo Center, home to Philly's Flyers and 76ers, will be rolling out an all new food stand: The Kosher Grill on Monday, February 8th. Aramark, the arena's concessionaire, has partnered with Kosher Concessions LLC to provide a full-blown kosher stand at the Wells Fargo Center.
The Kosher Grill is serving the complete "Stadium-Style" menu, including Kosher Dogs, Pastrami Sandwiches, and Hot Pretzels (plus multiple toppings).
The stand is located right off the main concourse by Section 120/121.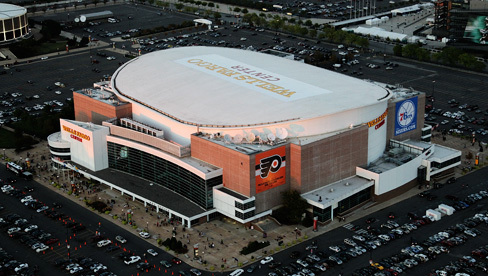 Menu:
Kosher dog  ($7.25)
Polish sausage ($8.50)
Pastrami dog ($9.50)
Pastrami sandwich ($11.75)
Hot pretzel ($5)
Chips  ($3)
Soda ($4.75)
Beer options:
24-ounce domestic ($11.50 game price, $12.50 concert price)
24-ounce premium  ($13.50 game price, $14.50 concert price)
16-ounce premium can ($9.75 game price, $10.75 concert price)
Kosher certified by Community Kashrus of Greater Philadelphia (The Keystone K).
Kosher food is also available at Philadelphia's Lincoln Financial Field.
Click here to read more about kosher food at Sports Arenas & Stadiums.