Vegetarian / Pescatarian Kosher Dairy restaurant Mozart Cafe & Bakery based in Scottsdale, AZ has just added a second location on the campus of Arizona State University (ASU) in Tempe, AZ.
This on-campus restaurant is under the supervision of Greater Phoenix Vaad Hakashruth, non-Chalav Yisroel. There are several Chalav Yisroel cheeses and products, depending on availability. The challah and all other baked goods and pastries are certified as Pareve, Pas Yisrael.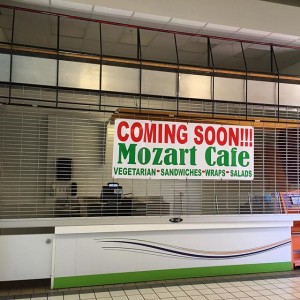 The satellite Mozart location can be found in Arizona State University's Memorial Union building and will mainly serve vegetarian sandwiches, wraps, and salads.
While Mozart Cafe seems to be only a during-the-week option, ASU's Hillel serves free weekly Shabbat dinners as well as other meals throughout the week. The Hillel kitchen is supervised by the Greater Phoenix Vaad Hakashruth.