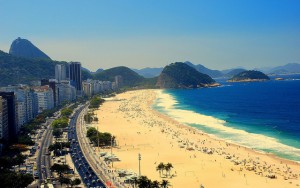 In the Rio de Janeiro neighborhood of Copacabana, a hotel is in the works to provide kosher accommodations for Jewish visitors from around the world, especially in preparation for next year's Summer Olympics. The area will be one of the four "Olympic Zones" during the 2016 Summer Olympics.
The Best Western Eretz Copacabana will be managed by Best Western and will be completed by March 2016. The hotel will feature 64 rooms, a shul led by Chabad of Copacabana, and a kosher restaurant.
Additionally, Rio De Janeiro's local Jewish community will open two synagogues to accommodate Jewish visitors coming to the 2016 summer Olympics.
---
The Copacabana neighborhood already has a kosher restaurant operated by the local Chabad, Shelanu Kosher Bar & Grill, that delivers to the local hotels, as well as a kosher pizza shop and a few kosher markets. Additionally, Chabad operates a "Kosher Loft" next door to the Chabad.
Source: Lubavitch.com