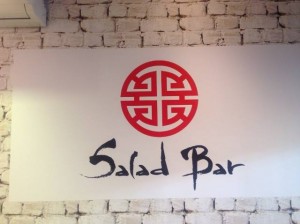 Located near Sydney's Central Railway, Salad Bar & Co. is a new kosher eatery in downtown Sydney that opened today. The dairy & pareve restaurant is open for breakfast and lunch 7am-4pm M-Th and 7am-3pm Fri.
Fresh breakfast and lunch items on the menu include: salads; bagels; croissants; muffins; sandwiches; sushi rolls; bourekas; challot and eggs. You can also order fruit salad, rugulach and best quality hot and co
ld beverages. (Sample menu prices below)
While there is parking available in surrounding streets Salad Bar & Co. offers 
free delivery
if you buy $25 & will deliver anywhere in the CBD. Delivery times will be
12:30 & 1:30 pm
anywhere in the city.
Kosher supervision under KA (Kashrut Authority).  All bread and cakes are Pas Yisrael and breads are hamotzi.
All cooking on premises is bishul Yisrael. Dairy items are all Chalav Yisrael including the milk used with the coffee machine.
Here is a sample menu from Salad Bar & Co. Prices in AUD$.
Breakfast / Lunch Combo – Salad of your choice with a Bagel, Hot Drink, cold drink & Eggs – $18.50
Salad + extra's – $13.00
Regular Salad – $10.50
Bagel – $1.25
Croissant – $4.00
Muffins- $4.00
Sandwich -$6.50
Boureka  – $3.25
Rugalach – $1.00
Fruit Salad – $6.00
Sushi Rolls – $8.00
Challot – $4.50
Small Regular Coffee – $3.50
Large Coffee- $4.00
Fruit Juice – $4.50
Noah Drinks – $3.50
Franklin Water – $3.00
Soft Drinks – $3.00