The Minneapolis Jewish community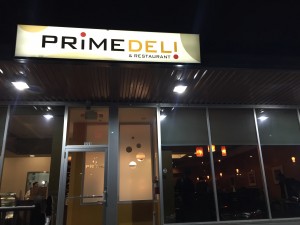 saw the launch of a new kosher restaurant in the suburb of St. Louis Park earlier this week: Prime Deli & Restaurant. This is only the second kosher restaurant in town (the first opened in early 2013: Vitali's Café), and the only kosher meat restaurant. 
The restaurant is deli / steakhouse with a diverse menu that we'd describe as "modern Kosher fusion". Essentially, the menu consists of dishes from numerous cuisines including modern American/deli, Israeli/Mediterranean, Asian, and more, done in an upscale environment. 
The restaurant is located in a small strip mall adjacent to a kosher market and Judaica store. 
Kosher supervision for the restaurant is under Minnesota Kosher. 
The restaurant is open Sunday-Thursday from 11am-9pm and Fridays from 11am-2pm.