As reported by the Miami Herald, the Dunkin Donuts that recently opened on Stirling Road in Hollywood, FL is kosher!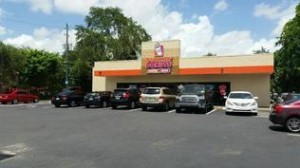 In order to be certified kosher, they have replaced all the usual ham, bacon, and sausage made from pork with vegetarian bacon and sausage to use in their breakfast sandwiches. The franchise is owned by Broward Donuts, which operates 21 Dunkin' Donuts restaurants in the area, and the donuts are dairy (cholov stam) and pas palter.  
This Dunkin Donuts is open from 5 a.m. to 10 p.m. seven days a week and is under the kashrus supervision of the ORB.