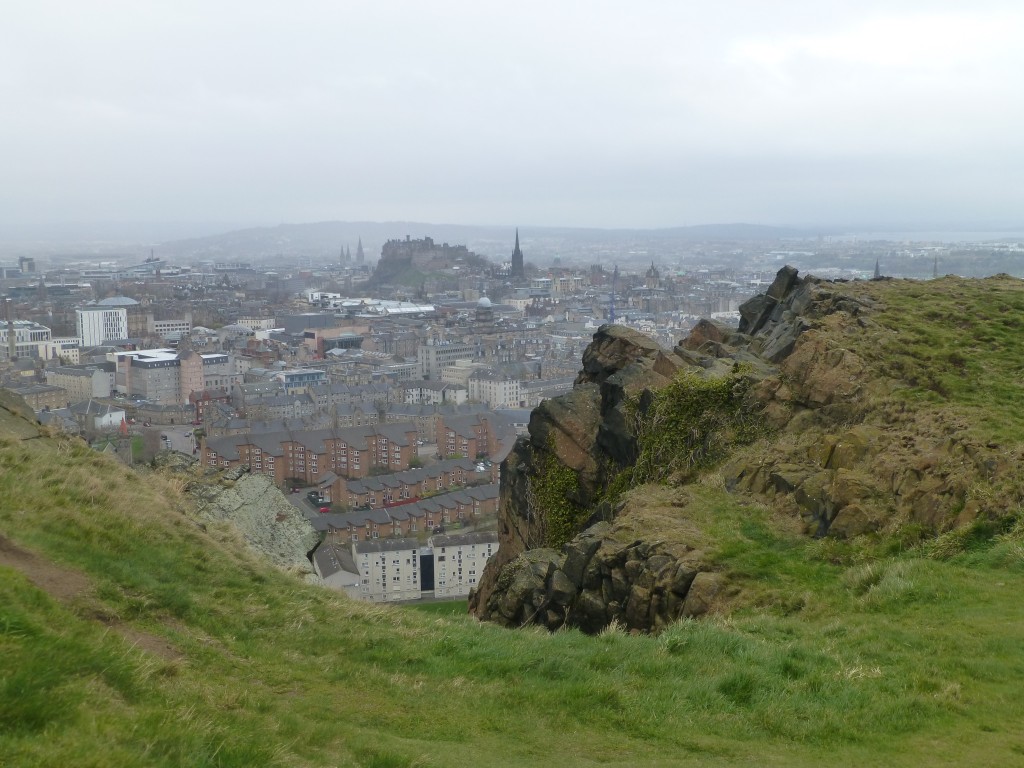 Contributed by: Paul Hurwitz | Last Date of Travel: April-May 2013
I'd wanted to visit Scotland for a long time, both to see the country and to visit Scotch Whisky distilleries.  The opportunities to learn about history and Scotch Whisky are plentiful and make for a great trip.
Glasgow Kosher Info:
Glasgow has 3 kosher establishments, all located in the Giffnock neighborhood. Giffnock is about 20 minutes by car from the city center of Glasgow. Information about kosher food in Glasgow can be found on the website of the Giffnock and Newlands Hebrew Congregation (aka Giffnock Shul).
Mark's Deli sells their own food produced in house as well being the main supplier of kosher products, meats and cheeses to the Jewish community of Giffnock. They have sandwiches and Shabbat food for take away.  Mark's also has a small cafe which serves hot meat meals and caters small functions. Unfortunately we were unable to visit Mark's Deli because they had a fire the week before I arrived in Scotland. They were still functioning out of a different kitchen but not available as a cafe.
L'Chaims Restaurant is run by Lubavitch-Chabad of Scotland. They are open daily during the summer but other times they are open only if they have reservations for 10 or more people. You can purchase prepared meals from them anytime of the year and they are packaged ready to be warmed up in a non-kosher kitchen (e.g. sealed, double-wrapped, instructions). We ordered food from L'Chaim's for our entire trip. Packaged microwaveable meals could be good or bad, you never know. We were  pleasantly surprised at how fresh and tasty the food was. Their BBQ Chicken meal was my personal favorite. They can provide fresh fruit and salads and the desserts we had were excellent.
Hello Deli also has in-house produced food and products brought in from elsewhere for the community. It does not have any sit-down space.
The Scottish Council of Jewish Communities (SCoJeC) has a PDF guidebook that lists supermarkets that have kosher sections. It also contains a lot of good information about all the Jewish communities of Scotland.
The UK is only now moving to a system similar to the US with kosher symbols (hechshers) on packaged goods. It still has a system where people need to have a book with lists of kosher/acceptable items. United Synagogue, the organization of Orthodox shuls in the UK, has a 25 page PDF Nosh Guide on their website that was very useful on my trip.
Tourist Info:
The two main draws for tourists to Scotland are golf and Scotch Whisky. I fall squarely in the camp of the latter, mainly Single Malt Scotch Whisky and really couldn't care less about golf.  Besides wanting to see Scotland as a country, one of my main reasons for wanting to visit Scotland was to visit Whisky Distilleries and taste some special Single Malt Scotch Whisky. I was not disappointed.  Below is a list of the distilleries I visited and my thoughts on each one. Their location is in parenthesis after each one. Most of these distilleries only have one tour, if there are more than one to choose, I will note which I took part in.
Edradour (Pitlochry, on the way to Inverness) is the smallest working distillery in Scotland. It was our first distillery visit and a great introduction to learning about how single malt whisky is made. It's a small operation and the owner is the guy who drives the forklift around. His wife runs the gift shop. I tasted both the 10 year old and an 18 year old. I had never heard of Edradour before this trip but I enjoyed both drams during the tour.
Dalwhinnie (Dalwhinnie, on the way to Inverness) is a distillery I'm familiar with and in the past have liked the 15 year old a lot. The tour was a simple tour and it was a little hard to understand the guide because of how noisy it was and his heavy accent. I got a wee dram of the 25 year old but I didn't particularly love it.
The Balvenie (Dufftown, day trip from Inverness) was my favorite tour. It is 3 hours long.  I remember talking beforehand and saying what are we going to spend 3 hours doing on a tour. After the tour we couldn't stop talking about how much we enjoyed the tour and getting such an in-depth look and understanding of how single malt whisky is made. The Balvenie is the only distillery that still malts its own barley and it has its own cooperage for repairing casks. The tasting at the end was sublime: 12 yo Doublewood, 17 yo Doublewood, 14 yo Caribbean Cask, 15 yo Single Cask and 21 yo Portwood.  Because I am a member of  The Balvenie's online site 'Warehouse 24', I got to taste a 39 yo that was unlike anything I had ever tried before. This tour and the tastings all reinforced The Balvenie being one of my favorite distilleries.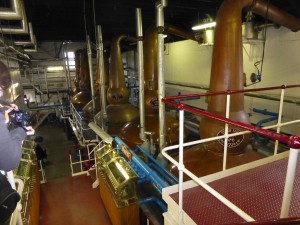 Glenmorangie (Tain, day trip from Inverness) is also one of my favorite distilleries. The tour was not as long as The Balvenie but was very interesting and enjoyable. The setting of Glenmorangie in Tain along the water is very pretty and the whole distillery is very nice to look at. Glenmorangie's stills are the tallest in all of Scotland. I tasted a 12 yo, an 18 yo and a 25 yo. I purchased a rare bottle of Glenmorangie 25 to bring home with me.
Auchentoshen (Glasgow) is the only triple distilled single malt whisky but that was about the only thing that stood out here.
Glengoyne (Dumgoyne, between Glasgow and Edinburgh) the 17 yo became one of my favorites when I opened a bottle for my son's Shalom Zachor. The tour of Glengoyne did not disappoint. We did not go on the regular tour, we went on the 'Century of Whisky Tour'. Included in this tour are a 10 yo, a 40 yo and a 50 yo blended Isle of Skye whisky. Hence, the 'century'. When you pay for this tour, you get a private tour of the distillery with their most seasoned guide. The tour was somewhat different than the others because the distillery was shutdown for repairs. Because of that we got to see the pieces of the process much closer up because they weren't working. The tour was very personal and our guide answered whatever questions we had. The 50 yo blended Isle of Skye whisky was nice, but let's face it, it's a blended whisky. That's not my taste. But the 40 yo Glengoyne is something special. You could get a bottle of it for £3750 (about $5000 USD). It was absolutely smooth and something not easily forgotten. I still can't decide if The Balvenie 39 or the Glengoyne 40 is better, but I am leaning towards the Balvenie 39.
There are other distilleries, many of them. I prefer the smooth taste of a Speyside or Highland malt, but some people prefer smokey Islay (pronounced 'Ila') malts. Whatever your preference you can find distilleries that match.
It's important to note, for proper pronunciation of place names, that 'ch' like in Pitlochry, Auchentoshen and Loch Ness are pronounced like the Hebrew 'chet' and not like an American 'k'.
We were in Scotland for 11 days. We spent the first part of the trip in the north where we stayed in Inverness. We visited the first 4 distilleries while up north. We stayed 3 nights in Inverness at the RocPool Reserve, a luxury boutique hotel. I don't know how many rooms they have, but I don't think it's more than 10 or so. All of the staff are very nice, knowledgeable of the local area and very helpful. Big plus is that there is free WiFi throughout. Inverness means at the 'Mouth of the River Ness' and it is here that Loch Ness flows into the Moray Firth (inlet) and from there into the North Sea. Because of this area's close proximity to the North Sea, oil rigs can often be seen for repairs in Moray Firth. Almost everywhere you drive up north is not far from the coast. From Inverness we went on day trips to the different distilleries and the following attractions:
Speyside Cooperage (Craigellachie) produces and creates casks for the Speyside Whisky distilleries as well as distilleries elsewhere in Scotland. Besides the Balvenie Distillery tour it's the only place to see coopers in action. Almost all of the work is done by hand and these guys work very hard and very fast. A lot of the work they do is repairing casks and they get paid by the cask. The law in the US is that Bourbon whiskey must be placed into brand new casks and can only be used once. Most of the used Bourbon casks from the US make their way to Scotland for use as Scotch Whisky casks. When they get to Scotland, in pieces, they have to be put back together and any broken pieces need to be replaced.
Battle of Culloden battlefield (Culloden Moor) is a National Trust for Scotland historic site and museum. It is the site of the final confrontation of the Jacobite Rising of the House of Stuart against the loyalist troops of the House of Hanover and marked the beginning of a period of a brutal crackdown on the Jacobites, Gaelic culture and the Scottish clan system. It took us about 1 hour to go through the exhibits.
Dunrobbin Castle (Golspie, Sutherland) has been the home of the Earls of Sutherland since the 13th Century. Sutherland is one of the 7 ancient earldoms of Scotland and one of the most powerful families in Britain. Parts of the current castle date to that time period making it one of the oldest inhabited houses in Scotland. The inside of the castle, originally a summer home, is kept to early 20th Century settings with many items dating back several hundred years. It was amazing to view the inside and see how royalty lived so recently. There are also amazing views of the castle gardens and the North Sea beyond. You'll want to time your visit of the castle, about 1 hour, to coincide with one of the twice daily falconry demonstrations at 11:30 AM and 2:00 PM. These exhibitions last about 30 minutes and it is amazing to see these beautiful birds of prey so up close and see what they are capable of. Don't be surprised if an owl ends up sitting on your hat which happened to me.
Fort George (Ardersier) is not far from battlefield of Culloden and was built to dissuade any further Jacobite attempt on the throne. It is an impressive fortification that looks like it could withstand just about any attack. It is still an active army barracks and some parts are off limits to visitors. The part open to visitors includes historic barrack rooms and the Regimental Museum of the Highlanders. The museum was really interesting and informative and is well worth a visit. The fort also has amazing views of Murray Firth and the North Sea.
Hootenany (Inverness) is bar and live music venue in the center of Inverness. Locals and tourists show up here for the nightly live music. We enjoyed an evening of Celtic/Scottish music by a band from Kansas City, MO.
Ness Island Walk (Inverness) is a 2-3 mile walk along the River Ness in the center of Inverness. I thoroughly enjoyed this walk that starts along the banks of the River Ness and there are a number of pedestrian bridges that connect the Little Ness Islands. It is very popular with locals out for an evening stroll, also popular with people who like to fish in the River Ness.
After leaving Inverness we drove south along the West side of Loch Ness. We skipped the touristy Nessie traps and went to Urquhart Castle. The castle dates back over 500 years and features prominently in Scottish history in the battles for Scottish independence and clan conflicts. We continued to the Isle of Skye, which I thought was kind of a bust. Everyone says Isle of Skye is amazingly beautiful, it was pretty but it was a lot of driving and I didn't feel the reward for all the driving. The day we drove to the Isle of Skye was our worst weather day of our trip. We didn't drive to the north of the island because of the weather, which is said to be the prettiest part of the island. Also, we visited in April which was still very much pre-Spring in Scotland. If we visited later in Spring or in Summer we might have had different feelings about Isle of Skye. We ended up in the town of Armadale. where there is a ferry to take across the Loch to the town of Mallaig. We stopped at Glenfinnan monument  to Prince Charles Edward Stuart where he started his revolution which ended at Collodon (see above) and the Glenfinnan Viaduct made famous in the Harry Potter movies. From there we drove to Fort William where we stayed in a very nice B&B. The next day we continued on towards Glasgow and drove through the stunningly gorgeous Glen Coe valley.
We arrived in Glasgow and spent Shabbat in the Giffnock neighborhood.  There wasn't much that drew us to Glasgow. There are some great museums but we opted to skip those. We spent little time in Glasgow except for Shabbat. Scotland's Jewish community used to be much larger but never exceeded 20,000. Currently there are about 3000 Jews left in Scotland with most of those in Glasgow.  The center of the Jewish community in Glasgow and Scotland is the Giffnock Shul (see below). The shul is a beautiful building that has stained glass windows from several other shuls that have closed down. . The shul has limited ability to provide hospitality for shabbos meals. If you visit in the summer, it will probably not be available and you will need to purchase food and make arrangements at your hotel. We visited in April, when there are very few tourists and we spent Shabbat with two very nice families. These families, and the entire shul, made us feel at home and were very welcoming. Shabbat in Glasgow with the Giffnock community was a highlight of our trip.
After Shabbat, we transferred to Edinburgh and stayed at the Balmoral Hotel. It is the place where visiting royalty and heads of state stay when visiting Scotland. The Balmoral is on many travel magazines top hotels to stay at before you die lists. After staying there I understand why. Every thing about the hotel exudes luxury; the lobby, staff, the rooms and well, everything. I will probably not stay in hotels as nice as these ever again and only did so on this trip because my travel companions (my parents) were paying for the trip. We ate our meals in Hadrian's Restaurant in the hotel and they have clearly dealt with kosher guests and food from L'Chaims Restaurant. Although it was the only time I've stayed somewhere where I was charged a seating/preparation fee for a kosher meal in a hotel.
En route from Glasgow to Edinburgh, we visited Glengoyne distillery (see above) and Stirling Castle. Stirling Castle dates from the 15th and 16th centuries and is one of the largest and most significant castles in Scotland. Mary Queen of Scots and several other Scottish kings and queens have been crowned at Stirling. I was warned before my trip to NOT see every single castle. There are way too many. The advice I was given was to pick 3-6 castles to see and that would be enough. I heeded that advise and after driving past so many castles, I can understand how you could see too many. Stirling Castle is one of the castles that you really should see.  While Glasgow seems to be a working city and not the most attractive for visiting tourists, Edinburgh is a very popular destination for tourists. The center of the city around the Royal Mile and Princes Street are big tourist walking areas. There are many spots walking along the Royal Mile and Princes Street that you can get free wifi if your hotel does not offer it.
While based in Edinburgh, we visited the following:
Falkirk Wheel (Falkirk) is a rotating boat lift connecting the Forth and Clyde Canal to the Union Canal. It's really hard to explain, just watch the video and you'll get it. Kind of like a ferris wheel for boats. It is a really cool place to visit and go on a boat ride.
Edinburgh's Royal Mile is a group of streets connecting Edinburgh Castle and Holyrood Palace. There is historical significance to a lot of buildings along the Royal Mile but it is also the tourist shopping center and where one goes to get tourist gifts from Scotland.
Edinburgh Castle is a huge and impressive castle. Definitely one of the ones to see. Plan on spending 2-4 hours going through the castle. We s

aw the Scottish Crown jewels, the Royal Sword [which is only ceremonial] and the Destiny Stone. The Destiny Stone is a large stone that sat under the king's throne and was only used for Coronations. It used to be in Westminster Abbey but was moved back to Edinburgh Castle in the early 1900s. All British coronations require it to be moved and be present for a coronation. We went through the royal apartments and the great hall. The great hall has a great presentation of really cool weapons. We w

ent through the prisons in the castle for foreign POWs and the military prison and went through part of the Scottish military museum. The grounds and ramparts of the castle are very impressive and because the castle is on a large hill provide amazing views of the surrounding areas. 

Holyrood Park is a large park, about 650 acres, in the middle of Edinburgh, very close to Holyrood Palace. The palace is the official residence of the British monarch in Scotland. Holyrood Park was created in the 1500s as a royal park that only the royal family were allowed to use. It is now a public park that is very popular. I went on a hike through the park up the Salisbury Crags which are pretty steep to get up but provide great views of the city and Edinburgh Castle.
Royal Yacht Brittania used to be the official yacht of Queen Elizabeth II and is a floating palace. It gives an interesting look into the modern life of British Royalty and provides a lot of information on the modern history of British royal family. Well worth a visit but especially so for people who enjoy boating and/or naval history.
Edinburgh Kosher Info (or lack thereof):
Kalpna Vegetarian Indian Restaurant is located in Edinburgh. At the time of my trip (April/May 2013), Rabbi Rose of the Edinburgh Hebrew Congregation (an Orthodox United Synagogue shul) gave his approval.  At the time of this writing, it is no longer listed on the Edinburgh Hebrew Congregation's website as an approved restaurant. Check with the shul and Rabbi Rose before any trip to Edinburgh.
Jewish Info:
The biggest shul still in operation and the only one with minyan three times a day is the Giffnock Shul. The mikvah is also located in the Giffnock Shul. For shabbos we stayed at the Orchard Park Hotel in Giffnock. Our stay there was not the best because they were in the middle of a complete renovation of the hotel and really should have been shut down. I am sure it will be much nicer once the renovations are done. The advantage is that it is only a 3 minute walk to the shul and they are very familiar with dealing with kosher and shomer shabbos guests. Chabad does not offer Shabbat hospitality, but they will provide food (see above).
We had a great time in Scotland. It offers activities and attractions for any kind of traveler and kosher/Jewish travel is very doable.