Seasoned restaurateurs Aaron Siebzener (of Milky Way) and Yehuda Gutman have joined forces to open a fleishig restaurant in Pittsburgh that is suitable for professional gatherings.
Together, they brought this idea to life in the form of Grilliance, a meat restaurant with "a smorgasbord of offerings and homemade cuisine." Siebzener and Gutman pride themselves in the quality of their food–"even the burgers and onion rings are homemade!"
Grilliance opened publicly on June 10th and has had favorable reviews thus far, although both Siebzener and Gutman aim to continuously improve their establishment, hoping to expand and even obtain a liquor license.
Grilliance is open Sunday through Thursday from 4 p.m.- 9 p.m. and is under the kashrus supervision of the Va'ad Harabbanim of Greater Pittsburgh.
Below is the menu: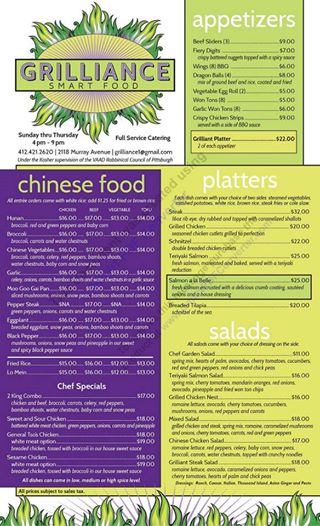 Source: The Jewish Chronicle