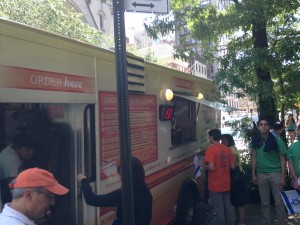 Last Sunday, at the Celebrate Israel parade in NYC, I noticed a kosher food truck serving many of the marchers who had just completed their walk down 5th Avenue. The 
Pocketful, the kosher truck, was parked temporarily on Madison Ave. I noticed the trucks menu as mainly being Israeli/Mediterranean style foods that get stuffed in a pita: falafel, hummus, numerous salad options, and multiple cheeses like feta or goat cheese. There aren't many dairy falafel-only places, so this truck is definitely trying to do something unique.
Based on their Facebook page, it seems that Pocketful has been around since Fall 2013, and may have formerly been the food truck for Crisp, a chain of vegetarian falafel joints in NYC.
Their website states their location whereabouts which change daily:
Monday: Hudson and King
Tuesday: W49th st and 6th Ave
Wednesday: E53rd st b/w Madison and Park Aves
Thursday: W50th st and 6th Ave
Friday: W46th st and 6th Ave
Pocketful is under the kosher supervision of the CupK (Rabbi Israel Mayer Steinberg).