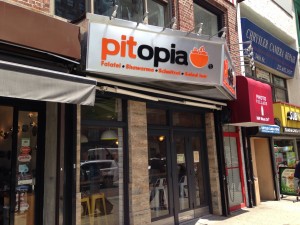 Last week, Pitopia opened it's 2nd midtown location, the newest one across the street from B&H Photo, which employs many kosher observant Jews. While the location is a mere 10 minute walk from its original location off of Broadway, this store was completely different.
Besides the ambiance, which is not as bright (in a good way) as the original location, Pitopia West has significantly more seating room, which is a major pain point for anyone who wants to eat at the original Pitopia. The new place is both modern and earthy, using wood stylings to bring a better ambiance to the restaurant.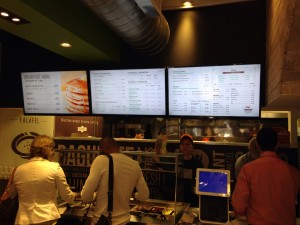 The other thing I noticed right away was the expanded menu. This location has a breakfast menu including pancakes, waffles, omelets, and french toast – available from 8-11am. Additionally, there are some regular menu items here that don't exist in the small locale, namely the "Specialty Sandwiches": the Hetzi Hetzi (mix of shwarma and schnitzel), the Shnifel (mix of shnitzel & falafel), and the shwafel (mix of shwarma & falafel). The salad options were similar but had a few extra options that I didn't recognize from the original location.
I tried the hetzi hetzi, which had the same flavors of their shwarma and shnitzel I'm used to ordering from the other location. It was enjoyable, but nothing I wasn't already expecting.
Pitopia is under the kosher supervision of the OU.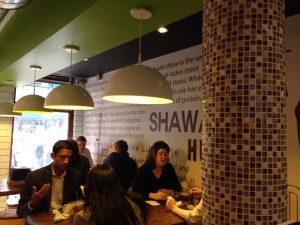 View Pitopia West in a larger map